Toni's Healthy Tip #19: How to make DIY Lemon-Lime Electrolyte Water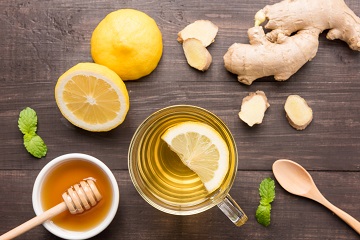 Tip #19 | How to make DIY Lemon-Lime Electrolyte Water
By Toni Julian, health advocate
This hot weather reminds me of the need to stay hydrated and replenish our bodies with electrolytes. Making your own electrolyte water allows you to kick the store-bought, sugary beverages with artificial flavors and colors to the curb! Who needs those?
Electrolytes are minerals that provide balance in your body. In water, they are conductive and help regulate fluids in and between your cells, regulate your heart beat, and cause muscles to contract. Each has its own function so if you have a deficiency or overload, it can cause series health risks. Here are just a few roles electrolytes play in your body.
Magnesium  — Maintains heart rhythm, stable protein fluid balance and muscle contractions
Calcium – Helps form bones and teeth, blood clotting and muscle contractions
Potassium – Keeps blood pressure levels stable, helps heart contractions and muscle functions
Sodium – Helps maintaince fluid balance
Cloride – Like sodium, helps maintain fluid balance
How can you get electrolytes? Primarily from food and drink, and supplements if necessary.
How do we become out of balance? If your electrolytes are too low, it is likely attributed to exercising in the heat or dehydration. We lose many of our electrolytes through sweating, vomiting and urination. We've all heard of the athlete who gets muscle spasms and leg cramps, a person suffering from Bulemia or a sick child who can't keep fluids down. And less likely, although I have personally experienced this; if you eat a very clean diet and do not add salt to your food, you can have a sodium deficiency.
An over supply of electrolytes can be caused eating too much processed food which can drive our sodium levels too high. Kidney disease can contribute as well, and chemotherapy as the kidneys are taxed and have trouble flushing or processing excess nutrients. An elderly person may also experience imbalances as our organs may lose functionality as we age.
What are the signs of an imbalance?
Muscle spasms or weakness
Frequent headaches
Anxiety
Fever
Heart palpitations
Confusion and concentration issues
Joint  pain
Dizziness
DIY Lemon-Lime Electrolyte Drink
This drink is as refreshing and delicious as it sounds. It's also packed with electrolytes, minerals and vitamins. All the good stuff, and nothing artificial.
Makes 2 Servings | Around 60 calories
1 Lemon
1 Lime
2 Pinches sea salt
2 Tablespoons honey
1 Teaspoon ginger
Mix together, then add 2 cups coconut water. Pour over ice.
Please share this with your friends who would like to stay hydrated and balanced on these hot summer days!
From my heart to yours,

Toni Julian is a nationally renowned health advocate, nutrition adviser, fitness expert, and author of BITE ME! Change Your Life One Bite at a Time, as well as a 50-something mom of four!  She is the 2017 recipient of the Top Women of Influence by the Silicon Valley Business Journal, and is on the board of directors for NAWBO (National Association of Women Business Owners). Toni is also the creator of TONI'S ultra-convenient, protein meals, a complete and healthy hot protein meal that's ready in minutes. Get yours at Sigona's! Visit www.ToniJulian.com