Local Mountain Grown Peach & Organic Heirloom Tomato Salad with Sigona's Satsuma Vanilla Cream White Balsamic

Local Mountain Grown Peach & Organic Heirloom Tomato Salad with Sigona's Satsuma Vanilla Cream White Balsamic
Here's a summer recipe that's light, satisfying and so easy to make—perfect for lunch, dinner, or a party appetizer! Plus we're offering you a $5 off coupon on the dressing.
You only need 8 ingredients: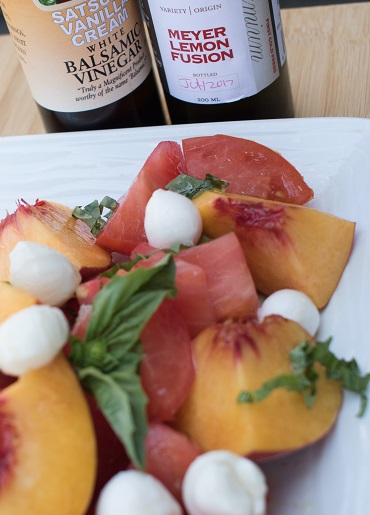 Pinch of salt
Pinch of red pepper flakes (optional)
2 large organic Heirloom tomatoes, cut into pieces
2 local Mountain grown yellow peaches, cut into pieces
8 ounces Fresh Mozzarella Ciliegine, (we recommend Galbani, available at Sigona's!)
3 tablespoons freshly-chopped basil
Here's how to make it:
In a cup, mix the balsamic, olive oil, pinch of salt and pepper flakes (optional). Using a whisk or fork, mix ingredients until thoroughly combined. Set aside.
Meanwhile, place the tomatoes and peaches on a platter or plate. Top with fresh mozzarella cheese balls and basil.
Drizzle the balsamic dressing over the salad and serve.