In the Kitchen with Sigona's Featuring: Bell Peppers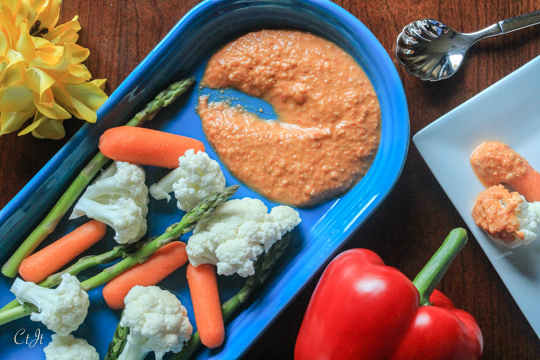 Romesco Sauce with Roasted Red Bell Pepper and Tuscan Herb Olive Oil
This spread is so versatile. It's lovely with fresh or roasted veggies, served with seafood, stirred into scrambled eggs, used as a based for flatbread pizza or as a spread for a sandwich. The possibilities are endless! We used our Tuscan herb olive oil to introduce a little more flavor, but regular olive oil works just as well. Makes about 1 cup.
Ingredients:
1 red bell pepper
1 slice of crusty bread or baguette, crusts removed, bread cubed (about 1 oz.)
3 Tbsp. red wine vinegar
1/3 cup almonds (toasting optional)
1 roma tomato, quartered, seeds removed
1 clove garlic
1/4 cup Sigona's Tuscan Herb Olive Oil
Salt, to taste
Directions: Roast the bell pepper over the flame of a gas burner or under a preheated oven broiler. To use the gas stove: place the pepper on the grate above the flame over high heat. Use tongs to rotate occasionally as the pepper begins to blacken and blister. Continue until the pepper is charred and blistered all over. Place the hot, charred pepper in a zip-top bag and set aside for about 15 minutes.
To use the preheated broiler: place the pepper on a baking sheet and put it in the oven near the element. Using tongs, rotate the pepper occasionally as it begins to blacken and blister. Continue until the pepper is charred and blistered all over. Place the hot, charred pepper in a zip-top bag and set aside for about 15 minutes.
Meanwhile, in a small bowl, soak the bread cubes in the vinegar. Set aside. Place the almonds in a food processor and pulse until grainy (being careful not to make almond butter). Add the vinegar-soaked bread, tomato and garlic. Pulse to incorporate.
Remove the pepper from the bag. Slice pepper open, flatten the pepper and use a knife to scrape away the seeds and membrane. Flip the pepper over and scrape away the blackened skin with a knife.
Add the pepper to the food processor. Puree until the mixture is smooth. With the motor running, drizzle in the olive oil and process until well incorporated.
Chill at least an hour before serving.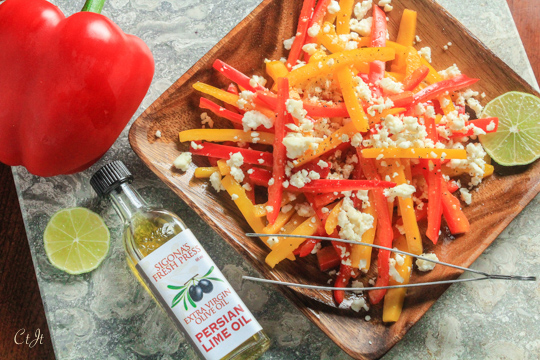 Marinated Bell Pepper Salad with Persian Lime Olive Oil and Queso Fresco
This is a simple salad that can be served as an appetizer or alongside fresh fish or Mexican fare. We love how the Persian Lime olive oil gives this dish a fresh factor, and how the queso fresco provides the right amount of a briny salt and creamy comfort. Inspired by Cooking from the Farmers' Market. Serves 2 to 4.
Ingredients:
1 Tbsp. white wine vinegar
3 Tbsp. Sigona's Persian Lime Olive Oil
Black pepper, to taste
1 red bell pepper, seeded and cut into strips about 1/8" wide
1 yellow bell pepper, seeded and cut into strops about 1/8" wide
2 to 4 Tbsp. crumbled queso fresco
Directions: In a large bowl, whisk together the vinegar and oil until emulsified. Add the pepper strips and toss to coat. Allow to marinate, tossing occasionally, for at least 30 minutes.
To serve, pile the marinated peppers on a large serving dish or individual plates; drizzle remaining marinade on the peppers. Sprinkle on as much crumbled queso fresco as desired. Season to taste with black pepper.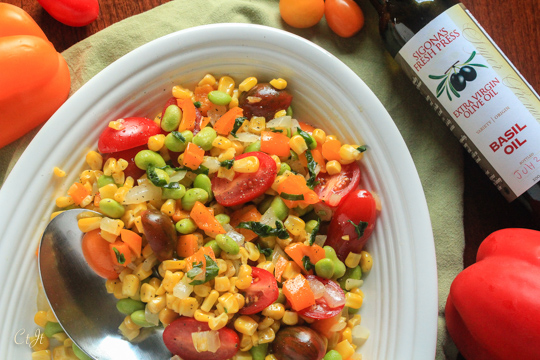 Summer Succotash with Bell Pepper and Basil Oil
Veggie-packed dishes are especially superb when made with the freshest ingredients you can find. Shuck and slice the corn from the ears just before sautéing; pop lima beans or edamame from their pods just before adding to the pan. Why? The sugars in corn, for example, turn to starch as soon as an ear is picked, so if you want sweet corn that bursts in your mouth, look for locally grown corn. Serves 4 to 6.
Ingredients:
2 Tbsp. Sigona's Basil Oil
1 large sweet onion, diced
Salt and pepper, to taste
1 1/2 cups fresh or frozen beans (edamame, fava, lima or chopped green beans), par boiled
About 5 cups fresh corn kernels (sliced from about 6 large ears of corn)
1 bell pepper, seeded and diced (orange adds great color)
1/2 pint cherry or grape tomatoes, halved or quartered
3 Tbsp. chiffonade fresh basil
1 Tbsp. fresh lime juice
A pinch or two fresh or dried dill
Directions: Heat the olive oil in a large sauté pan over medium heat. Add the onion, season with salt. Cook, stirring occasionally, for about 5 minutes or until onions are translucent. Stir in the beans and corn, lower heat to medium-low and cook for about 3 minutes.
Add the sauté to a large bowl and toss with the tomatoes, lime juice, basil and dill. Season to taste with salt and pepper. Serve immediately or at room temperature.