Maple Balsamic Whipped Garnet Yams (or Sweet Potatoes)
Maple Balsamic Whipped Garnet Yams (or Sweet Potatoes)
Garnet yams are the absolute best yam to choose for your Thanksgiving feast. They have a lovely deep orange color and fantastic flavor, and mixing in a little maple syrup highlights their natural sweetness. If you've been asked to bring a sweet potato or yam dish to dinner, this simple recipe is sure to please.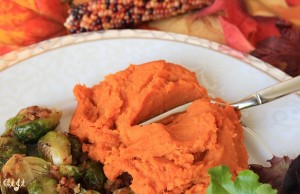 What you need:
Garnet yams (medium to large)
Real maple syrup, about 1 to 2 tsp per yam, to taste
Butter, to taste
Salt and pepper, to taste
Directions: Preheat oven to 400°F
Wash the sweet potatoes and pierce the peel multiple times with a fork. Bake on a baking sheet for about 1 hour or until yams are knife tender. Remove from oven and allow to cool.
When cool enough to touch, halve the yams and use a spoon to scoop out the flesh; discard the skin.
In a large bowl, mash together the yams and butter. Measure in the syrup, season with salt and pepper to taste. Add more syrup if desired. Serve warm with a pat of butter on top.