In the Kitchen with Sigona's Featuring: Local Strawberries
Sweet Balsamic Strawberries with Crème Fraîche
Simple can be best, especially when it comes to sweet, locally grown strawberries.  Creme Fraiche is a tangy, cultured cream that is richer, thicker and more flavorful than sour cream. You can use regular, traditional balsamic if you don't want to use strawberry balsamic; espresso balsamic would also be fantastic. For garnish, use mint or basil leaves, whichever pleases your palate. Serves 2 to 4.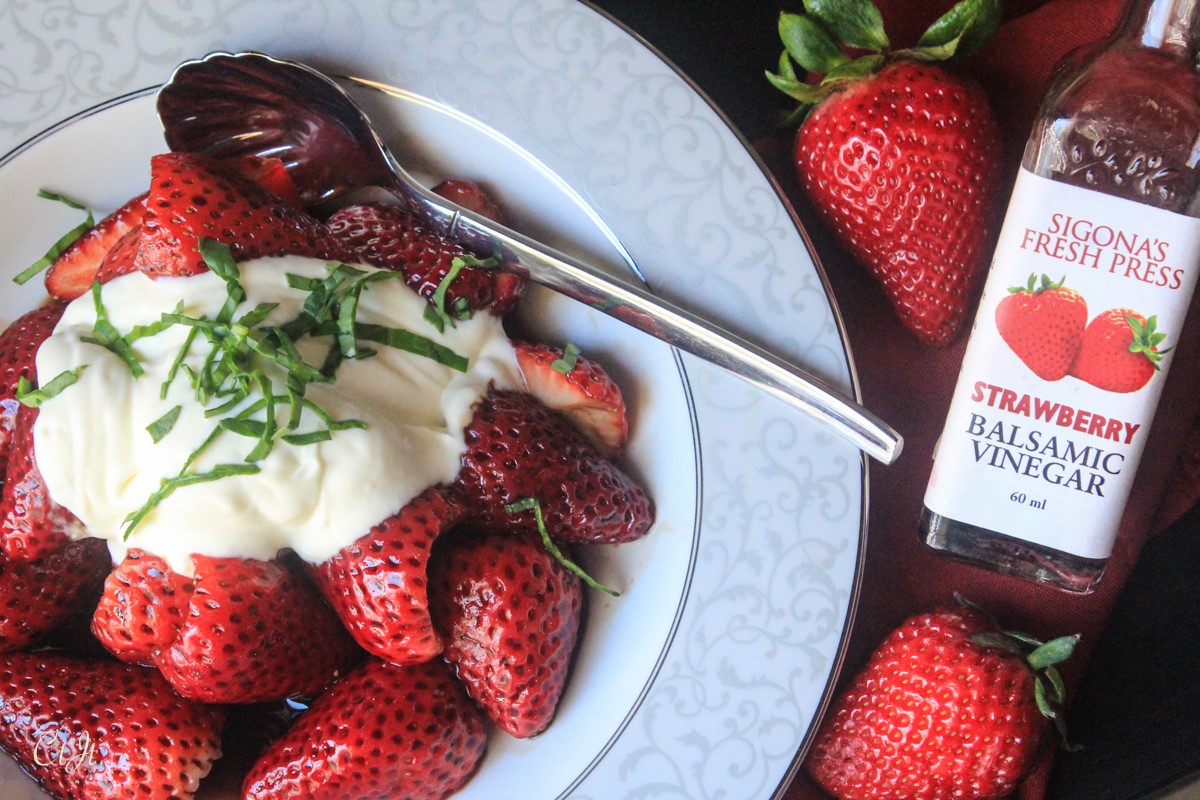 Ingredients:
1 basket, about 12 oz., strawberries, stems removed, sliced in half or quartered
Optional: A bit of brown sugar, about 1 tablespoon
2 to 3 Tbsp Sigona's Strawberry Balsamic (Mix it up! Try Sigona's Espresso Balsamic or another infused)
About 4 oz. crème fraîche
Fresh mint or basil leaves, chiffonade
Directions: Place strawberries in a medium bowl. Stir in the brown sugar, if using, and the balsamic. Cover and allow berries to macerate (release their natural juices) at room temperature for at least an hour; stir occasionally.
Use a slotted spoon to transfer the berries to a serving dish or bowl. Drizzle with a bit of the reserved balsamic. Top with crème fraiche as desired; sprinkle with mint or basil.
Strawberry-Tomatillo Salad with Watermelon, Jicama and a Balsamic Vinaigrette
Sweet and savory, crisp and juicy. All the flavors and textures work well here when drizzled with a simple vinaigrette made of Sigona's olive oil and traditional balsamic. It is a delightful salad for a springtime brunch or when dining al fresco. Inspired by Pickled Plum. Serves 4 to 6.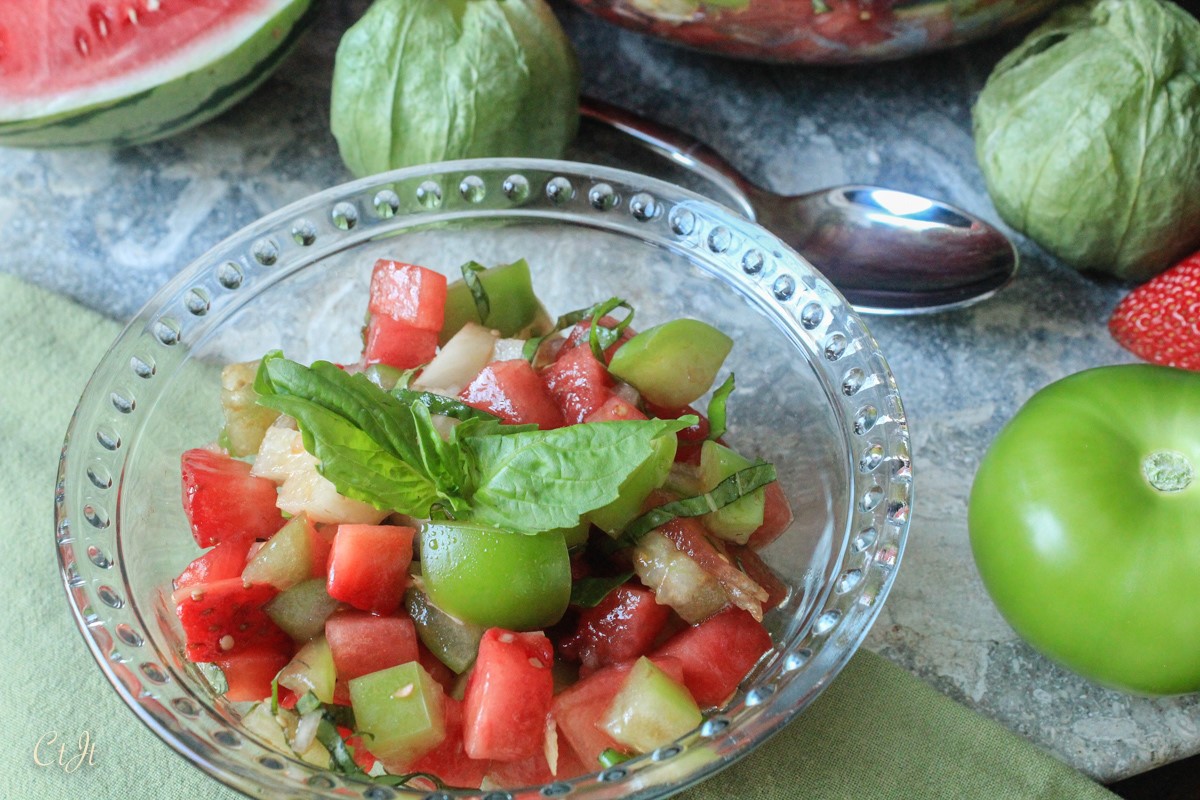 Ingredients:
Half a mini watermelon, rind and seeds removed, cut into 1/2-inch cubes (about 3 cups)
6 large strawberries, hulled and cut into bite-sized pieces
3 to 4 tomatillos, husks removed under running cool water; fruit sliced and cut into bite-sized pieces (about 1 cup)
About 1/2 cup diced jicama
1 shallot, finely diced
6 to 8 large basil leaves, julienned
2 Tbsp. Sigona's Fresh Press Extra Virgin Olive Oil (Mix it up! Use Sigona's Basil Oil for more basil flavor.)
1 1/2 Sigona's Balsamic Condimento Tradizionale (Check out our infused balsamics for more flavors from which to choose.)
Sea salt, to taste
Directions: In a large bowl, combine the watermelon, strawberries, tomatillos, shallot and basil. Gently stir to mix.
In a small bowl, whisk together the olive oil and balsamic until the mixture thickens a little. Drizzle the mixture over the fruit salad and gently stir to coat.
Sprinkle individual servings with a little sea salt.
Raw Swiss Chard Salad with Fresh Strawberries, Barley and Sigona's Basil Oil
Looking for a way to change up your side salad? You've got to try this one. Don't skip the basil oil — it adds an absolutely delicious layer of flavor that's herbaceous and fresh; basil is fantastic with strawberries! Inspired by Cooking Light. Serves 4 to 6.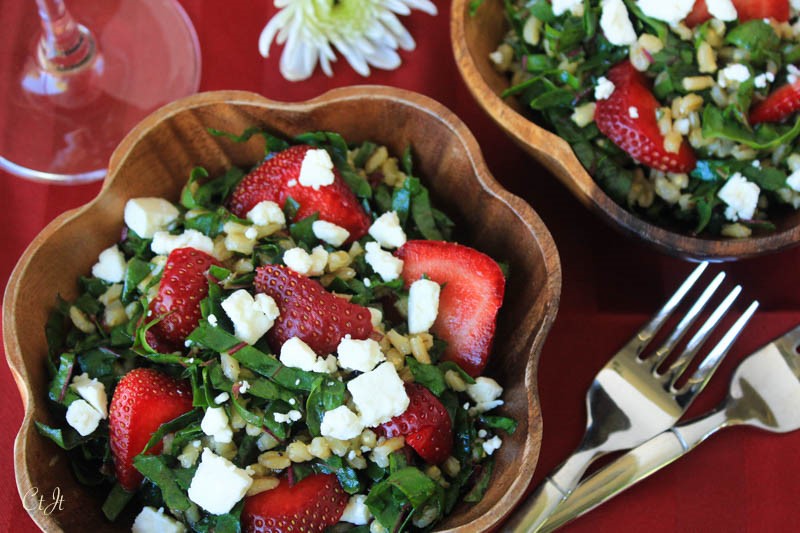 Ingredients:
1/2 cup uncooked barley or pearl barley
2 1/2 Tbsp Sigona's Basil Oil
2 Tbsp Sigona's Traditional Balsamic (Mix it up! Try Sigona's Strawberry Balsamic)
1 1/2 tsp. minced red onion
1/2 tsp. honey, such as Wildflower from Honey Hole Honey Co., available at Sigona's
Salt and pepper, to taste
1 bunch Swiss chard
At least 1 cup sliced fresh strawberries
Optional: Crumbled goat or Feta cheese, for sprinkling
Directions: Cook barley according to package directions. When it's done, drain any excess water. Rinse barley under cold water, drain well and set aside.
Meanwhile, in a large bowl, whisk together the oil, balsamic, onion and honey, Season with salt and pepper to taste.
Fold the chard leaves in half lengthwise, leaf fronts together, then slice off the thick, tough stem, up through the leaf (saving the stems for another recipe, if you wish). Roll the leaves up then thinly slice (chiffonade) into rounds, creating long, thin ribbons. Massage the ribbons between your hands for about 3 minutes or until they're just wilted a bit.
Add the chiffonade Swiss chard and barley to the vinaigrette; toss to coat. Divide among 4 to 6 salad plates, topping each with sliced strawberries and crumbled cheese, if using. Serve.