In the Kitchen with Sigona's Featuring: Our June Olive Oil and Balsamic Picks!
Fresh Peach, Grilled Corn and Arugula Quinoa Bowl with a Peach and Baklouti Green Chili Vinaigrette  
 Fresh sweet peaches, creamy avocado, smoky grilled corn and so much more. All the flavors in this salad play well together and simply scream summer. Baklouti oil packs a punch…you've been warned! Using quinoa provides the protein part of this macro bowl, with the avocado and olive oil covering the healthy fats, and the corn checking off the carbohydrates box. For more protein, add some beans, grilled chicken or even tempeh. Inspired by Half Baked Harvest. Serves 2 to 4.  
 Ingredients: 
1/2 cup uncooked quinoa,

 

3 Tbsp. Sigona's Baklouti Green Chili Olive Oil (Baklouti oil is spicy! Try it first; to tame the heat, mix Baklouti oil with regular Sigona's olive oil.)

 

1 Tbsp. soy sauce, liquid aminos or coconut aminos 

 

2 tsp. honey, such as local, raw Avocado Sage honey from Honey Hole Honey Co., available only at Sigona's

 

Juice of half a lime

 

1 tsp. fresh ginger grated

 

2 ears grilled or roasted corn, kernels removed

 

About 1/2 cup fresh basil, roughly chopped, plus more leaves for garnish

 

Optional: 1/4 cup fresh mint, roughly chopped
2 green onions, sliced on the bias

 

2 Sweet mini peppers, seeded and diced

 

1/2 cup cherry tomatoes halved

 

About 2 big handfuls arugula

 

1 or 2 ripe yellow peaches, pitted and thinly sliced

 

Optional: A couple Tbsp. crumbled goat cheese or feta (leave it off for a dairy-free bowl)

 

1 avocado, peeled, pitted and thinly sliced

 

1/3 cup almonds, roughly chopped

 

Freshly ground black pepper

 
Directions: Cook quinoa according to package directions.  
In a large bowl, whisk together the olive oil, balsamic, soy/aminos, honey, lime juice and ginger.  
To the vinaigrette, add the quinoa, corn, basil, mint (if using), green onions, peppers and tomatoes; stir to combine. Add the arugula and toss until well incorporated.  
Transfer mixture to a serving bowl or divide among 2 to 4 smaller bowls. Top the dish with the sliced peach and avocado, sprinkle on the almonds and feta, and finish with freshly ground black pepper. Serve immediately.  
Broiled Stone Fruit with Blenheim Apricot White Balsamic and Thyme over Vanilla Gelato with a Crumbled Cookie Topping
While stone fruits are perfect raw and out of hand, grilling or broiling them caramelizes their natural sugars, giving them a depth of flavor only heat and Mother Nature can create. Adding our Blenheim Apricot White Balsamic enhances the fruits syrupy-sweetness and will definitely please your summer dinner guests. Use any stone fruits you like; we think the color contrast of apricots and cherries is gorgeous. Plan for one apricot and 2 or three cherries per guest. Serves about 6.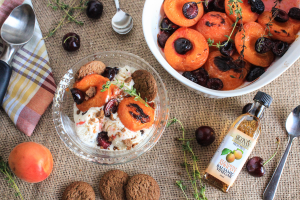 What you need:
6 locally grown Blenheim apricots, halved and pitted
At least 12 to 18 cherries, halved and pitted
1/4 tsp. kosher salt
A few sprigs fresh thyme
About 12 gingersnap or amaretti cookies, half of them roughly crumbled or chopped
Vanilla bean gelato or ice cream
Directions: Preheat oven to 350°F.
In a large bowl whisk together the olive oil, balsamic and salt. Add the stone fruit and thyme, toss to coat. Transfer to a rimmed baking dish and bake for 15 to 20 minutes or until the juices are bubbling and the fruit has started to soften a little.
Place the fruit under a low broiler for about 5 to 7 minutes or until the fruit takes on a little brown color.
Scoop gelato or ice cream into six individual serving bowls. Add two apricot halves and a few cherry halves to each bowl. Finish each serving with one whole cookie and some cookie crumbles.