In the Store with Sigona's Featuring: Fresh Press Balsamic
Red Cherry Balsamic Spritzer
A traditional spritzer is made with a bubbly beverage and chilled white wine, but we've taken a a page from some of the hot cocktail bars in the city to create a balsamic spritzer using our infused balsamic vinegars as a sort of shrub — aka drinking vinegar — to create a refreshing drink for summer we know you'll love. Shrubs used as mixers hail back to the 17th century where they were created by infusing vinegar with fruit juice or herbs; we think our infused balsamic is just the t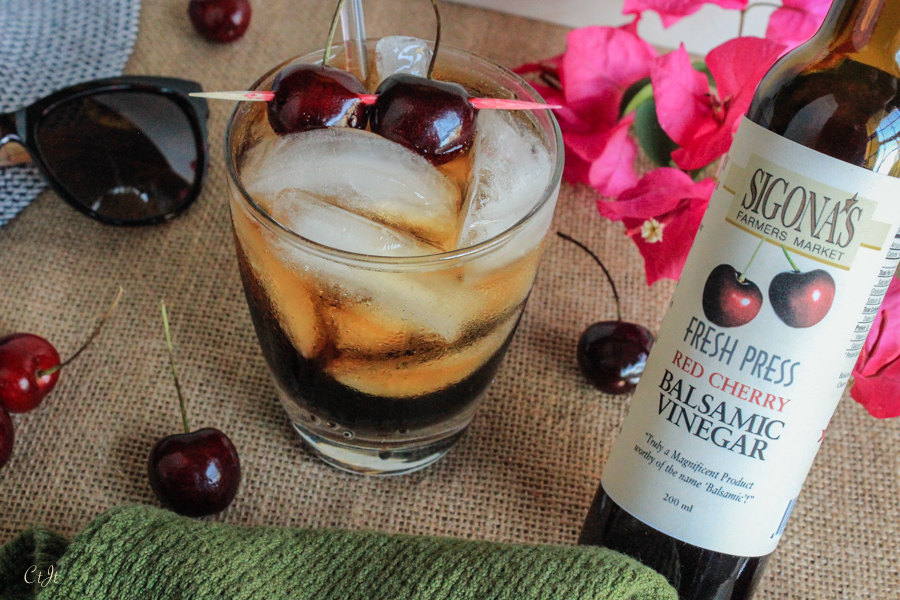 icket. Serves 1.
What you need:
Directions: Fill a glass with ice. Add the sparkling beverage and then stir in the balsamic. Garnish as desired and serve immediately.
Red, White & Blueberry Balsamic Fruit Kabobs
Simple, healthy and delicious! Raspberries work in place of the strawberries, if you wish. You can even add a savory factor and replace the banana with a cube or ball of cheese. Either way, adding the balsamic reduction will get oohs and ahhs from guests.  We suggest making at least 2 per guest.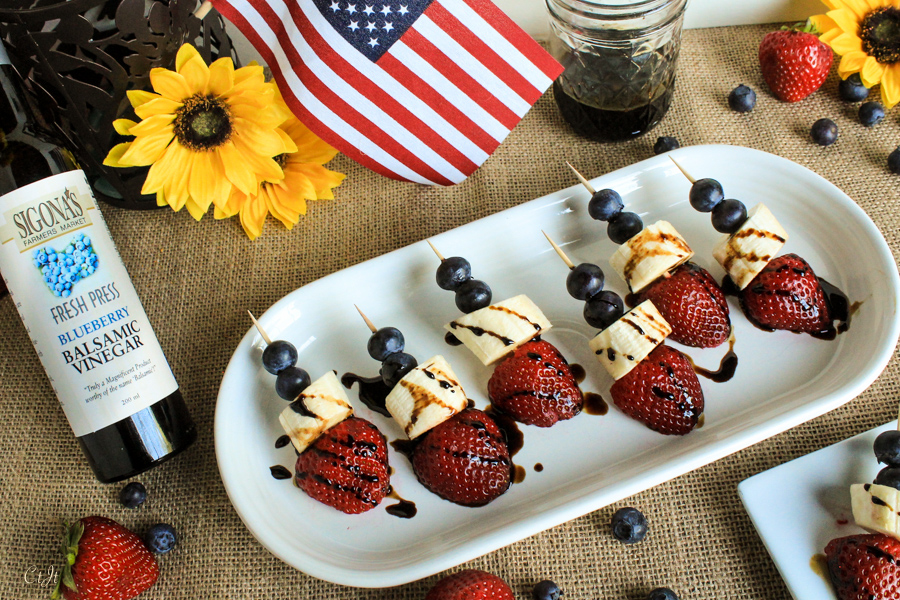 What you need:
About 1 cup Sigona's infused balsamic, such as blueberry, strawberry or red cherry (NOTE: blueberry is unavailable); 1 cup will render about 1/2 cup reduction
Long toothpicks or skewers
Fresh strawberries, halved (use at least one half per kabob)
Fresh blueberries, at least two per kabob
Fresh bananas. sliced into 1-inch rounds (at least one slice per kabob)
Directions: Add balsamic to small saucepan over medium-high heat. Stirring occasionally, bring to a boil and then reduce to a simmer. Cook, stirring occasionally for 10-15 minutes until balsamic has thickened and reduced by about half. Keep in mind the reduction will thicken as it cools. Pour into a small bowl or jar and set aside and allow to cool.
To make the kabobs, work in a red, white and blue pattern to skewer the fruit. Arrange completed kabobs on a serving tray in a line, circular pattern or whatever works for your tray. Drizzle the blueberry balsamic reduction over the kabobs just before serving. Serve remaining reduction on the side.
Premium White Balsamic Vinaigrette
It's handy to have a basic vinaigrette recipe up your sleeve, not to mention one sitting in the fridge ready to dress a salad, add flavor to roasted or steamed veggies, a sandwich or even fish. We like this one as it doesn't add a dark color to a light salad or protein as a traditional balsamic would. Makes about 3/4 cup.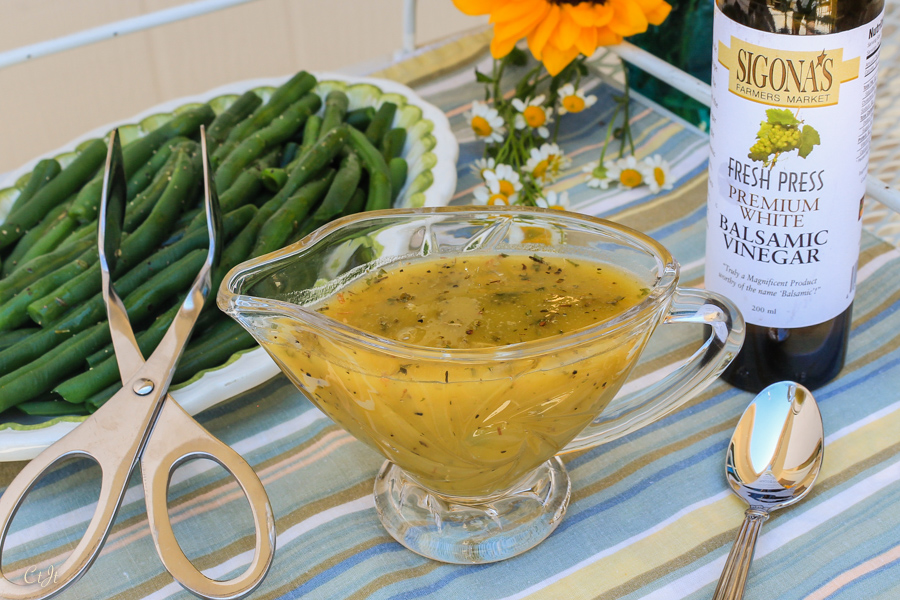 Ingredients:
1/2 cup Sigona's Fresh Press Extra Olive Oil (Mix it up! Introduce another layer of flavor by using one of our infused oils, such as Garlic Oil, Meyer-Lemon Fusion Oil or Herbes de Provence Olive Oil.)
1/4 to 1/3 cup Sigona's Premium White Balsamic (start with 1/4 cup and add more if you want more zing)
About 2 Tbsp honey, such as Honey Hole Honey Co., raw, local, unfiltered honey, available only at Sigona's
1 Tbsp Dijon mustard
Salt and pepper, to taste
About 1/2 to 1 tsp. fresh minced or dried herbs and/or 1 clove garlic, to taste (dill, Italian mix or basil are nice)
Directions: Add all ingredients together in a jar with a lid. Shake until the mixture is emulsified (thickened) and ingredients are well incorporated. Use vinaigrette to dress a green or jar salad, toss with steamed or roasted vegetables or even drizzle over fresh fish or chicken. It's also fantastic on sandwiches.