August Olive Oil and Balsamic of the Month
Fresh Kiwi Sorbet with Sigona's Meyer Lemon Extra Virgin Olive Oil
Treat yourself! This sweet-tart dessert is delightful for an after-dinner treat on a hot summer's night. The Meyer lemon oil gives the sorbet a creamier texture and a mellow lemon flavor. The recipe is easy to halve or double, if desired. Recipe courtesy of Veronica Foods. Makes 6 1/2 cups (about 8-12 servings).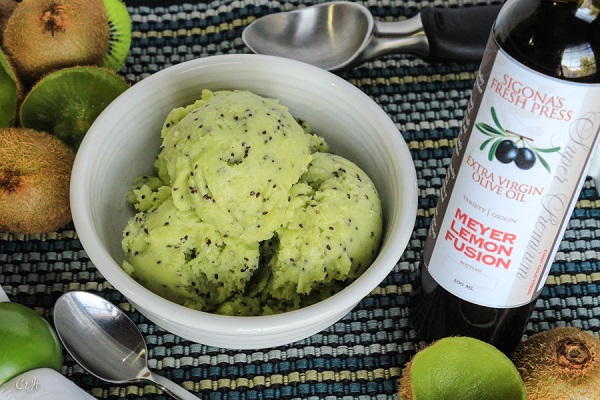 Ingredients:
6 cups (about 24) fresh, peeled and chopped ripe kiwis (better if they're semi-soft and very sweet)
1/4 cup honey, such as raw, local, unfiltered honey from Honey Hole Honey Co., available only at Sigona's
1/4 cup Sigona's Meyer Lemon Fusion Extra Virgin Olive Oil
Pro Tip: Based on the instructions for your ice cream machine, you may need to chill the bowl ahead of time. Be prepared!
Directions: Put the peeled, chopped kiwi in the freezer for 1/2 hour before pureeing.
Blend the chilled kiwi with the honey in a blender or use an immersion blender; puree until smooth. With the motor running, pour in the olive oil and blend until it is somewhat emulsified. Taste the mixture to see if you want to add a little more honey. Kiwi is a tart fruit, so the sorbet will be tart, but you can tame its punch a bit with honey.
Pour the entire mixture in to the bowl of your ice cream machine. Follow ice cream machine instructions for churning and chilling the mixture. Transfer to a sealable container, press down and chill until ready to serve.
No ice cream machine: Pour the mixture into a 13×9 glass baking dish. Put it in the freezer; about every 30 minutes, scrape the mixture with a fork and press it back down into the dish with the back of a spoon or spatula, as it changes from a slush to a more frozen, sorbet-like texture. Transfer to a sealable container, press down and chill until ready to serve.
Wild Raspberry White Balsamic Martini
This is a fantastic, savory martini with a hint of color that's easy to make and is sure to impress. Our wild raspberry white balsamic is more of a grown-up balsamic in that it is more tart than our traditional red raspberry balsamic. Mixing vinegar in cocktails is a popular move by some of the trendiest bartenders, and is a combination you'll just have to try to appreciate. Serves 1.
Ingredients: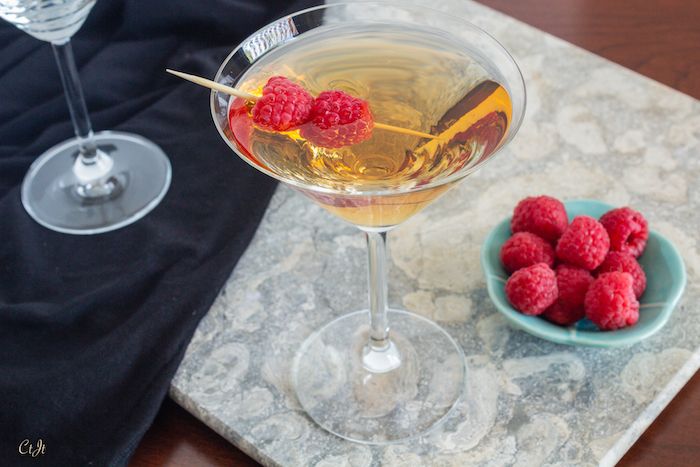 2 parts vodka (3, if you're feeling adventurous)
Fresh raspberries, for garnish
Directions: Add vodka, balsamic and ice in a cocktail shaker. Shake well then strain and pour into a glass. Garnish with a few fresh raspberries on a skewer.
Mixed Greens with a Blackberry-Ginger Balsamic & Roasted French Walnut Oil Vinaigrette
A simple yet elegant salad with a delightfully flavorful vinaigrette. Serves 6.
Vinaigrette:
1 tsp. lemon juice
1 tsp. Dijon mustard
Salt and pepper, to taste
Salad:
About 5 oz. mixed greens, or one large handful per serving
Optional: 2 green onions, sliced on the bias
1/3 cup crumbled feta or goat cheese
1/4 to 1/2 cup roughly chopped raw walnuts or pecans (look for them in Sigona's dried fruit & nut department)
3/4 cup or more fresh blackberries (slice larger berries if desired)
Directions: In a small bowl, whisk together the balsamic, lemon juice and Dijon. While whisking, drizzle in the olive oil until the mixture is emulsified. Season with salt and pepper.
In a large bowl, toss the greens and green onion, if using, with about half of the vinaigrette – being careful not to add too much – until well coated. Transfer the greens to a large serving platter or divide among individual salad plates.
Top the salad with crumbled cheese, walnuts and blackberries. Drizzle a bit of the remaining vinaigrette over the top and/or serve remaining vinaigrette on the side.