In the Kitchen with Sigona's Featuring: Meyer Lemon Fusion Oil and Passion Fruit White Balsamic
Meyer Lemon Zoodles with Parmesan and Basil
We love Giada De Laurentiis' recipe for lemon spaghetti, but thought we'd try it out with zoodles. It turned out beautifully! The flavors are bright and the dish comes together easily. It's a nice side dish for anything grilled, especially fish. The dish is lovely served warm or at room temperature. Serves about 4.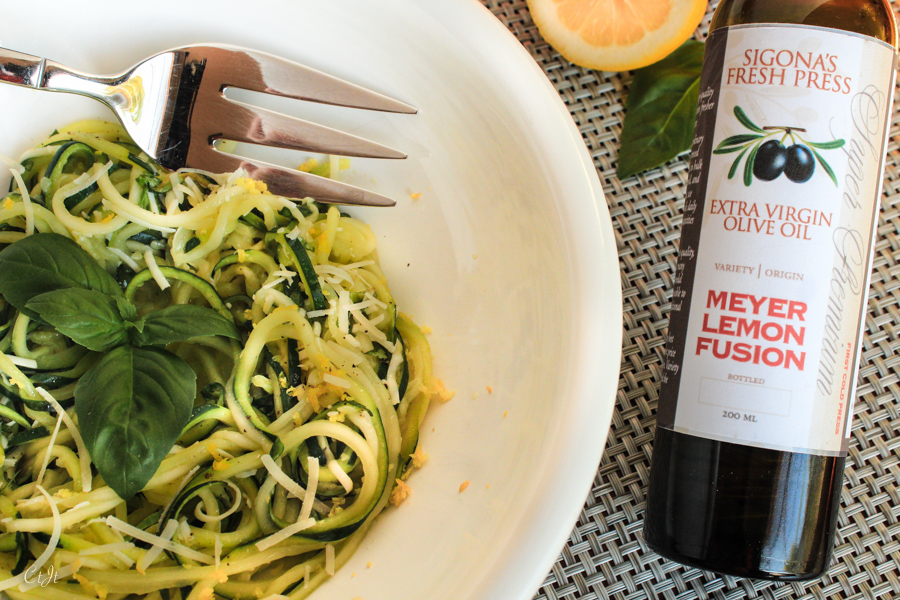 Ingredients:
2 medium-large zucchini, spiraled
1/3 cup plus 1 Tbsp Sigona's Meyer Lemon Fusion Oil
1/3 cup freshly grated Parmigiano Reggiano, plus more for garnish
Zest from 1 lemon (Meyer or Eureka)
1/4 cup fresh lemon juice (from about 2 lemons, Meyer or Eureka)
Salt and freshly ground black pepper, to taste
2 Tbsp chopped fresh basil, plus more for garnish if desired
Directions: In medium bowl, whisk together 1/3 cup olive oil with the 1/3 cup cheese and the lemon juice. Season with a couple pinches each of salt and pepper. Set aside.
Heat 1 Tbsp olive oil in a large skillet over medium. Add the zoodles and toss to coat. Allow to cook, tossing occasionally, about 5 minutes so they are heated through but do not become too soft (that is, unless you prefer a softer zoodle).
Transfer the zoodles to a large bowl with the chopped basil and half the lemon zest. Add about 3/4ths of the sauce and toss well to incorporate. Add none, some or all of the remaining sauce, or save for serving.
Just before serving, toss again to ensure the zoodles are well coated. Using tongs, grab portions of the zoodles and twist as the portion is added to an individual serving bowl or dish. Top each serving with a little more cheese and lemon zest. Season with salt and pepper, to taste. Serve warm or at room temperature, with any remaining sauce on the side.
Passion Fruit & Pomegranate Sparkling Cocktail
We love that passion fruit comes into season around the holidays! Put a twist on holiday mimosas with our passion fruit infused white balsamic. Adding pomegranates or even fresh cranberries gives it a festive feel. Makes 1 cocktail.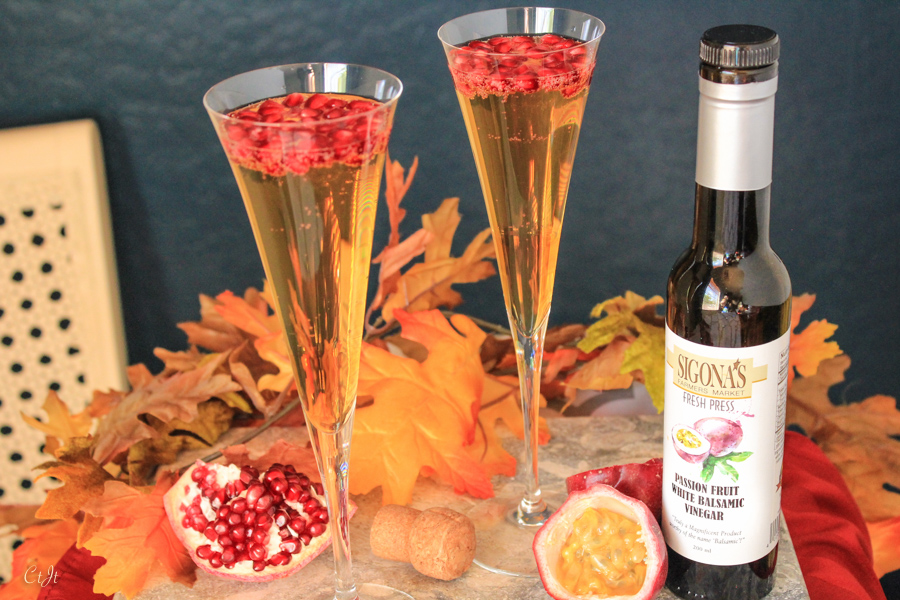 Ingredients:
Fresh pomegranate arils, about 1 Tbsp per drink
Champagne, Prosecco or other sparkling white
Directions: Add about 1 tablespoon pomegranate arils to a champagne flute. Add the balsamic and top off with sparkling wine. Serve.