Meet the Cheesemaker Reggie Jones – Central Coast Creamery
Meet the Cheesemaker Reggie Jones – Central Coast Creamery
Recognized as one of the best cheesemakers in America
In honor of our relationship and first meeting with Reggie Jones, we would like to offer to our cheese-loving customers $5.00 off a pound on the very first cheese we purchased from Central Coast Creamery – Seascape. It's complex, tangy, semi-hard cheese with a name inspired by a luxury resort in the Central Coast town of Aptos. As Reggie himself says, Seascape is a decadent escape anytime you are relaxing and enjoying it!
Don't miss out on this offer. It starts today through Jan. 17, and be sure to check out the other Central Coast Creamery cheeses we carry.
In the right place at the right time
Sometimes all it takes for a new cheese to find its way to Sigona's is a chance encounter, paying tuition at Stanford University and a tattered, Detroit-Lions stickered cooler.
It was the summer of 2008 when Reggie Jones, owner of Central Coast Creamery in Paso Robles, Calif., found himself with a free afternoon in Palo Alto after settling his daughter in at Stanford. He wandered over to the Stanford Shopping Center, where, just by chance, he stepped inside to explore Sigona's. Twenty minutes later, two wheels of Seascape, a Central Coast Creamery cow and goat milk cheese, were added to the display at Sigona's and were selling. Fast.
"What else you got, Reggie?" John Nava, Sigona's cheese and specialty food buyer, asked with a grin. Reaching back into his cooler, Reggie pulled out another wheel and asked, "How about goat Gouda?"
The rest, as you might say, is history…
Practically Perfect in Every Way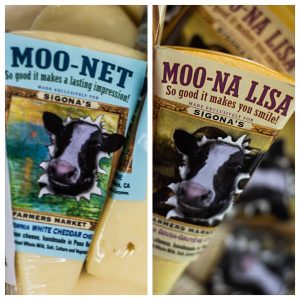 The rewarding and practically perfect collaboration between Sigona's and Central Coast Creamery has resulted in excellent, unique cheeses for our customers, including two cheeses made exclusively for our markets: Moo-Na Lisa and Moo-Net.
"I named the cheeses after great works of art and artists because, to me, Reggie and the entire Central Coast Creamery team are artists in the cheese world, creating beautiful, great tasting cheeses," said Nava.
Moo-Na Lisa is a Gouda-Gruyere style cheese, and Moo-Net is a California white cheddar. We're also excited to announce that master cheese artist Reggie is set to soon release another masterpiece exclusively for Sigona's, so be on the lookout for more details.
Best of the Bay and Beyond
A lot has happened over the last 11 years. Sigona's was voted the best cheese shop in the Bay Area and continues to collaborate and support local artisan cheesemakers. Development of our cheese department has also led to having a hand in preserving traditional cheese-making methods found in Switzerland and the world through partnerships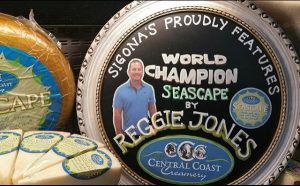 with programs such as Adopt-An-Alp.
Central Coast Creamery and its cheeses have won countless awards. The aforementioned Seascape, the first Central Coast Creamery cheese Sigona's purchased back in 2008, is a world-champion cheese. The accolades continue to accumulate: World Champion, Best of Show, Best of Class and a plethora of ribbons. This past year Reggie Jones received prestigious recognition as one of the best cheesemakers in America by Culture: the word on cheese, a magazine and recognized authority in the industry. An incredible honor!
Another World Champ in Our Midst?
Moo-Na Lisa, actually a Moo-Na Lisa reserve, aged 10 months, is set to debut at the American Cheese Society competition — think the Academy Awards of cheese — in July 2019. Just think of it: a cheese made exclusively for Sigona's, by one of the world's best cheesemakers, competing at one of the most renowned competitions there is. Wow! We can't wait to see how it fares.