New Crop: California English Peas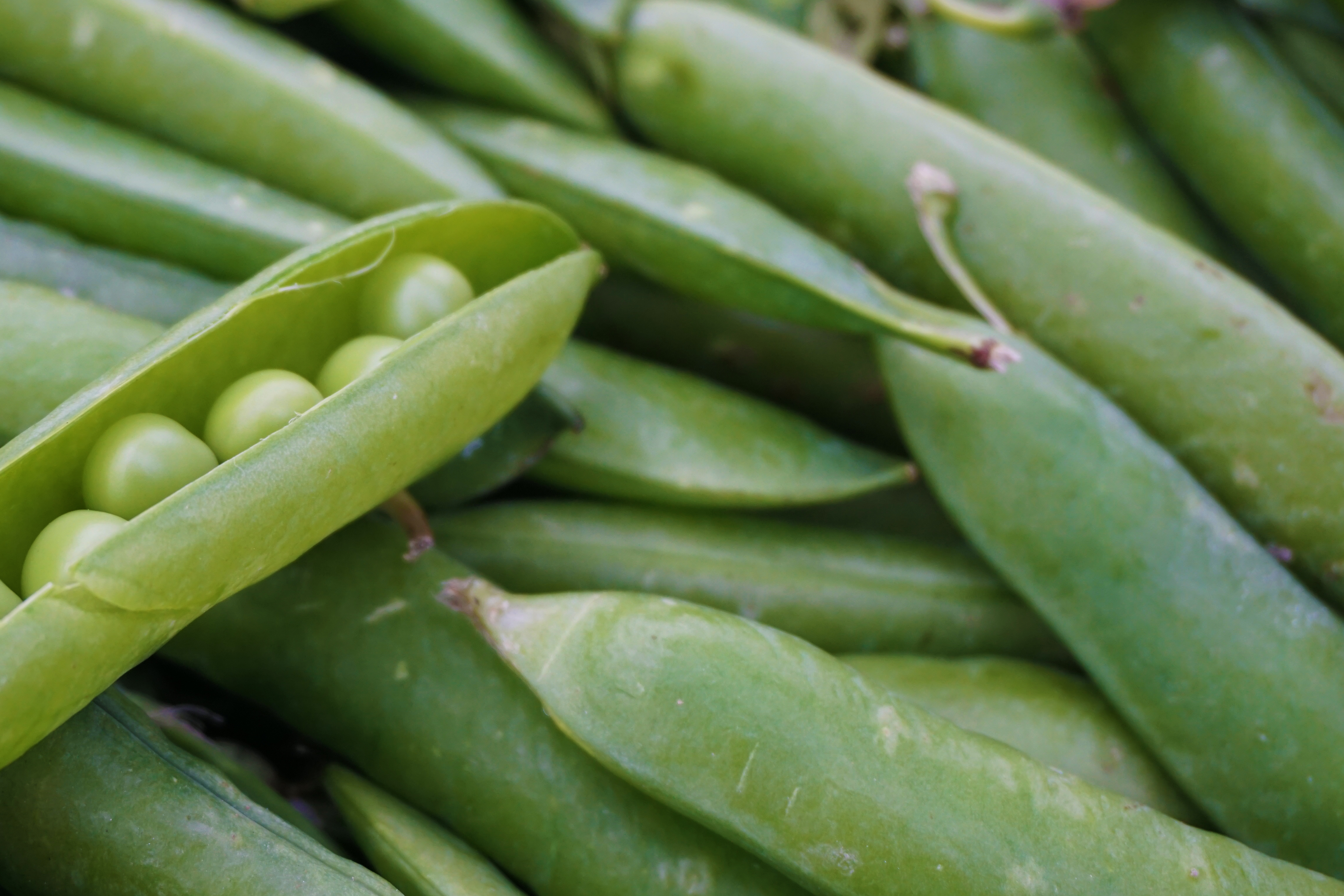 Just arriving: Fresh, sweet English peas from Half Moon Bay
By Robbie Sigona
This is the best time of year for famous English peas: those nutritious, grass-green colored pods with fresh, crisp and sweet "berries," as the produce world calls them.
We're now carrying English peas from Cabrillo Farms, a third-generation family farm in Half Moon Bay. Just-picked English peas from nearby farms are so fresh and delicious; they're even more nutritious than peas that travel a greater distance! This is because they are picked and brought over the hill the same day so they're sweeter and refreshingly tender. As with most other vegetables, peas begin to lose their nutrients as soon as they're harvested and the sugars convert to starch.
So, the fresher you eat them, the sweeter they'll be.
Eating raw English peas straight out of the pod is a real treat; they have a bright, sweet flavor that just pops in your mouth. What an easy way
to get a quick shot of healthy carbs for energy!
English Peas are low in calories (1 serving – a ½ cup – has 62 calories), contain vitamins A, B-3 and C, as well as and niacin and iron. They're also a good source of thiamin, folate and fiber, which has an influence on the digestion process from start to finish. In addition, raw peas, meaning they're uncooked, retain more of their live vitamins and enzymes.
What makes English Peas different?
English peas are also known as green or garden peas. They have softer, rounded and slightly curved inedible pods containing up to 10 peas a piece. Snow peas are flatter than English peas and Snap peas, a cross between the English and snow pea, have plump pods with a crisp, snappy texture.
A little history
Peas have played an important role in the development of many countries and cultures. For centuries, both the Greeks and Romans cultivated shelling peas for drying, and as we learned with fava beans, peas and other beans became a staple in the Mediterranean diet during the Middle Ages. According to historians, eating fresh green peas became so popular among the French court of King Louis XIV that Madame de Maintenon documented that the obsession had become both a "a fashion and a madness."
English peas are called such as they were first developed by Thomas Edward Knight, an amateur plant breeder, in England in the late 1800s. Sweet green peas was then widely cultivated and British plant breeders called them the "English pea."
We're grateful the cool climate in Santa Maria, Calif. is similar to that of England, making it an ideal location for growing English peas. Half Moon Bay is just a short distance from our stores so we're guaranteed fresh peas this time of year. My Uncle Carmelo loves cooking with English peas and has shared the following recipes. Enjoy!
Fresh Saporito Fine Pasta with English Peas & Garlic
English Peas with Fresh Herbs
Italian Rice & Pea soup (Risi e Bisi)
Fava Beans & Crispy Pancetta Salad with an English Pea, Pecorino & Mint Dressing
CLICK here for the recipes mentioned above.