Sigona's Cinnamon-Pear Balsamic Recipes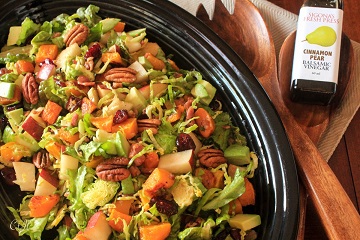 Chop Salad with a Cinnamon-Pear Balsamic Vinaigrette
Warm cinnamon, sweet pear and maple, savory bacon, tart cranberries, creamy avocado and roasted butternut squash are comforting and delicious in this salad. It's a nice way to eat your veggies. Serves 4 to 8.
Salad:
Half of one large butternut squash, peeled, seeded and diced (about 3 cups)
1 Tbsp. Sigona's Fresh Press Extra Virgin Olive Oil
Salt and pepper, to taste
4 cups mixed greens of choice
About 8 Brussels sprouts, sliced thin with a mandoline or a sharp knife
6 slices cooked bacon, crumbled
About 3/4 cup dried cranberries (look for them in our dried fruit and nut section)
1 avocado, peeled and diced
1 crisp pear, such as a red Anjou, halved, cored and diced
1 cup maple or cinnamon pecans (look for them in our dried fruit and nut section)
Cinnamon-Pear Vinaigrette
1 tsp. Dijon mustard
1 tsp. maple syrup, more or less to taste
Pinch of cinnamon
Salt and pepper, to taste
Directions: Preheat the oven to 425° F.
Spread out the diced butternut squash on a large rimmed baking sheet. Drizzle with olive oil, season with salt and pepper and toss to coat evenly. Spread the ingredients out in a single layer and roast in the oven for about 40 minutes, tossing half way through, until tender and lightly browned. Allow to cool about 10 minutes. Set aside.
Meanwhile, prepare the vinaigrette: in a small bowl, whisk together the balsamic, Dijon, maple syrup and cinnamon. While whisking, drizzle in the olive oil. Continue whisking until the mixture thickens. Season with salt and pepper; set aside.
Place all salad ingredients in a large bowl. Drizzle with about 2 tablespoons of the vinaigrette and toss to coat well.
Transfer to a serving dish and offer remaining vinaigrette on the side.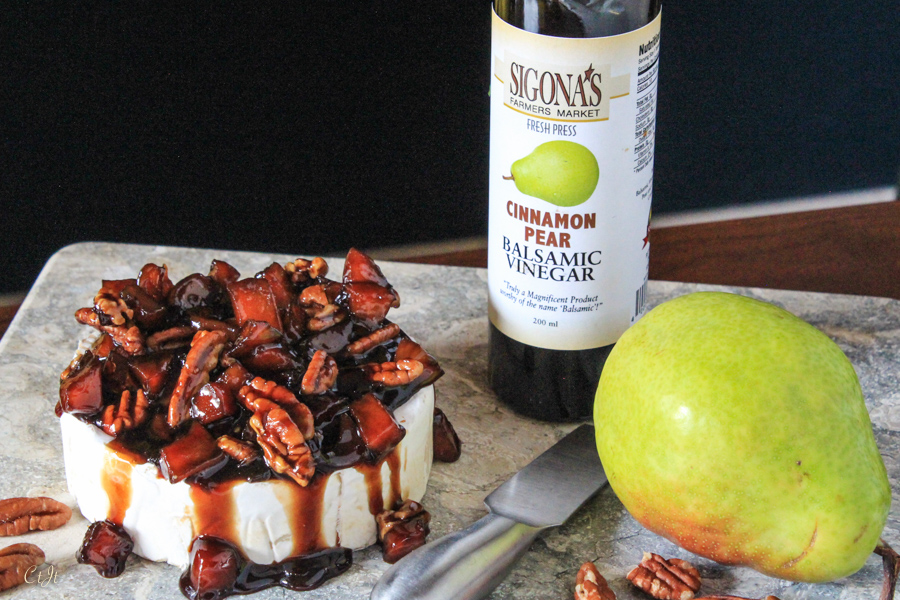 Warmed Brie with Caramelized Cinnamon Pear & Pecan Compote
Win over your holiday guests with this delicious Brie topper! It comes together in just minutes and is packed with sweet-spiced flavor. Double recipe for a larger round of Brie. Serves 4 to 6.
Ingredients:
2 green onions, white parts only, chopped
1 pear, peeled, cored and cut into 1/2-inch cubes
1/4 cup brown sugar, packed
1/2 cup apple juice or cider, such as Local heirloom apple juice from from Gizdich Ranch
2 Tbsp Sigona's Cinnamon Pear Balsamic
1 round (8 oz.) Sigona's French double cream Brie
1/4 cup chopped pecans
Directions: Preheat oven to 350°F.
In a small saucepan, heat the olive oil over medium-high heat. Add the onions and cook, stirring, for 1 minute. Add the pear, sugar, juice and balsamic; stir as it comes to a boil. Reduce heat to medium and cook, stirring occasionally, until liquid is reduced to just a couple tablespoons and it has a thick, syrupy consistency, about 12 to 15 minutes. Transfer to a bowl to cool a bit while you warm the Brie.
Place Brie round on an oven-safe serving dish or tray and place in the oven to warm for about 8 minutes – the goal is not to melt the cheese, it's to simply soften it a bit so it's easier to slice and spread.
Meanwhile, stir the pecans into the caramelized sauce.
Once Brie is warmed, remove from oven and spoon the sauce over the Brie round. Serve immediately.
Suggested serving companions: Sliced, lightly toasted baguette, crackers, apple or crisp pear slices.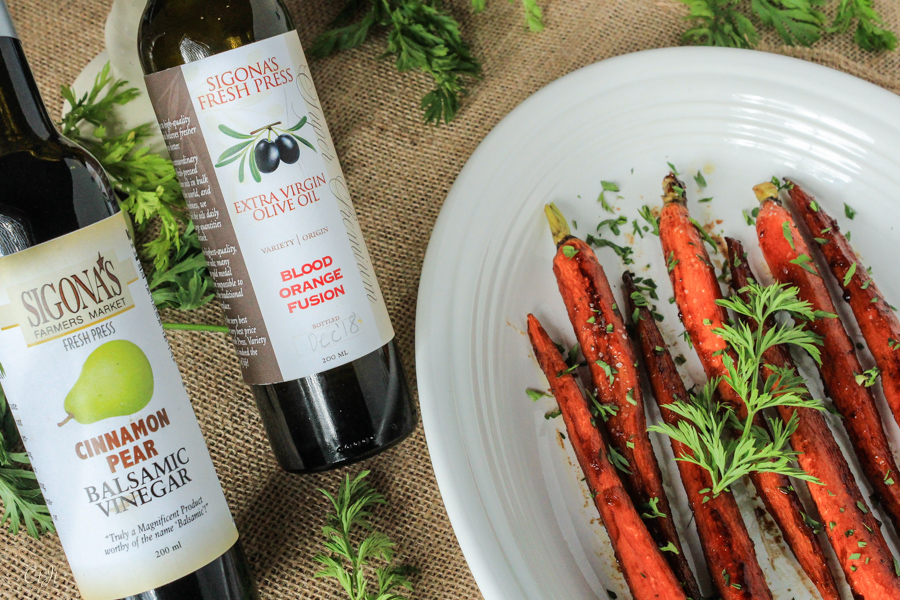 Oven-Roasted Carrots with a Cinnamon Pear & Blood Orange Oil Glaze
Sweet, roasted carrots are the perfect side dish! The cinnamon pear balsamic and blood orange oil work deliciously well together, creating a sweet-spiced syrupy goodness that caramelizes as it roasts with the carrots. You'll love this recipe! Serves 4. Easily halved or doubled.
Ingredients:
2 bunches organic, California grown bunched carrots, tops removed and reserved for garnish
Salt and pepper, to taste
Directions: Preheat oven to 400°F. Line a rimmed baking sheet with parchment paper.
Scrub and peel the carrots, trimming off the scraggly ends. If some carrots are larger than others, consider halving them lengthwise. Pat the carrots dry and add to the baking sheet.
In a medium bowl, add the balsamic, oil, salt and pepper. Whisk briskly until the mixture is well incorporated and emulsified (thickened). Pour the mixture over the carrots; toss and roll the carrots until they are well coated in the mixture.
Spread carrots out in a single layer on the baking sheet and roast for 30 to 40 minutes, flipping once, or until carrots are tender-crisp.
To serve, transfer carrots to a serving dish and top with a sprinkling of salt and chopped carrots greens.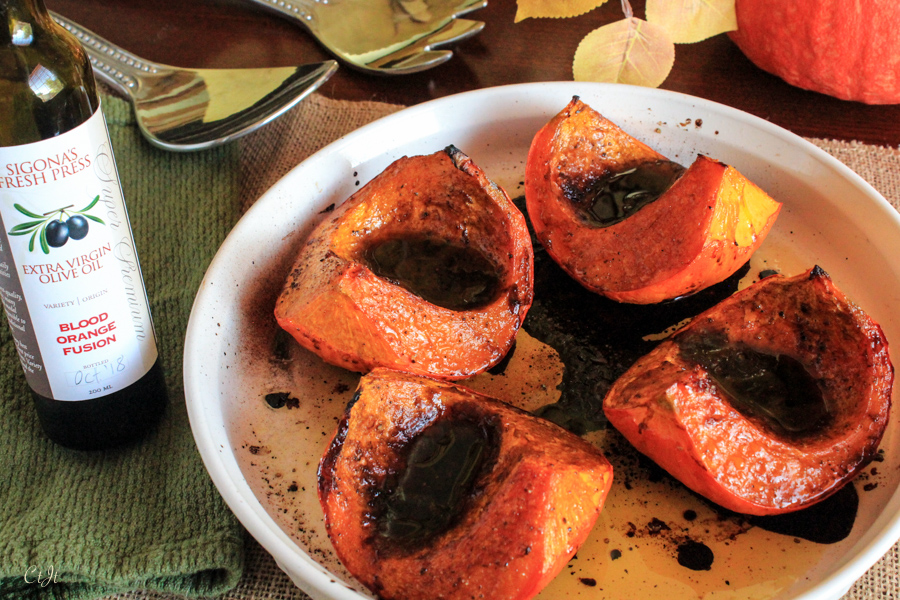 Blood Orange & Cinnamon Pear Roasted Red Kuri Squash
An underlying citrus note from the blood orange oil, along with a sweet and savory flavor from the cinnamon pear balsamic gives this squash a wonderful, fall-spice flavor. Serves 4.
Ingredients:
1 red kuri squash about, 2 to 3 lbs.
Salt and pepper, to taste
Directions: Preheat oven to 400°F.
Cut squash in half vertically. Scoop out the seeds and membranes, discard or set aside for another use. Cut each half in half one more time to create 4 pieces. Place the squash cut-side down in an oven-safe dish or rimmed baking tray and roast for 30 minutes.
Meanwhile, in a medium bowl, whisk together the blood orange oil and balsamic until the mixture is emulsified (thickened).
Remove squash from oven; use tongs to flip the squash over so cut side is up. Season squash wedges with salt and pepper, then add 1 tablespoon of the oil and balsamic mixture to the well of each piece. Use a brush to coat all cut surfaces of the squash, leaving a bit of the mixture in the well of the squash slice.
Return squash to the oven to roast for another 20 to 30 minutes, or until the squash is fork-tender throughout. Remove from oven, allow to rest about 5 minutes. Brush any remaining oil and balsamic mix over the squash and serve warm.