Grilled Nectarines with Burrata, Basil and Prosciutto
Grilling fruit caramelizes its natural sugars, giving the fruit a warm depth of flavor. In this case, grilling develops an almost cobbler-like flavor in these nectarines! Paired with the savory prosciutto, the creamy burrata and the herbaceous basil, you get a summer dish that's simply divine served with a glass of chilled wine. Inspired by Chowhound. Serves about 4.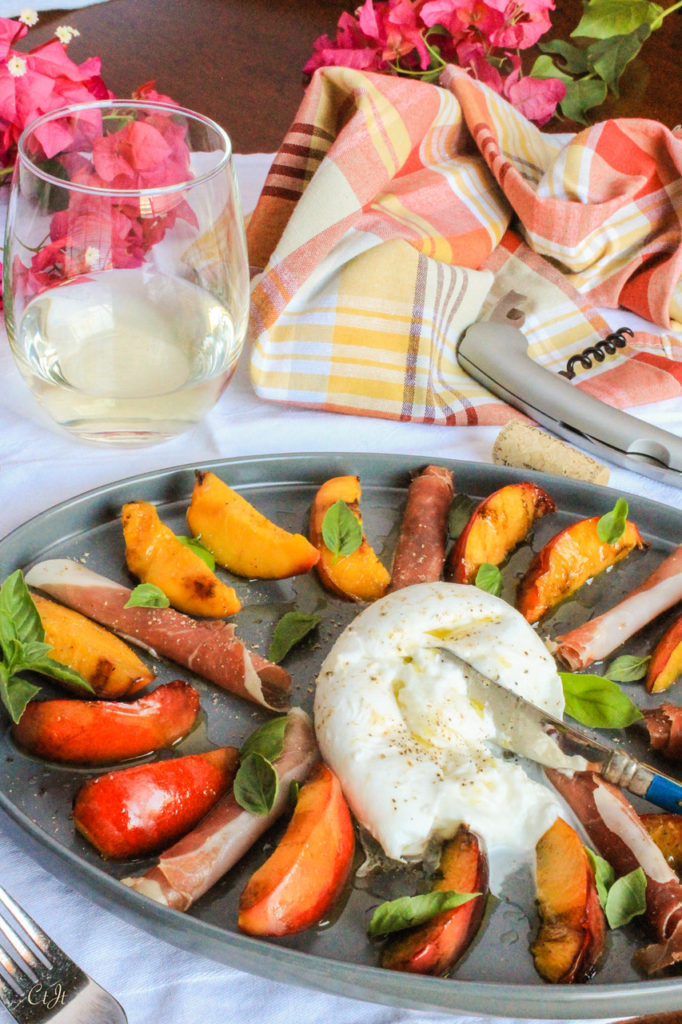 Ingredients:
2 ripe nectarines, halved then quartered; pit removed
Sigona's Fresh Press Extra Virgin Olive Oil, for brushing and drizzling
1 ball of burrata
At least 4 slices of prosciutto, rolled
Freshly ground pepper, to taste
A handful of small basil leaves, or large leaves, torn
Directions: Preheat an indoor or outdoor grill over medium-high heat.
Brush cut sides of the nectarines with olive oil then place on the grill to cook about 1 to 2 minutes a side or until grill marks appear. Rotate slices to grill all cut sides. Remove from grill and set aside to cool to the touch.
Slice the nectarine wedges in half. On a serving platter, arrange the nectarines and prosciutto in a circular pattern. Place the burrata in the center. Drizzle the dish with olive oil, season with pepper and top with basil.
Summertime Peach & Garlic Grilled Shrimp with Nectarine, Cucumber & Lime Chop Salad
Fresh, fruits, grilled shrimp and Sigona's Summertime Peach White Balsamic just scream summer. The shrimp take on fantastic flavor from the marinade and pair delightfully with the fresh flavors of the chop salad. Serves 2 to 4.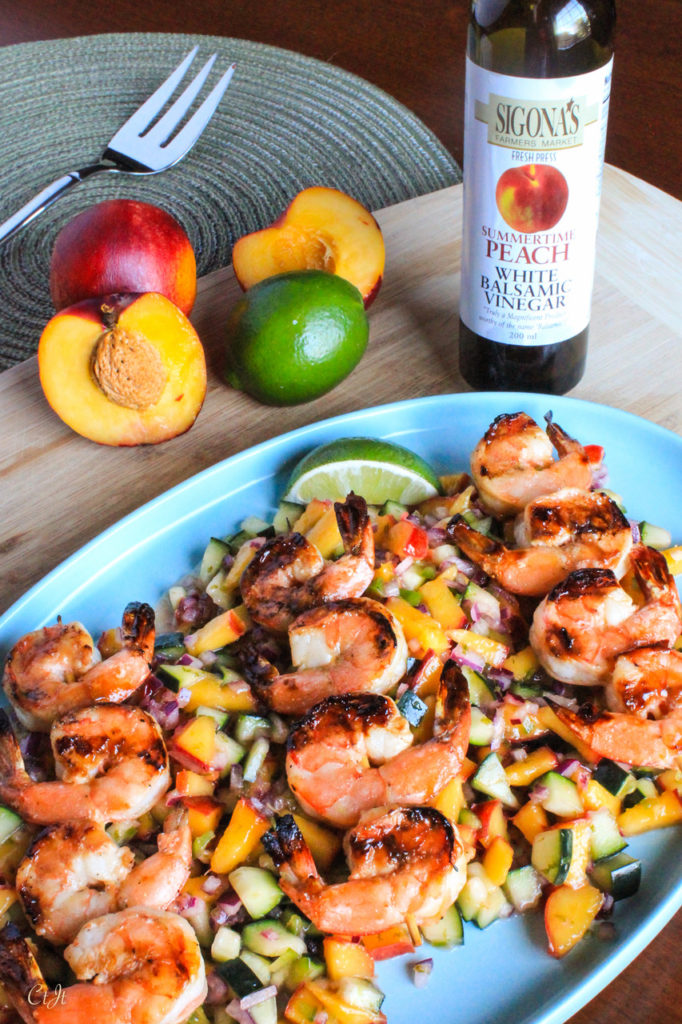 Chop Salad:
2 nectarines, diced
Half an English cucumber, halved, seeded and diced
1/4 cup diced red onion
1 to 2 Tbsp minced jalapeno, to taste
Zest and juice of 1 lime, about 1 to 2 Tbsp juice, or to taste
1 1/2 tsp. Sigona's Garlic Oil
Salt, to taste
Shrimp:
16 jumbo/extra jumbo raw shrimp, 16-20 ct. (about 6 to 8 oz. total), deveined and shelled
3 Tbsp Sigona's Summertime Peach White Balsamic
3 Tbsp Sigona's Garlic Oil
Salt and pepper, to taste
Special Equipment:
4 skewers (if wooden, soak in water for at least 10 minutes before use)
Directions: Begin by preparing the salad to give it time to sit and allow the flavors to meld. In a medium bowl, gently stir together all the ingredients, starting with just a pinch or two of salt. Stir occasionally, while preparing and marinating shrimp; adjust seasoning as needed.
In a medium zip-top bag, mix together the balsamic and oil. Season lightly with salt and pepper then add the shrimp. Allow to marinate in the fridge, flipping the bag every now and then, for no more than 30 minutes or the balsamic will begin to cook the shrimp.
Remove shrimp from marinade and thread onto the skewers. Grill the shrimp skewers on an indoor grill pan or outdoor grill over medium-high heat for 1 to 2 minutes a side, flipping once, until the exterior is pink, tails are reddened and the flesh is slightly opaque. Remove from grill and set aside.
Stir the salad and transfer to a serving platter. Place grilled shrimp skewers atop the salad and serve.