In the Kitchen with Sigona's Featuring: Yellow Nectarines
While most stone fruits are perfectly delicious to bite into as you would an apple, they're also great in salads or salsas, grilled or even baked!
We get most of our early summer, locally grown stone fruits from Sweet Home Ranch in Dinuba, Calif., a certified California Clean operation. We've worked with Sweet Home Ranch for many years to bring in some rare stone fruits that you'd be hard-pressed to find in other stores because we work with directly with the growers. Sweet Home Ranch allows their fruit to ripen on the tree so it comes to our markets bursting with flavor.
California Clean fruits are grown using no organic or synthetic pesticides. This certified system protects the environment, supports small family farms and delivers extraordinary produce at an affordable price. It's one of the first eco-label movements in the state that works to discover and promote a cleaner, more eco-friendly way to produce nut and stone fruit crops.
Produce Tips:
Yellow nectarines have a bit more acid than white nectarines, giving them a sweet-tart flavor. White nectarines have a more mellow, mostly all sweet flavor.
If you select fruits that are still on the hard side, allow them to sit out at room temperature until they have some give when gently pressed. Once they're softened, store them in the refrigerator.
Here are a few of our favorite nectarine recipes:
Fresh Greens Salad with Nectarines, Blueberries, Feta and Glazed Walnuts
Fresh, light and flavorful, this salad would be a great complement to any grilled meats, especially when made with peppery arugula. Additionally, you could add strips of grilled chicken to the salad and serve it for lunch or dinner. 
CLICK HERE for the recipe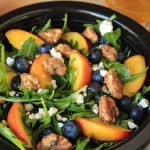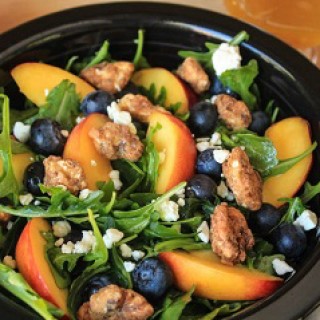 Nectarine, Cucumber & Radish Salsa
This is delicious on fish or pork tacos, or simply as a chip dip. If you feel like taking a more hors d'oeuvres route, serve it as a bruschetta topper for lightly toasted crostini. Adapted from Cooking Light.
CLICK HERE for the recipe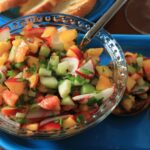 Nectarine & Prosciutto Pizza with Pesto and Fresh Mozzarella
Baking this pizza on locally made Viccolo corn meal crust makes all the difference; it's absolutely delicious and the flavors pair well with the basil pesto and nectarines. You can use peaches in place of the nectarines if you wish. 
CLICK HERE for the recipe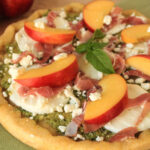 Grilled Nectarines with Burrata, Basil and Prosciutto
Grilling fruit caramelizes its natural sugars, giving the fruit a warm depth of flavor. In this case, grilling develops an almost cobbler-like flavor in these nectarines! Paired with the savory prosciutto, the creamy burrata and the herbaceous basil, you get a summer dish that's simply divine served with a glass of chilled wine.
CLICK HERE for the recipe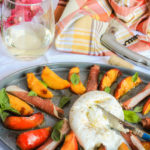 Summertime Peach & Garlic Grilled Shrimp with Nectarine, Cucumber & Lime Chop Salad
Fresh, fruits, grilled shrimp and Sigona's Summertime Peach White Balsamic just scream summer. The shrimp take on fantastic flavor from the marinade and pair delightfully with the fresh flavors of the chop salad.
CLICK HERE for the recipe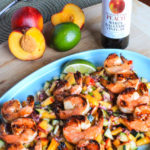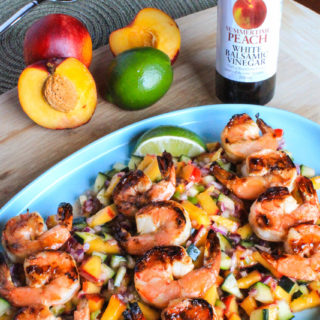 Grilled Watermelon Pizza with Stone Fruit, Quick-Pickled Shallots, Walnuts and Blue Cheese
While we usually like to keep our fruits raw, sometimes summertime calls for throwing fruit on the grill! Grilling fruit brings out its natural sugars, giving the fruit more of a caramelized flavor. Pairing grilled watermelon with savory, quick-pickled shallots and salty, creamy and flavorful cream cheese makes for a salty-sweet treat that's perfect for the dog days of summer. One personal-sized watermelon makes about 12-16 wedges, depending on size.
CLICK HERE for the recipe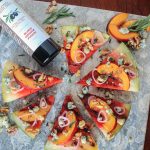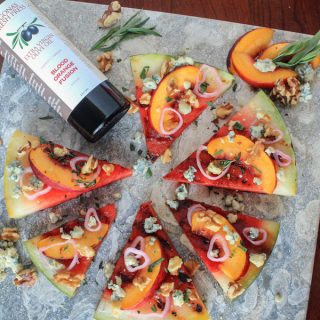 Heirloom Tomato Salad with Nectarines, Fresh Mozzarella, Crumbled Bacon and Arugula, Tossed in a Summertime Peach and Basil Vinaigrette
This recipe, adapted from Sunset magazine, is what Sunset calls a beach-ready spin on Caprese salad. You'll love the flavor nectarines bring to these traditionally paired ingredients, and your friends will ask for your peach balsamic source. 
CLICK HERE for the recipe