Sweet Potato Chips with Sigona's Guacamole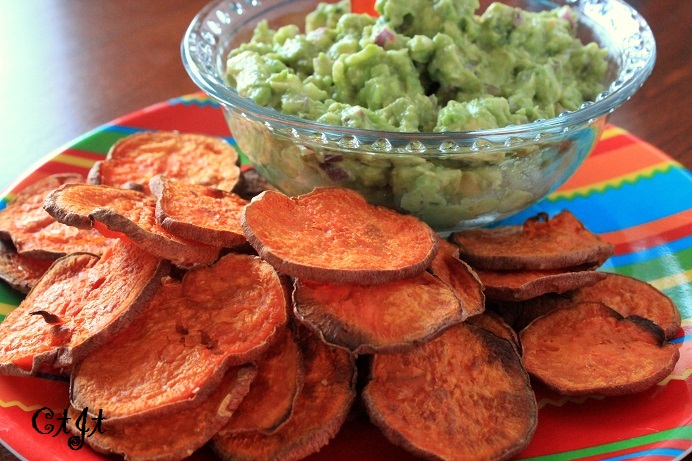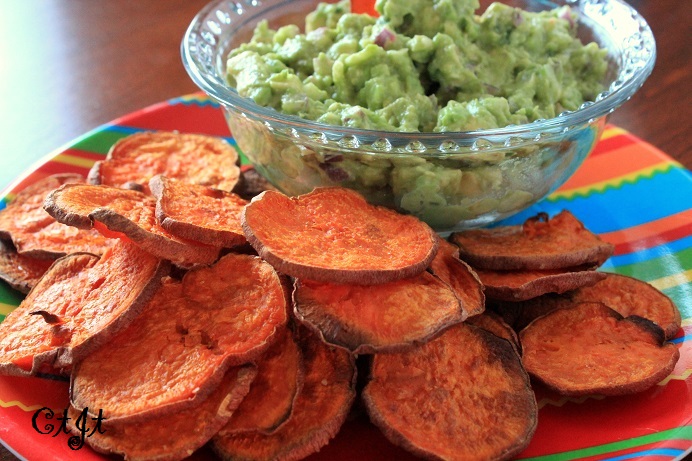 It's easier than you think to make chips at home. DIY is all the rage now, right? So, try our recipe for sweet potato chips and serve them with Sigona's guacamole. A perfect match. Chips recipe adapted from Martha Stewart. Serves about 4.
Ingredients:
2 medium sweet potatoes, scrubbed and sliced 1/8-inch thick (use a mandoline slicer to get even, quick slices)
1 Tbsp Sigona's Fresh Press extra virgin olive oil
1/2 tsp. coarse salt, preferably sea salt
1/4 tsp. black pepper, to taste
Sigona's Guacamole (recipe to follow)
Directions: Preheat oven to 400F, with racks in center and lower positions.
Divide sweet potato slices evenly between 2 rimmed baking sheets. Drizzle with oil, toss and spread them in a single layer on sheets. Sprinkle lightly with sea salt and black pepper.
Bake, flipping once, until centers are soft and edges are crisp, about 25 to 30 minutes. Cool on a cooling rack for about 10 minutes, then serve with Sigona's guacamole.
These chips are best served the same day.
Sigona's Guacamole
Some like it hot, some do not! Add as much serrano or jalapeño as you wish. Remember, the white veins and seeds are what pack a punch, so scrape them out to lower the heat. This recipe makes A LOT of guac', so have some chips or sliced veggies ready!
Ingredients:
1/3 cup finely diced white onion
1/3 cup finely diced red onion
2-4 serrano chilies (or jalapeños), finely chopped (seeds removed or left, depending on how hot you like your guacamole)
1 clove garlic, minced
1 tsp. salt
4 large, ripe avocados, removed from skin and coarsely chopped
2 Tbsp fresh squeezed lime juice
Fresh ground black pepper
Salt, to taste
Other considerations:
Looking for a way to spruce up your guacamole? Try some of these additions, or leave it as is:
Diced mango
Bacon
Hummus, flavored or plain
Corn
Black beans
Directions: Mix onions, chilies, garlic and salt in a medium-sized glass bowl. Add the avocados and gently stir. Pour in the lime juice and toss. Season with some black pepper and salt, if needed, to taste. Then…you're done. That's it! Add in any other flavors you like or leave it as it. Yep – it's that easy.