Wild Salmon Quinoa Bowl with Quick Cider-Pickled Veggies
The layers of flavors in this dish pack an incredible punch. The quick-pickled beets and carrots offer a bright zing that gives the dish that little something extra and brings a bite all together. This is a veggie-packed meal that's perfect for weekly meal prep as all parts can be made separately and either assembled ahead of time or just when needed. Recipe adapted from Cooking Light. Serves 2 to 4.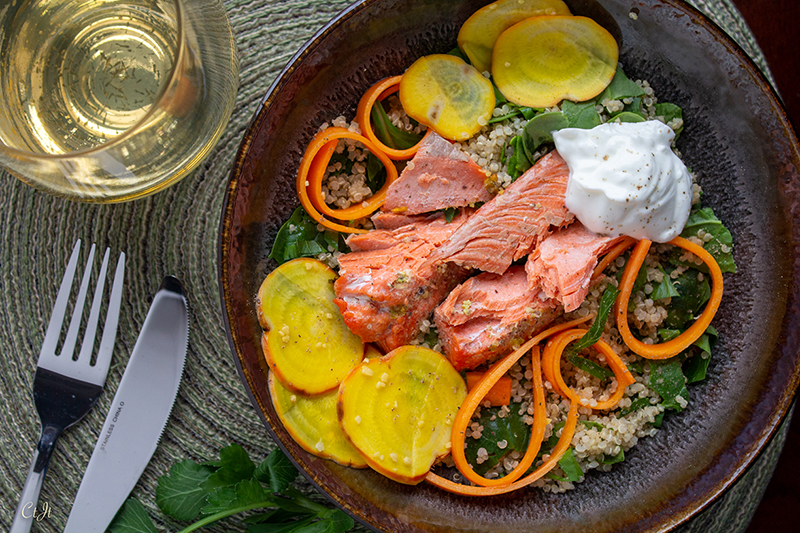 Ingredients:
1 3/4 cup chicken or vegetable stock
3/4 cup quinoa (any kind will do)
2 1/2 cups baby spinach, chopped, stems removed if desired
2 Tbsp chopped parsley
1 Tbsp fresh lemon juice
5 Tbsp Sigona's Fresh Press Extra Virgin Olive Oil, divided (Mix it up! Try Sigona's Garlic Oil and/or Sigona's Meyer Lemon Fusion Olive Oil for added flavor)
Salt and pepper, to taste
1 small golden beet
1 small-medium carrot
1 1/2 Tbsp apple cider vinegar
2 tsp minced garlic
1 skin-on salmon filet, about 12 oz.
Optional: Greek yogurt, regular or dairy-free
Directions: Cook the quinoa in the stock according to package directions. When done, fluff it with a fork and stir in the spinach, parsley, lemon juice, 4 tablespoons oil and salt and pepper, to taste. Cover, set aside and keep warm.
In a small bowl, mix together the vinegar, garlic and a pinch of salt. Use a mandoline to create slices as thin as possible of the beet and carrot (lengthwise) and add them to the vinegar. Allow to sit for about 15 minutes, stirring occasionally.
Heat remaining oil in a skillet over medium-high heat. Season salmon with salt and pepper, to taste. Place salmon in the skillet to cook skin-side down for about 6 minutes. Reduce heat to medium, cover skillet and allow salmon to cook another 6 to 8 minutes or until cooked through (thickest part should register at least 130°). Remove from heat and allow salmon to sit about 5 minutes.
To serve, divide quinoa evenly among 4 individual bowls or meal prep containers. Flake the salmon into large pieces and add to the quinoa. Top each with the beets and carrots and finish with a dollop of yogurt, if desired.