In the Kitchen with Sigona's Featuring: Central Coast Creamery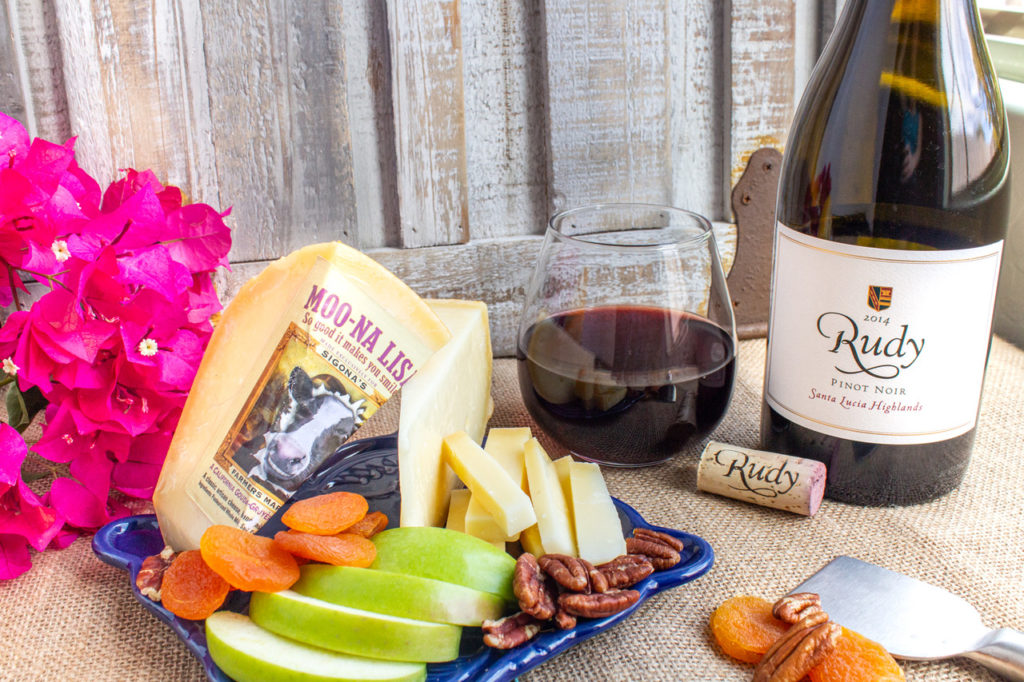 Enjoy these recipes and suggested wine & cheese pairings as seen on our Storytelling with Sigona's Webinar featuring Reggie Jones of Central Coast Creamery, and his daughter, Avery Jones, of Shooting Star Creamery!
x
x
Cheesy Asparagus Popover with Basil-Infused Baklouti Green Chili Oil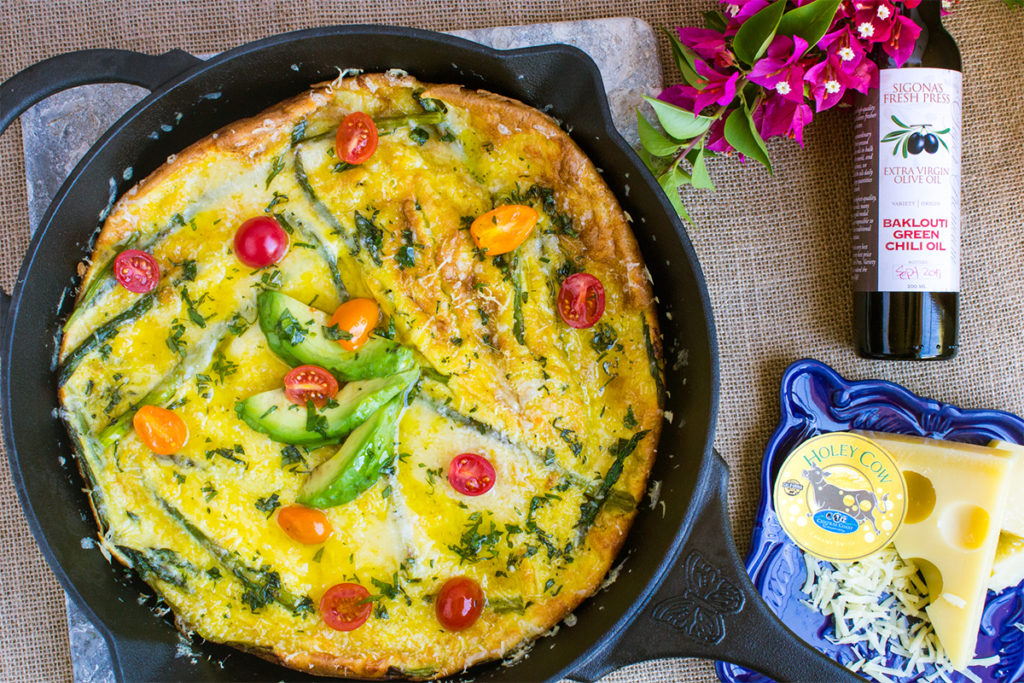 This is a work of art when it comes fresh out of the oven! It's light and fluffy, yet flavorful and filling. Holey Cow cheese, made locally by Central Coast Creamery, is an excellent melting cheese that has a smooth, creamy texture and a crisp, buttery finish; it adds excellent flavor to this dish! For more layers of flavor, consider adding sautéed bacon and/or onions and bell peppers to add in with the asparagus. Adapted from Food Network. Serves about 6. 
For the oil:
3 Tbsp Sigona's Baklouti Green Chili Oil (warning, this is HOT! If desired, cut the Baklouti with another of Sigona's regular olive oils)
1 Tbsp minced fresh basil
Salt and freshly ground pepper, to taste
For the popover:
Kosher salt
8 ounces asparagus, ends trimmed
Optional: Chopped sautéed bacon or lardons, onions and/or bell peppers
4 to 6 large eggs
1/2 cup whole milk, at room temperature
1/2 cup all-purpose flour
Freshly ground black pepper
1 ½ cup coarsely shredded Holey Cow cheese, divided
2 Tbsp butter
1/4 cup freshly grated Parmigiano Reggiano
1/2 cup sliced grape tomatoes
1 avocado, sliced
For the oil: In a small bowl, mix together the oil/oils and minced basil. Season with salt and pepper, mix well and set aside to allow the flavors to meld.
For the popover: Preheat the oven to 425°F. Place a 10- or 12-inch cast-iron skillet in the oven to heat. Add about 3 inches of water to a medium pot of water and bring to a boil. Meanwhile prepare an ice bath in a medium bowl. When water is boiling, add salt and the asparagus. Parboil the asparagus for 1 to 2 minutes, depending on the thickness of the asparagus. Use tongs to transfer the asparagus to the ice bath. When chilled, drain and pat dry. Set aside.
Whisk together the eggs and milk in a large bowl until smooth. Slowly whisk in the flour and whisk until smooth; season with salt and pepper. Stir in 1 cup of the Holey Cow cheese.
Use oven mitts to carefully remove the hot skillet from the oven. Add the butter to the skillet and stir until melted. Arrange the asparagus (and any additional sautéed add-ons) in the bottom of the skillet, season with salt and pepper. Slowly pour the egg mixture over the top of the asparagus then bake the mixture until puffed and golden brown, about 15 minutes.
Carefully remove the hot skillet from the oven. Sprinkle the remaining Holey Cow cheese and the Parmigiano Reggiano on top. Carefully return the skillet to the oven to bake another 3 minutes or until the cheese is melted, then use oven mitts to remove the skillet from the oven for the final time.
Top the popover with the tomatoes and avocado, then drizzle the top of the popover with 1 to 2 tablespoons of the basil-infused baklouti oil. Serve immediately with the remaining infused oil on the side.
French-Style Bartlett Pear & Moo-na Lisa Cheese Panini
Moo-na Lisa is a Gouda-Gruyère style cheese locally made exclusively for Sigona's by Central Coast Creamery. This recipe was developed by one of our Redwood City cheese specialists, specifically for this cheese, as Moo-na Lisa pairs perfectly with pears. Enjoy! Serves 2.
Ingredients:
4 slices sourdough bread
1 to 2 Tbsp Dijon mustard, more or less to taste
1 ripe Bartlett pear (firm, but ripe), thinly sliced (you may only need half the pear, depending on the size of bread you use)
4 oz. Sigona's Moo-na Lisa cheese, sliced
Sigona's Fresh Press Extra Virgin Olive Oil, for brushing
Freshly ground pepper, to taste
Directions: Preheat a Panini maker or griddle over medium to medium-high heat. Lightly brush each side of the bread with olive oil. Layer slices of pear on 2 pieces of bread and sprinkle with a bit of pepper. Top with slices of Moo-na Lisa. Place the remaining oiled slices of bread on top of the dressed slices then place in the Panini maker or on the griddle.
Cook until nicely browned on both sides (flip once if using a griddle) and cheese is melted. Serve immediately.