Roasted Butternut and Asian Pear Salad with a Pomegranate Vinaigrette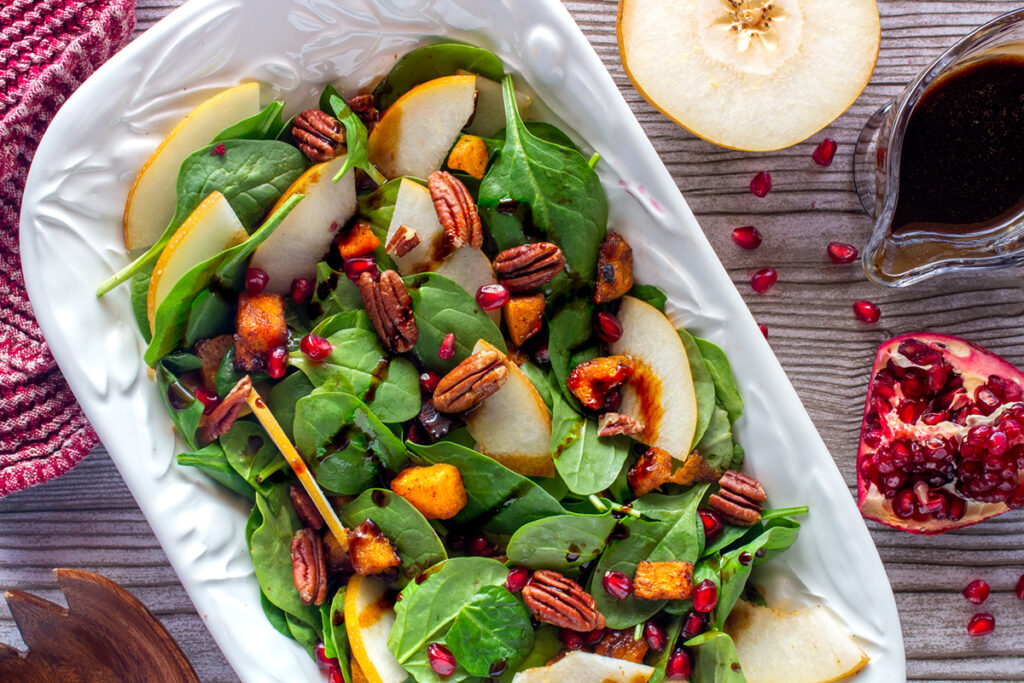 These flavors may scream fall, but sometimes you just need a hearty, comfort-flavored salad, right? Add cheese or leave it off for a diary-free option. Goat or Feta adds a nice salty and creamy factor, if you choose to use it, and pairs beautifully with the roasted squash and bright, juicy pomegranate seeds. Asian pears are crisp and hold up well in salads, but you can also use apple or pear. Serves about 6.
For the butternut squash
1 Tbsp Sigona's Garlic Oil
1 Tbsp honey, such as local, raw Honey Hole Honey Co. honey, available only at Sigona's
1/4 tsp each cinnamon and ground chili powder
Salt and pepper, to taste
About 2 cups cubed (about 1/2-inch cubes) butternut squash
For the salad:
About 12 oz baby spinach (or about 1 to 2 hefty handfuls per person)
1 Asian pear, halved, cored and sliced on a mandoline, at about 3mm. (use half or all, depending on size of pear)
1/2 cup glazed pecans (look for other pecan options in Sigona's Dried Fruit & Nut section)
At least a 1/2 cup fresh pomegranate arils (seeds), more to taste/appearance
Optional: crumbled feta or goat cheese
For the dressing:
3 Tbsp Sigona's Garlic Oil
1/2 tsp Dijon mustard
Salt and pepper, to taste
Optional: 1/2 tsp honey, if you find the vinaigrette to be too tart once mixed
Directions: Preheat oven to 400°F and line a rimmed baking sheet with foil. To prepare the squash, whisk together the garlic oil, honey, cinnamon, chili powder, salt and pepper. Add the squash and toss to coat. Spread out in a single layer on the baking sheet and roast for 25-30 minutes, flipping the cubes half-way through, until tender but not mushy.
To make the dressing, either whisk together all ingredients in a medium bowl or add to a lidded jar and shake until emulsified.
In a large mixing bowl, toss the spinach with the pear and squash. Transfer to a serving platter or distribute among individual plates. Top with pecans, pomegranate arils and cheese, if using, then drizzle the dishes with a bit of the vinaigrette. Serve remaining vinaigrette on the side.