Shakshuka with Sigona's Marinara and Organic Eggs
This is a dish popular across the Middle East and North Africa. It's traditionally a combination of tomatoes, vegetables and spices, topped with eggs; it's usually served for breakfast with pita, naan, roti or other flatbread. Using Sigona's marinara infuses this dish with fresh herbs and spices, eliminating a few steps and ingredients you may find in other shakshuka recipes. Made this way, the dish is gluten-free and dairy-free. Serves 4.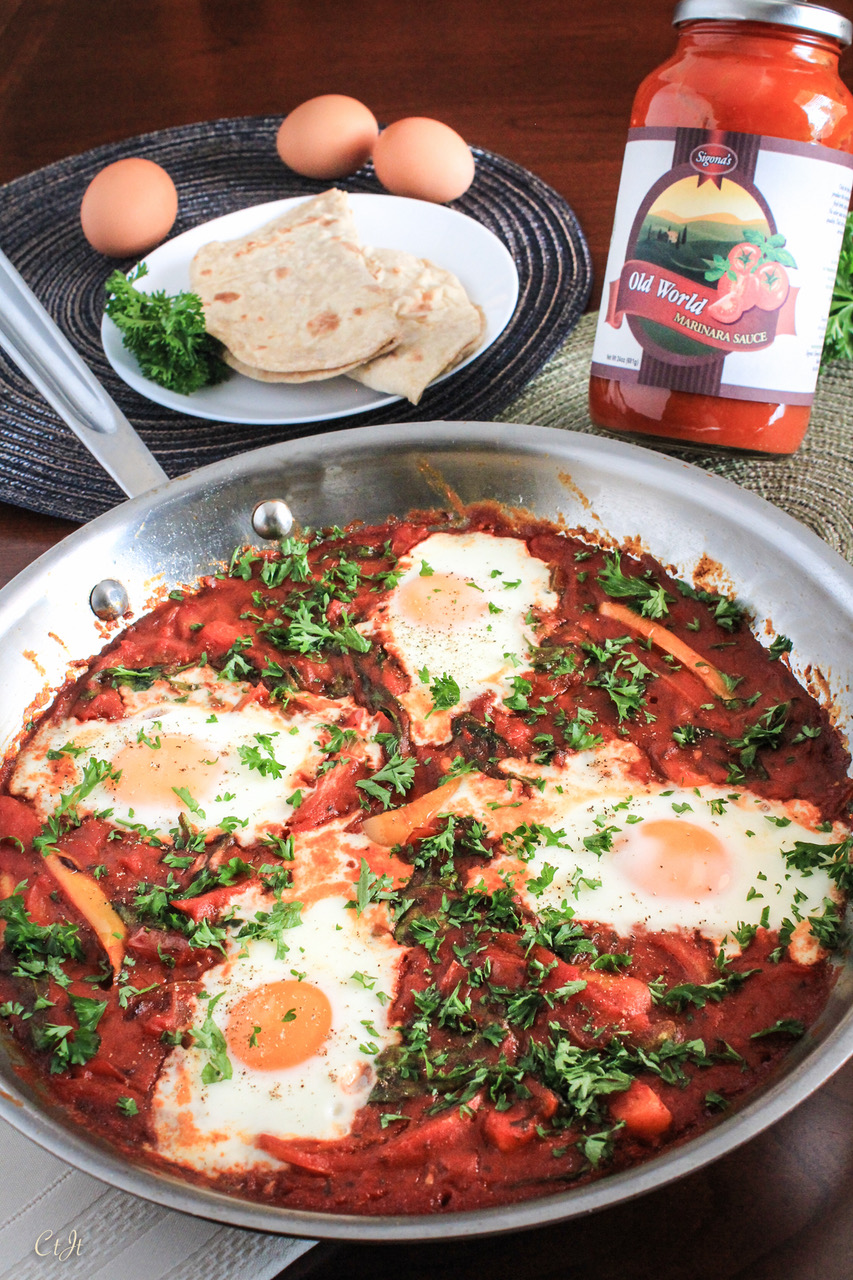 Ingredients:
Half an onion, sliced
1 yellow or orange bell pepper, seeded and sliced into strips
Salt and pepper, to taste
2 cloves garlic, minced
1 tomato, diced
1 tsp smoked paprika
2 cups Sigona's Old World Marinara
2 cups fresh spinach
4 eggs
Fresh chopped parsley, for garnish
Naan, pita or other flatbread, for serving
Directions: Preheat oven to 375F.
Heat olive oil in a large skillet, or cast-iron or other. Add the onion and pepper, season with salt and pepper. Cook, stirring occasionally, about 5 minutes. Add the garlic and cook, stirring, for 30 seconds. Add the tomatoes and cook, stirring occasionally, for 1 minutes. Stir in the paprika and cook for another minute.
Add the marinara and stir to incorporate. Bring mixture to a boil then reduce heat for 3 minutes. Stir in the spinach and cook until it wilts, about 2 minutes more.
Remove skillet from heat. Make 4 divots in the mixture, equally spaced apart. Crack eggs one at a time into a ramekin then transfer the egg from the ramekin to one of the divots in the skillet, being careful not to break the yolk. When all eggs are added, transfer the skillet to the oven.
Bake for 10 to 12 minutes or until egg whites are cooked but the yolks still give a slight wobble. Use caution removing skillet from the oven. Sprinkle with parsley and serve immediately.
Simple Savory Omelette with Herbes de Provence and Fresh Veggies
Here, two French culinary concoctions combine to create one delicious dish. Herbes de Provence is the name used for a spice mixture common in the Provençal region of France, and an omelette…well, maybe just the word hails from the French language, but the popularity of the dish and its name has something to do with Napoleon Bonaparte and a now-annual omelette festival in Bessieres, France (Google it!). Long story short, our Herbes de Provence olive oil adds an infusion of flavor to an omelette without adding heaps of ingredients. More ingredients makes for a tasty omelet, but can make an omelet difficult to cook and fold! Inspired by The Olive Oil & Vinegar Lover's Cookbook. Makes 1 large omelette.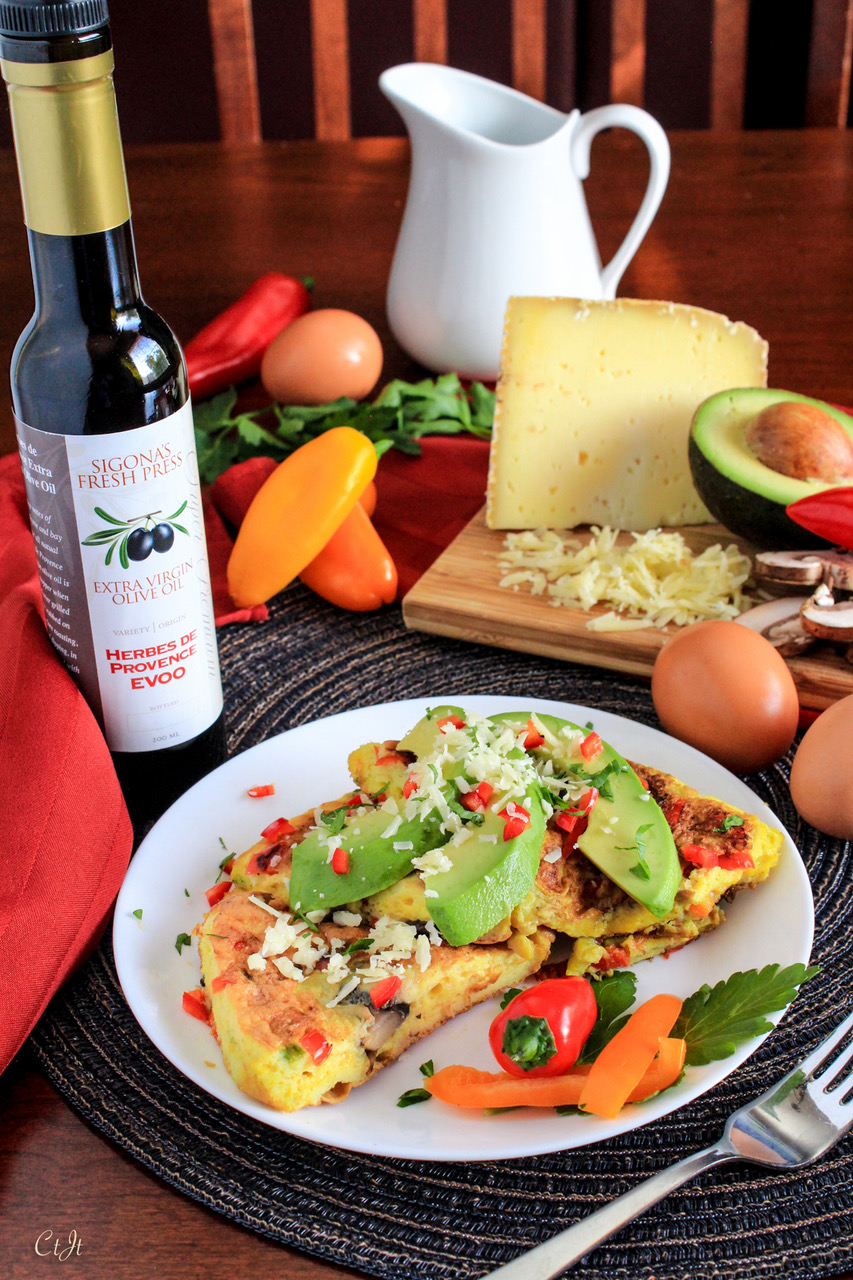 Ingredients:
2 crimini mushrooms (baby bellas), sliced
1 sweet mini pepper, diced, or 1/4 cup diced bell pepper
1 to 2 green onions, diced
Salt and pepper, to taste
3 eggs
2 Tbsp freshly grated Thomasville Tomme cheese, plus more for garnish
Half a medium avocado, peeled and sliced
Directions: Heat 1 tablespoon oil in an 8" or 10" nonstick skillet over medium heat. Add the vegetables, season with salt and pepper, and sauté for about 2 minutes. Reduce heat to medium low.
Meanwhile, whisk the eggs with the remaining tablespoon oil. Whisking well until the mixture is foamy.
Add the eggs to the skillet, pouring over the vegetables. Add the cheese and allow the egg to cook for about 1 minute before slowly swirling the pan to move the uncooked egg to the edges of the pan for another 30 seconds or until it is nearly set. Using a large rubber spatula, carefully fold the omelet in half. Cook another minute then remove from the pan.
To serve: Either present the omelet whole or divide it into halves or fourths. Top with sliced avocado and another sprinkling of cheese. Serve immediately.