June Balsamic and Oil Sale Recipes
We choose new infused oils or balsamics each month to put on sale so you get a chance to try something different at a great price! The sale items this month are: Meyer Lemon Fusion Oil, Golden Pineapple White Balsamic, Red Cherry Balsamic and Organic Balsamic. Try some of these recipes below or comment with your own creations!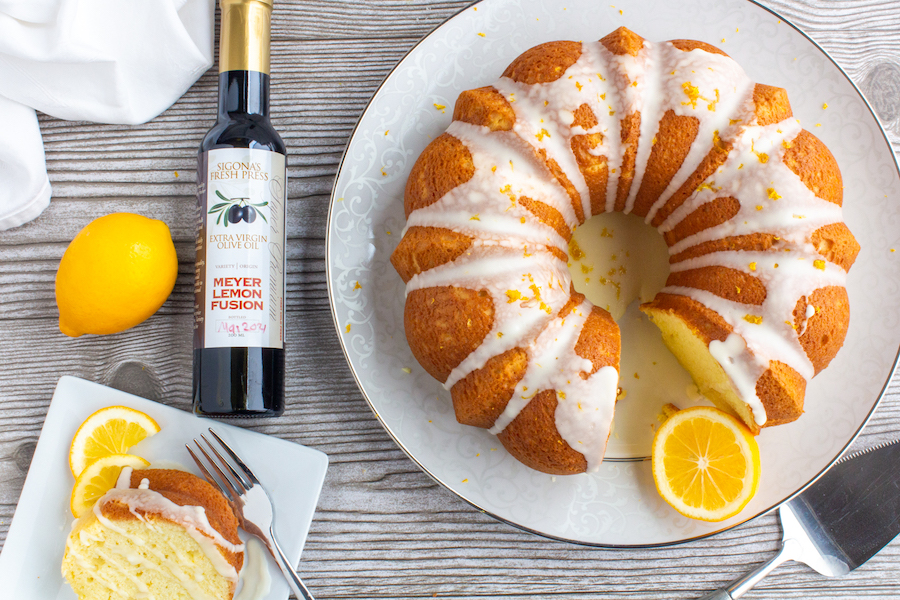 Meyer Lemon Olive Oil & Honey Yogurt Tea Cake
This cake is perfect in many ways. The lemon flavor is bright and citrusy but is subtle enough it is not overwhelming, and the texture is dense yet fluffy, thanks to the eggs and Greek yogurt. You can serve this as is with the glaze or kick it up a notch with fresh berries or edible flowers. Serves 12 to 14.
Ingredients:
1/2 cup Sigona's Meyer Lemon Fusion Olive Oil
4 large eggs
2 cups granulated sugar
3/4 cup Greek-style honey-flavored yogurt
1 Tbsp Meyer lemon zest (for more lemony zing, add 2 Tbsp), plus more for garnish
1/2 cup milk
1/3 cup Meyer lemon juice
3 cups all-purpose flour
2 tsp baking powder
Glaze:
1 cup powdered sugar
1 to 2 Tbsp Meyer lemon juice
Directions: Preheat oven to 325°F. Coat a 10" bundt pan with cooking spray.
In a medium bowl using beaters or stand mixer, mix together the oil and sugar until light and fluffy, about 3 to 4 minutes. While mixing, add eggs to the mixture, one at a time. Add the yogurt and zest and gently stir to combine then blend in the milk and lemon juice.
Sift together in a medium bowl the flour and baking powder. With the mixer on, slowly add the dry ingredients to the wet, about 1 cup at a time. Mix just until the ingredients are blended. Pour batter into the prepared bundt pan and bake for 1 hour.
Cool the cake in the pan for 12 minutes then invert on a cooling rack. Allow the cake to cool to room temperature before pouring on the glaze.
For the glaze: whisk together the powdered sugar and 1 to 2 tablespoons of the juice until you reach a desired consistency. It should be thin enough to drizzle but thick enough that it will not all run off the cake. Drizzle on the cake once it has cooled and sprinkle on additional lemon zest.
---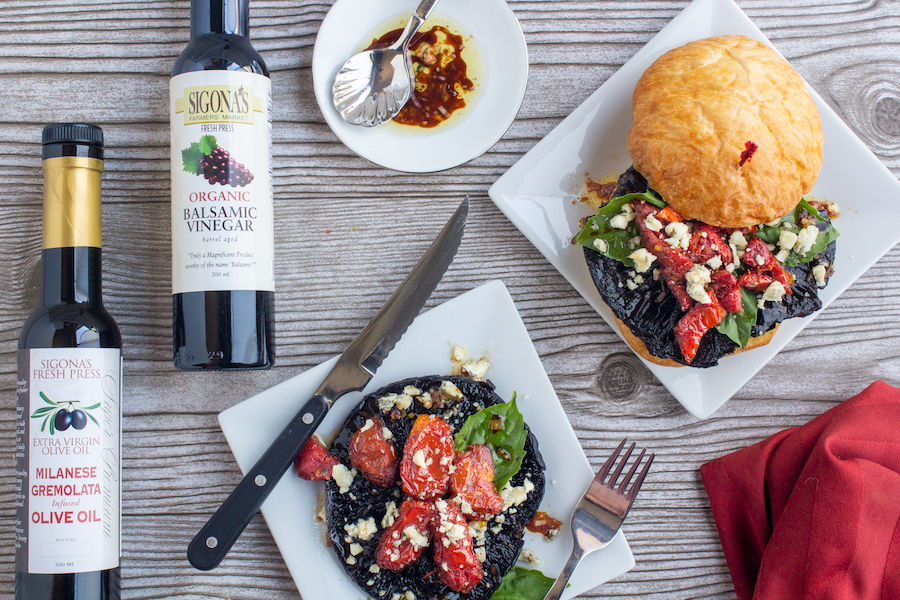 Organic Balsamic Marinated Portobello Mushrooms with Sun Dried Tomatoes and Crumbled Smokey Blue
Make this into a burger or leave off the bun for a delicious and satisfying gluten-free meal! Marinating the portobellos in a combination of Sigona's organic balsamic and our new Milanese Gremolata infused olive oil adds layers of savory and slightly sweet flavor that, once when on the grill, will get the neighbors peeking over the fence to see what's cookin'. Gremolata is a traditional Italian herbal condiment consisting of fresh lemon zest, minced garlic, Italian flat leaf parsley and a hint of mint. It's perfect for this dish! Serves 2.
Ingredients:
1/3 cup Sigona's Milanese Gremolata Infused Olive Oil
2 Tbsp Sigona's Organic Balsamic
1 clove garlic, minced
1 Tbsp minced shallot
Salt and freshly ground pepper, to taste
2 portobello mushrooms, wiped and brushed cleaned, stems removed
1/4 cup crumbled blue cheese, such as Rogue Creamery Smokey Blue
6 to 8 sun-dried tomatoes (oil packed), drained and halved, if necessary
Optional: 2 rolls or buns of choice, lightly toasted
Fresh basil leaves, for serving
Directions: Place prepared mushrooms in a shallow, rimmed dish. In a bowl whisk together the oil, balsamic, garlic, shallot, salt and pepper. Reserve 2 tablespoons of the marinade. Pour the remaining marinade over the mushrooms and allow to marinade at room temperature for 1 hour, flipping after 30 minutes.
Preheat an outdoor grill or indoor grill pan over medium-high heat. Lightly oil the grates with cooking oil. Remove mushrooms from marinade and add to the grill; cook for 2 to 4 minutes a side, flipping once, until they're tender and show grill marks.
With buns: Brush the cut sides of the buns with the reserved marinade. Add the mushroom and top with tomatoes, crumbled blue and a few basil leaves. Drizzle any remaining marinade on top, if desired.
Without buns: Plate the mushrooms and top with tomatoes, crumbled blue and basil leaves. Drizzle some reserved marinade on top.
---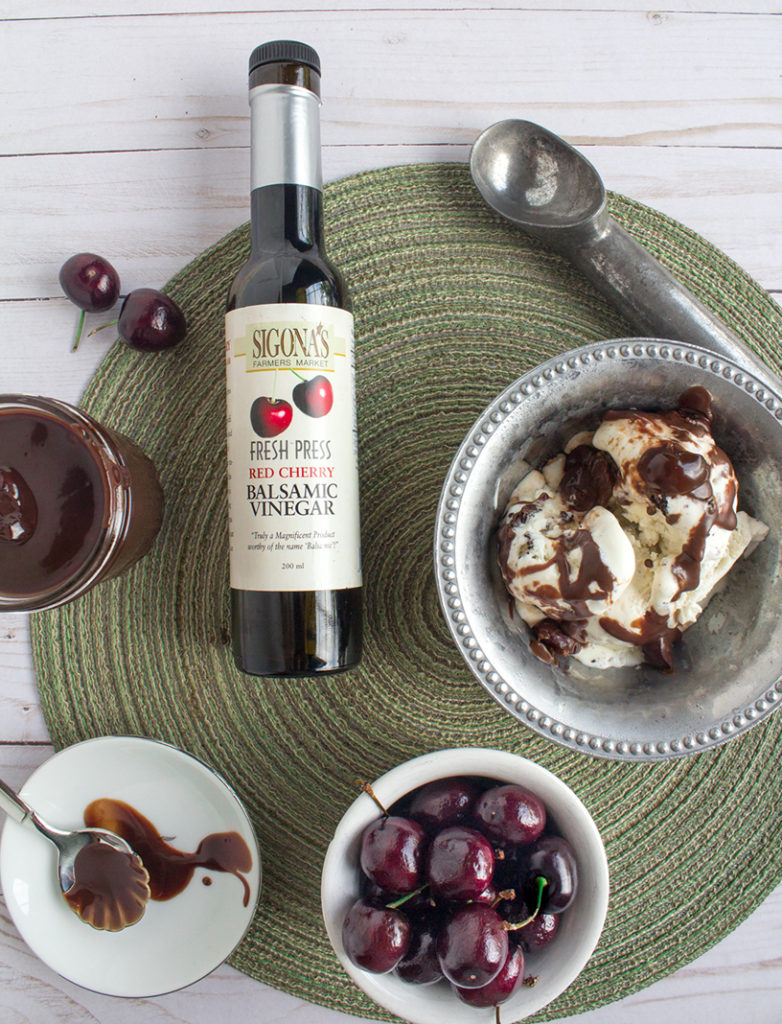 Red Cherry Hot Fudge Sauce
This is an absolutely easy and luscious fudge sauce that's perfect for drizzling over ice cream and can also be used as a frosting. The subtle tang from the balsamic enhances the cherry flavor, making this sauce even more delectable. Adapted from The Olive Oil & Vinegar Lover's Cookbook. Makes about 2 cups.
Ingredients:
3/4 cup whipping cream
1/4 cup Sigona's Red Cherry Balsamic
3 Tbsp to 1/4 cup granulated sugar (to taste)
About 2/3 cup chopped fresh cherries, pitted
8 oz. unsweetened chocolate, chopped
Directions: Whisk together the cream, balsamic, sugar and cherries in a heavy-bottomed saucepan, set over medium heat. Bring to a gentle simmer, stirring occasionally; be careful not to let it come to a boil. Just as the mixture begins to steam, remove from heat and add the chocolate, allowing it to sit for about 3 minutes before stirring.
Whisk the mixture together until the chocolate has melted and the sauce is smooth.
Transfer the sauce to a mason jar or glass bowl and allow to cool to room temperature before serving (it will thicken as it cools). Store in the fridge for up to 5 days. To use after it has chilled, warm briefly in the microwave to bring it to a drizzling state.

---
Cherry-Balsamic-Lime Popsicles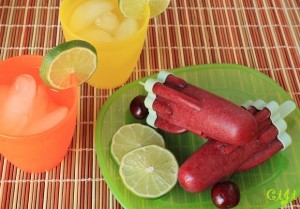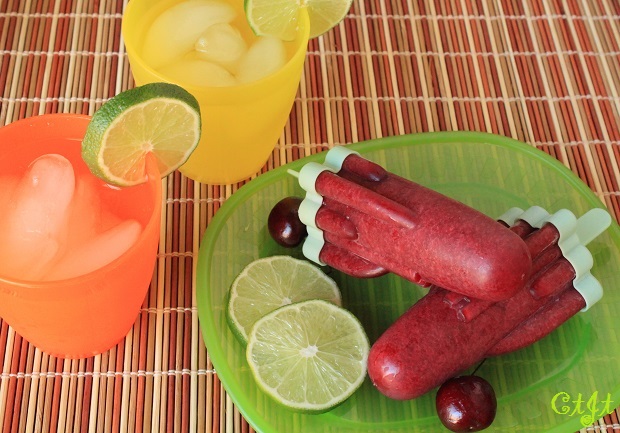 Cool, refreshing and tangy, these popsicles will please a crowd of grownups or littles. The balsamic really highlights the cherry flavor. Makes about 6.
Ingredients:
1 lb. fresh, local Bing cherries, pitted and halved (about 2 ½ cups)
1/2 cup water
3 Tbsp sugar
1 Tbsp Sigona's Red Cherry Balsamic
3 Tbsp fresh lime juice (from about 2 limes)
Directions: In a medium saucepan over medium heat, combine the cherries with the water, sugar, balsamic and lime juice. Cook, stirring occasionally, until the cherries are very soft, about 10 to 15 minutes.
Remove the mixture from heat and allow it to cool to room temperature, stirring occasionally.
Use an immersion blender, a food processor or a blender to puree the mixture. If desired, pour it through a fine sieve to remove any large pieces.
Pour the mixture into popsicle molds and freeze until frozen through. Enjoy!

---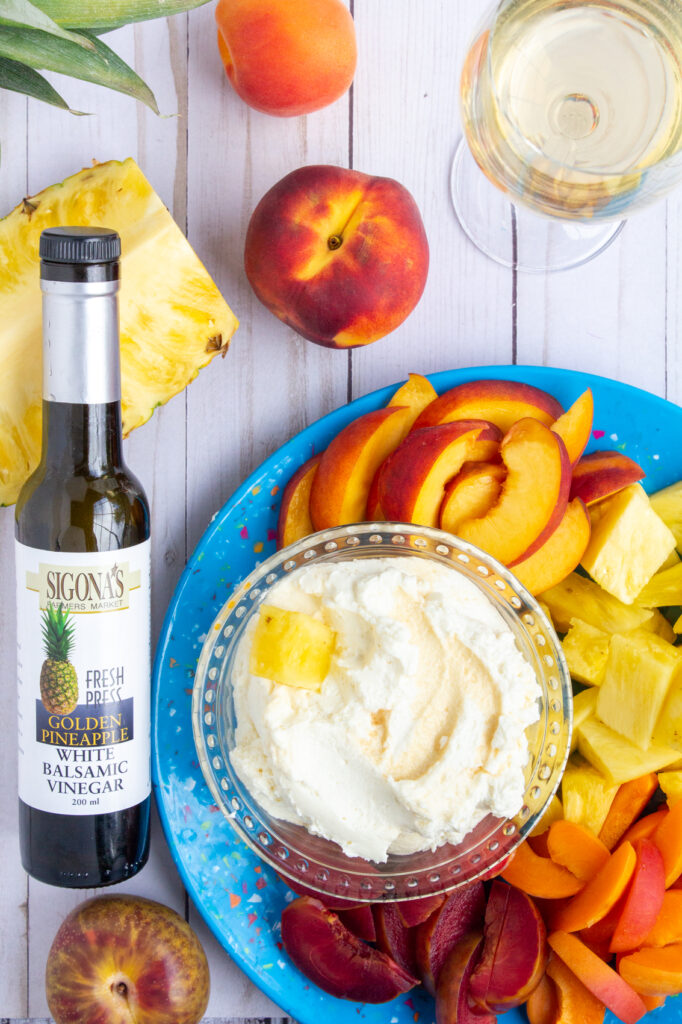 Pineapple Balsamic Whipped Mascarpone & Cream
A delightfully luscious and delicious dessert dip, perfect for enjoying with in-season fruits and a glass of wine. Makes about 3 cups. You can swap out the balsamic for other flavors, to complement the flavor.
Ingredients:
Summer Seasonal Fruits:
Peaches
Apricots
Plums
Pineapple
Mango
Berries
Directions: Whip the cream with a hand or stand mixer (or a whisk if you've got the stamina!) When there are soft peaks, add 2 tablespoons of the balsamic. Whip again until the peaks are just about stiff, then add 1 tablespoon more balsamic. Fold in the mascarpone and 1 additional tablespoon of the balsamic. Use the mixer or whisk to combine the cream and the mascarpone.
Whisk in up to 2 additional tablespoons of the balsamic, to taste. Chill for about 15 minutes or until ready to serve.
Plate and serve the whipped mascarpone with slices of summer or seasonal fruits.
---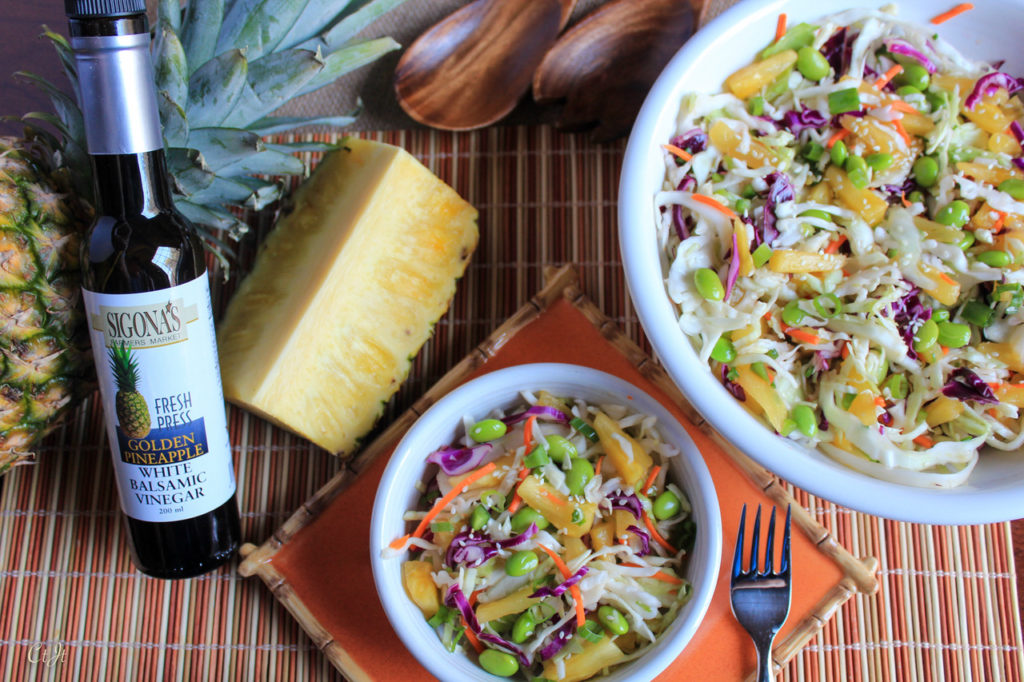 Summer Slaw with Sigona's Golden Pineapple White Balsamic
Crunchy and tangy with a little kick and an Asian twist, this slaw is perfect for fish, such as wild king salmon, or pulled pork. This is a vegan-friendly slaw, as it is made sans mayo, but don't worry about missing the creamy factor; the balsamic helps all the flavors to all meld deliciously! Inspired by The Olive Oil & Vinegar Lover's Cookbook. Serves about 6.
Ingredients:
4 cups thinly shredded green cabbage
2 cups thinly shredded red cabbage
2 carrots, shredded or julienned
1 small jalapeno, seeded and minced
1 cup diced fresh pineapple
3/4 cup shelled edamame
3 green onions, sliced diagonally
3 Tbsp Sigona's Golden Pineapple White Balsamic
1 Tbsp fresh lime juice
1 to 2 tsp coconut aminos, to taste (alternatively, use gluten-free soy sauce or a pinch of salt)
Black pepper, to taste
Optional: sesame seeds for garnish
Directions: In a large bowl, toss together the cabbage, carrots, jalapeño, pineapple, edamame and green onion.
In a small bowl, whisk together the balsamic, lime juice and coconut aminos. Pour over the slaw and toss well to coat. Season with pepper. Set slaw aside to allow the flavors to meld for about 20 minutes.
Just before serving, give the salad another toss to incorporate all the juices. Garnish with sesame seeds, if desired.