Melon, Prosciutto and Arugula Salad with Sigona's Summertime Peach White Balsamic
Melon and prosciutto is a fantastic combination, and our summertime peach white balsamic provides a zingy sweetness that complements the pepperiness of the arugula and the red onion.
We suggest using an Origami cantaloupe or an orange-flesh honeydew for this salad. These more unique melons burst with sweet flavor!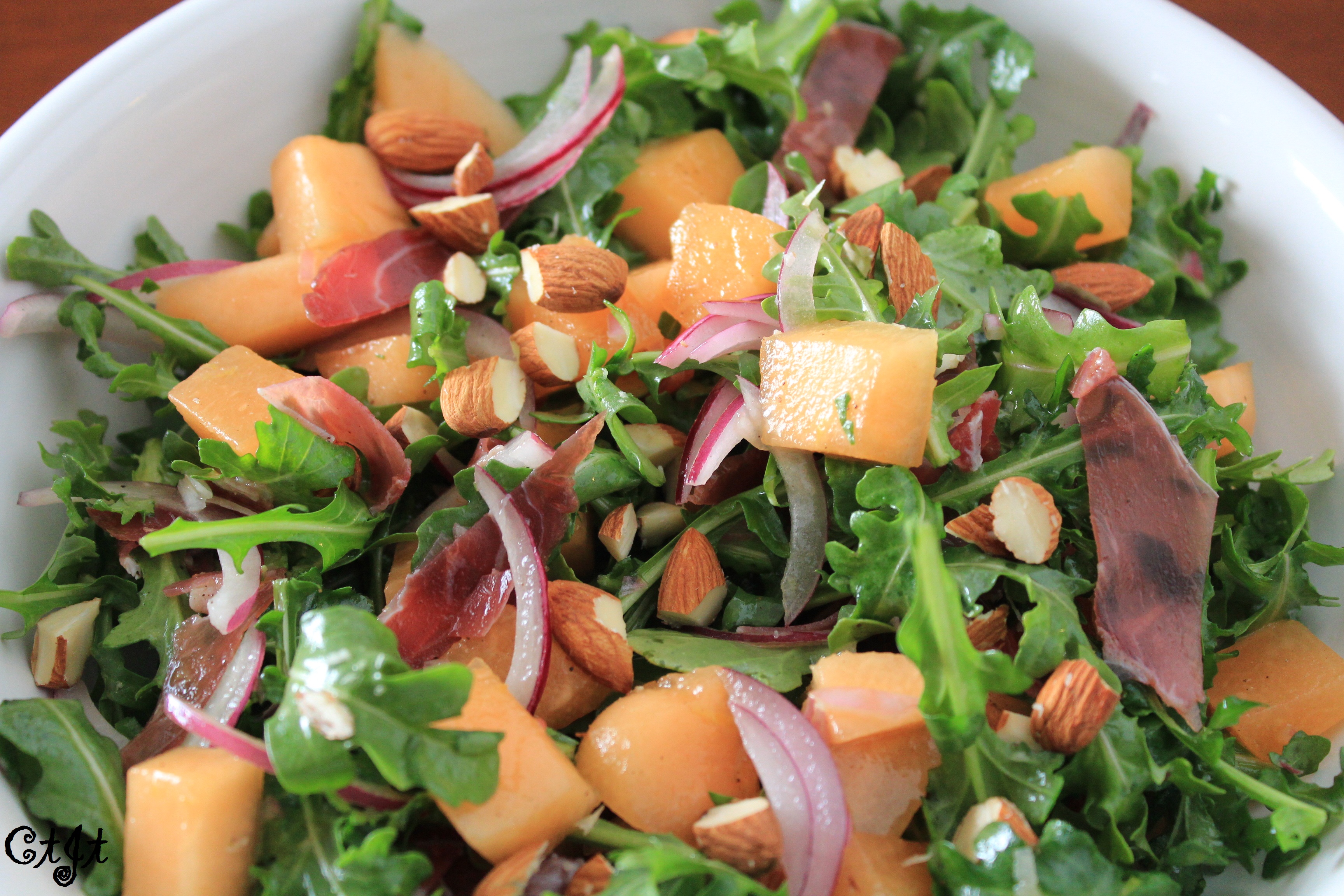 Melon, Prosciutto and Arugula Salad with Sigona's Summertime Peach White Balsamic
Here is a great summer salad that I make all the time. It pairs wonderfully with Sigona's Summertime Peach White Balsamic. Recipe adapted from Food Network. Serves 8 to 10.
Ingredients
1/4

cup

Sigona's Summertime Peach White Balsamic

1

Tbsp.

minced shallot

1/2

tsp.

Dijon mustard

1/2

tsp.

salt

1/4

tsp.

freshly ground black pepper

1/3

cup

Sigona's Fresh Press Chiquitita extra virgin olive oil

(Mix it up! Try Meyer Lemon Fusion Extra Virgin Olive Oil if desdired).

1

Tbsp.

chopped fresh herbs

such as basil, chives and parsley

1

melon

such as Origami cantaloupe, orange-flesh honeydew or cantaloupe, peeled, seeded and cut into 1/2-inch cubes

1/2

cup

thinly sliced red onion*

8

thin slices prosciutto

cut into thin strips

10

oz.

wild arugula

washed and spun dry (very dry!)

1

cup

roughly chopped toasted sprouted gourmet almonds
Instructions
In a mixing bowl combine the balsamic, shallot, mustard, salt and pepper; whisk to combine. While continuing to whisk, add the oil in a slow and steady stream. Whisk in the fresh herbs and set aside.

In a large bowl, combine the melon, red onion, prosciutto, wild arugula and sprouted almonds. Drizzle with a couple tablespoons of the vinaigrette and season lightly with salt and pepper. Toss gently to combine; all ingredients should be well coated with the vinaigrette; add more if needed, but not too much.

Serve immediately, serve remaining vinaigrette on the side.
Notes
*You can take a bit of the bite out of a red onion by soaking slices in ice water for about 5 minutes. Drain and pat dry before use.
Visit our markets or our online store at www.sigonas.com to find our infused balsamics and olive oils, as well as seasonally pressed olive oils, such as the Chiquitita from Portugal (usually available February – June).