Nectarine & Prosciutto Pizza with Pesto and Fresh Mozzarella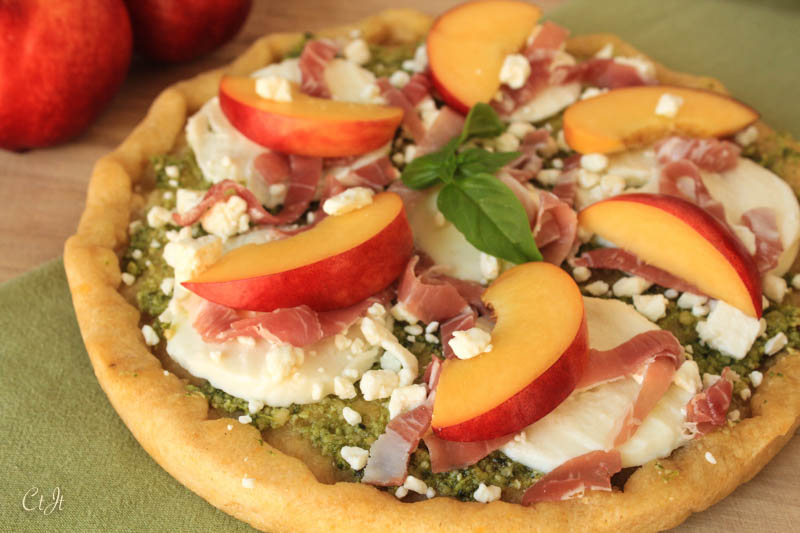 Cooking fruit caramelizes its natural sugars in a way that's rich and sweet. This pizza recipe is perfect for summertime, especially when the stone fruit is local, tree-ripened and bursting with flavor. Don't be afraid to make your own pesto either (though sometimes store-bought is just as good). All you really need are a handful of ingredients and a blender or food processor!
We love to use yellow nectarines, such as the Diamond Bright grown by Sweet Home Ranch in Dinuba, Calif. The Diamond Bright is an heirloom variety which gets its name after the original owner of the Bright's Nursery, Rosemary Bright.

Sweet Home Ranch is located just south of Fresno. This farm, which recently switched hands from third-generation farmers Ruth and Paul Buxman to Jarrod and Lauren Katayama, provides us with certified California Clean stone fruits that burst with sweet, tree-ripened flavors of summer.

What is California Clean? In short, means the fruits are grown using no organic or synthetic pesticides. This certified farming system protects the environment, supports small family farms, and delivers extraordinary produce at an affordable price. It's one of the first eco-label movements in the state that works to discover and promote a cleaner, more eco-friendly way to produce nut and stone fruit crops.
Be sure to check out some of our other recipes featuring nectarines, too!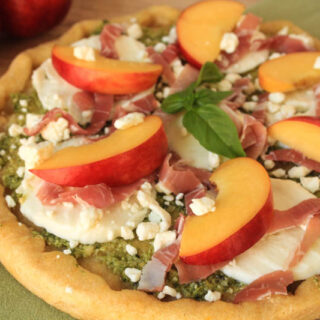 Nectarine & Prosciutto Pizza with Pesto and Fresh Mozzarella
Baking this pizza on locally made Viccolo corn meal crust makes all the difference; it's absolutely delicious and the flavors pair well with the basil pesto and nectarines. You can use peaches in place of the nectarines if you wish. Inspired by Eating Well. Serves 2 to 4.
Ingredients
For the pizza:
2 to 3

Tbsp.

prepared basil pesto

see a recipe for Sigona's pesto below, more or less to taste

3 to 4

oz.

fresh mozzarella

sliced

2 to 3

Tbsp

crumbled feta

1

Viccolo organic corn meal pizza crust

regular or gluten free

1/2

cup

thinly sliced prosciutto

Half of 1 locally grown California Clean nectarine

halved, pitted and sliced into at least 6 pieces

2 to 3

tsp.

Sigona's Summertime Peach White Balsamic

see note

Black pepper

to taste
For the pesto (makes about 3/4 cup):
About 1 cup

semi-packed fresh basil leaves (you can try arugula in place of the basil)

1 to 2

cloves

garlic

1/4

cup

freshly grated Parmigiano Reggiano

3

Tbsp

of pine nuts

1/4

tsp.

or so each salt & pepper

About 1/3 cup Sigona's Fresh Press Extra Virgin Olive Oil
Instructions
For the pizza: Directions: Evenly spread the pesto over the pizza crust. Add on a layer of fresh mozzarella slices and a sprinkling of Feta. Evenly distribute the sliced prosciutto on top of the cheeses, then add, in a circular manner, the nectarine slices.

Bake the pizza according to the directions on the Viccolo crust package.

Just before serving, drizzle on the peach balsamic. Finish with a few twists of fresh-cracked black pepper.

For the pesto: Place all ingredients, except the olive oil, in a food processor or blender. Turn on the processor to bring ingredients together for about 30 seconds, then drizzle in the olive oil, processing about 1 minute or until you get a good consistency (if you like your pesto sauce thicker, add a bit more cheese…if you want it thinner, add a bit more oil). Use immediately or cover well and store in the fridge up to a week. It also freezes well.
Notes
Sigona's infused balsamics and olive oils are available for purchase in our markets or online at www.sigonas.com.