Stuffed Baked Salmon with Sun Dried Tomatoes, Feta and Spicy Calabrian Pesto Olive Oil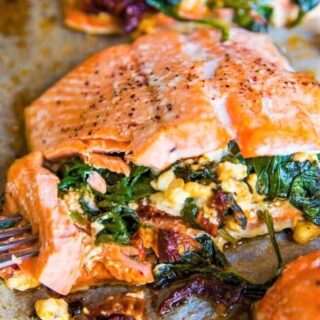 Stuffed Baked Salmon with Sun Dried Tomatoes, Feta and Spicy Calabrian Pesto Olive Oil
Savory and delicious, this dish is good for a dinner party or a night in with the family. The Spicy Calabrian Pesto Olive Oil lends just a touch of heat with the herbaceous flavor of basil. Recipe and photo courtesy of Veronica Foods. Serves 4.
Ingredients
Ingredients:

1/4

cup

roughly chopped whole Green Cerignola olives

look for them in our olive bar

1

shallot

finely chopped

4

oz

of chopped sun-dried tomatoes

3

oz

of fresh spinach

1/4

cup

crumbled Feta cheese

Salt & black pepper

to taste

3

Tbsp

Sigona's Spicy Calabrian Pesto Infused Olive Oil

4

6 oz fillets of skinless salmon
Instructions
Directions: Preheat oven to 375°F. Line a baking sheet with foil and set aside.

In a medium bowl, mix olives, shallot, sun-dried tomatoes, spinach and Feta.

Along the thickest edge of the salmon, cut a horizontal slice a couple inches deep to create a pouch. Rub salmon with 3 tablespoons of Spice Calabrian Pesto Infused Olive Oil, inside and outside the pouches. Season with salt and pepper. Stuff each fillet with the olive mixture.

Arrange stuffed fillets on baking sheet and bake until salmon is cooked through, about 30 to 40 minutes.