California & Northern Hemisphere Olive Oils are Now Available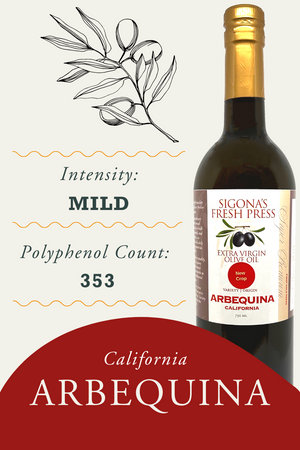 Did you know as oils age, they lose their health properties and can become rancid? To make sure we offer the freshest, healthiest olive oils, we make sure to follow the olive oil seasons around the world, just as we would with fresh produce.
Right now, it's the Northern Hemisphere olive oils that are the freshest available. These just-pressed oils are loaded with polyphenols, such as oleocanthal, which has powerful antioxidant and anti-inflammatory properties that are incredibly beneficial to our health!
California olive oils were the first of the Northern Hemisphere olive oils to arrive in our markets. The California Arbequina – a customer favorite – was harvested and pressed in October 2022 from groves in the Capay Valley, to the northwest of Sacramento.
Oils across the pond, from harvest regions including Greece, Italy and Spain, are arriving too. Our current line up:
Olive oils from California:
Arbequina: A mild-intensity oil with savory and herbaceous notes of artichoke and tarragon. This customer favorite finishes with a fleeting pepperiness.
Arbosana: Sweet and slightly floral with a creamy mouth feel. It finishes with a pleasing pepperiness and flavor notes of banana and almond. It was harvested from groves in the Capay Valley in California. 
Coratina: Displays juicy notes of Green Granny smith apple, a complex bitter center and a delayed, lingering pepper. Tasters award this oil high praise for intense fruitiness.
Mission: This varietal is almost exclusive to California and has a loyal following. It has a medium/robust intensity, displaying notes of green tea, almond and endive with some astringency and bitterness.
Picual: Sweet and fruity on the nose, this medium-intensity oil displays notes of peaches and apricots along with some floral characteristics. The finish is peppery with some astringency.
Olive oils from Spain:
Melagarejo Hojiblanca: Consistently one of our most awarded, complex oils. It has a beautiful emerald green color, a high fruitiness score and a robust intensity. Flavor notes include green melon, tomato leaf and arugula.
Olive oils from Sicily | Italy:
Nocellara: This viscous, medium-intensity oil is floral and savory with a well-balanced fruitiness. The delayed, lingering peppery sensation on the back end signifies healthy oleocanthal content.
Olive oils from Portugal:
Cobrançosa: Displays green, savory notes of bitter radicchio and pungent arugula with a lingering spicy finish.
Galega: Astringent and peppery with savory, vegetal notes of spicy arugula, hints of sweet berry and fresh cut grass on the nose.
Oliana: Creamy, smooth, sweet, buttery and delicious. This medium-intensity oil has a fruity aroma with pronounced floral notes and a fresh, fruity flavor.