Golnazar Gourmet Ice Cream Pomegranate Chocolate Ice Cream Sandwich
Get a free pomegranate chocolate ice cream sandwich, locally made in San Ramon, with your coupon & $30+ in-store purchase!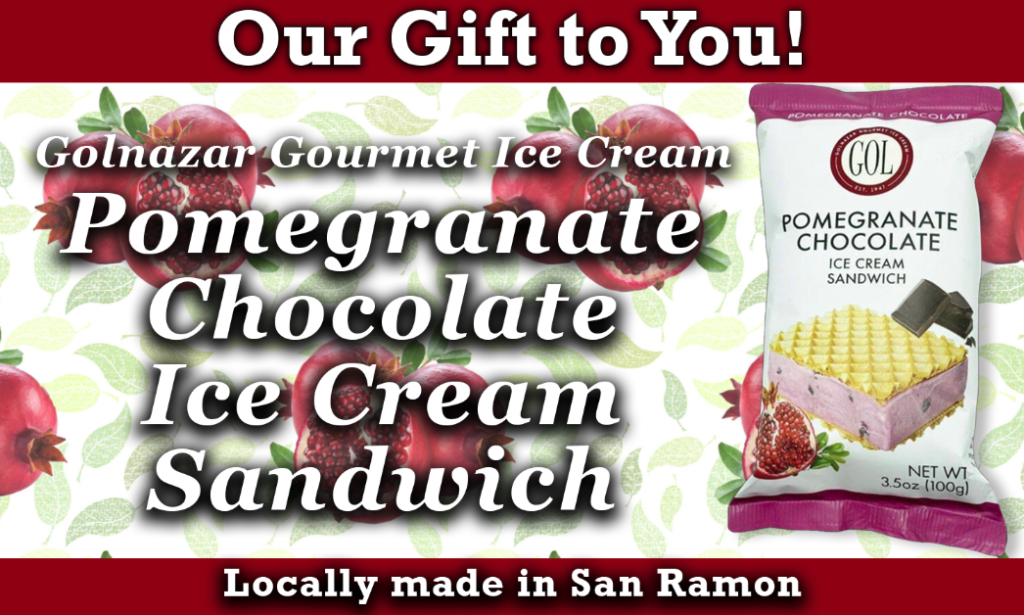 As a child, Mitra Golnazar, co-owner and marketing director of Golnazar Gourmet Ice Cream based in San Ramon, thought all dads wore a sweet saffron flower cologne. That was the scent surrounded her father as it was he who invented saffron ice cream in Iran in 1947. Saffron is now the signature flavor in Iran, and it was Mitra's father who started it!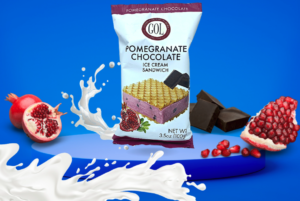 Mitra wanted to continue her father's legacy, so she convinced her brother, who had the original recipe, to come to the United States to start a business with her. Today, the pair run Golnazar Gourmet Ice Cream in San Ramon, Calif., making ice creams and more.
 
Everything Golnazar Gourmet Ice Cream makes is made from scratch and is all natural. There are no artificial colors or preservatives, and all ingredients are carefully selected and sourced. The saffron still comes from the same vendor their father worked with years ago!
Mitra's company started with only two flavors, but now they have over 15 flavors, all inspired by ingredients found in the Mediterranean and India. Orange blossoms, dates, lemon sorbet, rose, mango and more.
If you came to our Fall Food Festival in October, you likely tried a sample of these ice creams! Every scoop of ice cream made by Golnazar is inspired by the loving memories the owners' childhood and the smiles shared with their dad. 
 
We're excited to share these pomegranate chocolate ice cream sandwiches with you this week. They're absolutely delicious and loaded with antioxidants, too! Get one free with your coupon and $30+ in-store purchase!
Get the coupon: Sigona's Coupon 1035 (valid Nov. 8 – 14, 2023)