Gouda and Crimson Golden Raisin Salad in Belgian Endive Cups
Gouda & Crimson Golden Raisin Salad in Belgian Endive Cups
This recipe, inspired by a dish on the Beemster Web site, is a perfect and easy way to entertain summer guests.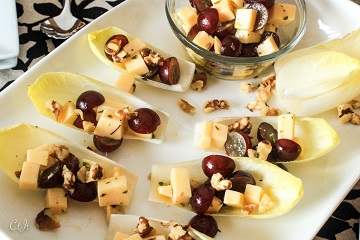 Ingredients:
3-5 oz. Beemster 10 mo. aged Gouda
3/4 cup of Crimson Golden Raisins
1 TBL fresh-squeezed orange juice
1 1/2 TBL Sigona's Fresh Press extra virgin olive oil
1/2 TBL fresh thyme
Salt & pepper, to taste
2 TBL raw walnuts (light halves and pieces)
2 Belgian endives
Directions: To start, remove the rind and slice the cheese into small cubes. Cut the grapes in half lengthwise.
For the dressing, mix the orange juice, olive oil, thyme and salt & pepper in a medium bowl. When blended, add the cheese and grapes, and stir all ingredients together. Set aside.
Slice off the stem ends of the Belgian endives and separate the leaves. Arrange the leaves on a serving tray and place a spoonful of cheese salad towards the end of each leaf, then sprinkle a few walnut pieces on top before serving.
Serves 10.
Cook's note: We did a bit of taste testing on this recipe and discovered that eating just the Gouda and raisins together is a very tasty snack, too! Thanks to John Sigona for the unbelievable, fantastic-tasting raisins!