In the Kitchen with Sigona's: Celebrating St. Patrick's Day
In the Kitchen with Sigona's: Celebrating St. Patrick's Day
We can't let St. Patrick's Day go by without offering a few traditional Irish recipes! Here's a complete menu, from bread to entrée to dessert. Enjoy!
Lemon-Garlic Roasted Organic Cabbage Steaks with a Chive-Mustard Vinaigrette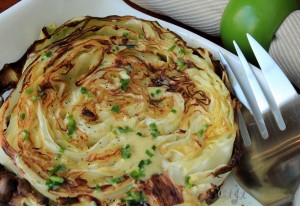 Why not change up your St. Patty's Day feast this year with a new twist to the cabbage dish? As with other vegetables, roasting cabbage brings out its sweeter side and creates a soft texture. Serves 4 to 6.
Ingredients:
1 head of green organic cabbage
About 4 Tbsp Sigona's Meyer Lemon Fusion Olive Oil, plus a little more, for drizzling
2 to 3 cloves garlic, lightly crushed
Salt and pepper, to taste
Sigona's Fresh Press Extra Virgin Olive Oil, for finishing, such as Arbequina
Optional: Chive-Mustard Vinaigrette (recipe follows)
NOTE: If you'd like a little something to drizzle over the top of the cabbage steaks, see the recipe below for a chive-mustard vinaigrette. It's also fantastic as a dip for corned beef.
Directions: Preheat oven to 425°F.
Stand the cabbage upright and slice from the top down to make 1-inch thick slices (the steaks). You'll probably have five good slices. Arrange them in a single layer on a large, lightly greased baking sheet.
Rub each side of each of the steaks with crushed garlic, and then liberally brush each side of each steak with the oil. Season with salt and pepper.
Roast the cabbage steaks 15 to 20 minutes. Flip over and roast another 10 to 15 minutes or until the edges of the leaves are nicely browned and the rest of the steak is tender. The cabbage can brown quickly, so keep an eye on it.
While still hot, drizzle each slice with a little olive oil. Serve while hot or at room temperature with chive-mustard vinaigrette on the side.
Chive-Mustard Vinaigrette
This vinaigrette is delicious drizzled over roasted cabbage or as a dip for corned beef. It's perfect for your St. Patrick's Day feast. Recipe adapted from Eating Well. Serves about 2 to 4.
Ingredients:
2 tsp Dijon mustard
1 tsp lemon juice
Salt and pepper, to taste
3 Tbsp minced fresh chives
2 Tbsp Sigona's Fresh Press Extra Virgin Olive Oil
Directions: Mix together Dijon, balsamic, lemon juice salt and pepper. Stir in chives and olive oil, and mix well until combined.
Serve as a dip for corned beef or as a drizzle* for lemon-garlic roasted cabbage steaks.
*NOTE: If serving over the roasted cabbage steaks, drizzle on vinaigrette while the cabbage is still hot.
---
Organic Cabbage, Corned Beef & Aged Cheddar Salad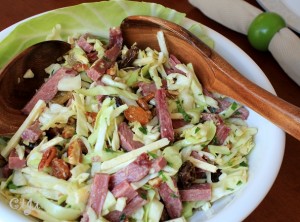 Looking for a way to use your St. Patrick's Day leftovers? Try this salad If you don't have any leftover corned beef, you can use ham instead. Note it needs to chill for 2 hours after the salad is assembled. Adapted from The Big Book of Backyard Cooking. Serves 6.
Ingredients:
3 red wine vinegar 
1 Tbsp Dijon mustard
1/2 cup Sigona's Fresh Press Extra Virgin Olive Oil
About 4 cups thinly sliced or shredded green organic cabbage (about 10 oz. or half a medium cabbage)
10 to 12 oz. cooked corned beef or ham sliced into pieces about 1/4-inch wide and 2-inches long (about 3 cups)
6 to 8 oz. aged Irish cheddar, such as Kerrygold, thinly sliced into pieces about 1/8-inch wide and 2-inches long
3/4 cup roughly chopped pecans or walnuts
3/4 cup jumbo crimson, jumbo red flame or jumbo mixed raisins
Salt, to taste
1/2 cup chopped fresh parsley
Directions: Whisk together the vinegar and Dijon in a bowl. Gradually whisk in the oil and whisk until emulsified. Set aside.
Place the prepared cabbage in a large (nonreactive) bowl. Add the meat, sliced cheese, nuts and raisins. Pour the dressing over the cabbage mixture and toss well to coat. Season with salt to taste.
Refrigerate at least two hours to let the flavors meld. Bring to room temperature 30 minutes before serving.
After the salad has chilled and then returned to room temperature, stir in chopped parsley. Enjoy!
---
Mrs. O'Callaghan's Soda Bread
Peter, our wine and beer specialist, has an Irish heritage and said without hesitation that we should include a recipe for Soda Bread. The next day, I had a copy of the March 2010 issue of Bon Appetit on my desk with a note saying this recipe for Mrs. O'Callaghan's Soda Bread is a must – so here it is! Recipe from Bon Appetit, March 2010. Makes 1 loaf.
*Mrs. O'Callaghan makes this bread in a rectangular pan.
Ingredients:
Nonstick vegetable oil spray
3 cups all-purpose flour
3 cups whole wheat flour
1/2 cup (packed) brown sugar
2 tsp baking soda
1/4 cup (1/2 stick) chilled margarine or butter, cut into 1/2-inch cubes
2 cups buttermilk
1 tsp. salt (optional, to take away from the sweetness of the bread)
Directions: Preheat oven to 425°F. Spray heavy baking sheet with nonstick spray. Whisk both flours, sugar, and baking soda in medium bowl to blend. Add margarine and cut in until margarine is reduced to pea-size pieces. Add buttermilk; stir until shaggy dough forms. Turn dough out onto lightly floured work surface. Knead until dough comes together, about 10 turns. Shape dough into 9-inch round (the round should be about 1 inch high). Place dough on prepared baking sheet. Cut large X, 1/2 inch deep, in top of dough, almost all the way to the edges of the round.
Bake bread in center of oven until deep brown and bottom sounds hollow when firmly tapped (a bamboo skewer inserted into the center of the bread should emerge clean without any stickiness or moistness), about 55-60 minutes. Transfer bread to rack and cool completely.
---
Corned Beef Dinner
We've included a recipe for Corned Beef to go with your Soda Bread. Everyone has their own recipe for corned beef, using a different brine mix or vegetables, but we like this one best. We're recommending you find a recipe for your own brine/marinade or find a brisket at the butcher's that has already been marinating. Feel free to tweak as you wish and have a great St. Patrick's Day celebration! Serves 6.
Brined beef brisket (fresh, 4 to 5 pounds), fat trimmed off

(remember, we're leaving the brisket brine part up to you – some recipes ask that the brisket has been in a brine for three or more days — most recommend 7 days — so plan ahead!)

3 medium carrots , peeled and sliced in half and then quartered
2 medium rutabagas, peeled and diced into chunks (about 2" pieces)
2 parsnips, peeled and diced into chunks (about 1.5" pieces)
2 medium onions, peeled and quartered
2 pounds Yukon gold potatoes, washed and quartered
1 green cabbage, cut into 6-8 wedges
2 cloves garlic, peeled and crushed (optional – we're Sicilian…we have to put a little garlic in everything!)
3 whole cloves
1 Bay leaf
Directions: Rinse brined brisket and pat dry. In a large deep pot or Dutch oven, add the beef, carrots, cloves, garlic (if desired) and bay leaf, and add cold water until beef is covered. Bring to a boil then reduce heat and simmer for about 2 1/2 – 3 hours until beef is nearly tender (depends on the size of the brisket you use).
Note: You can either use this time to enjoy a good Irish beer and relax, mix up a batch of dough for the Soda Bread, follow a rainbow to search for a pot o' gold, find people who aren't wearing green and give them a pinch (not too hard!) or, if you haven't done so already, prepare the rest of the vegetables as noted above.
When beef is cooked and tender (where it looks about like it could come apart easily) Remove the brisket and cover with foil to help keep it warm. Sometimes I heat the oven to about 200°F and pop the covered brisket in to keep it warm.
Skim any fat off the top of the broth and add in all remaining vegetables except the cabbage. Bring mixture to a boil, cover and reduce heat. Simmer for 20 minutes and then gently add in the cabbage wedges. Cover and simmer for 10 more minutes or until vegetables are tender.
Serve the corned beef in a shallow bowl alongside some horseradish and/or a grainy mustard. Don't forget the Soda Bread!
---
St. Patrick's Day Stout Brownies
In honor of St. Patrick's Day, Peter also suggests these brownies as a "must try." Adapted from Tate's Bake Shop in New York state. The original recipe called for Guinness, but you can swap for another festive stout, like Murphy's. Yield: 16 brownies.
Ingredients:
3/4 cup all-purpose flour
3/4 cup cocoa powder
1/4 tsp. salt
12 oz. high quality milk chocolate, chopped
6 TBL salted butter, cut into pieces
4 eggs, room temperature
3/4 cup sugar
1/4 cup dark brown sugar, packed
1 1/4 cup Guinness or Murphy's Draught Style Stout
1 cup dark chocolate chips
Optional: top with Bailey's Whipped Cream (recipe follows)
Directions: Preheat oven to 325F degrees. Butter and line with parchment paper a 9-inch square pan. Set aside.
Melt milk chocolate and butter together until just melted, either in the microwave or in a small pot. Set aside to cool.
In a small bowl, combine flour, cocoa powder and salt. Whisk together and set aside.
In a large mixing bowl, beat eggs and sugar together, using a whisk attachment, until light and fluffy.
Beat in chocolate mixture until smooth. Scrape down bowl.
Stir in flour mixture and mix, scraping down side of the bowl.
Stir in Murphy's until just combined.
Pour batter into prepared pan and sprinkle the top evenly with dark chocolate chips.
Bake for 50 minutes or until a toothpick comes out almost clean. NOTE: Do not cover, bake, but bake a bit longer than a normal brownine.
Remove from oven and let cool in the pan. Cut into squares and serve.
Top 'em with a little Bailey's Whipped Cream: in a large mixing bowl, beat 2 cups heavy cream and 2 TBL sugar together using a whisk attachment. When just staring to stiffen, pour in 1/2 cup Bailey's Irish Cream and continue to mix until soft peaks form. Serve a dollop on top of each plated brownie.