Robbie Sigona's Produce Tips: Ramps aka Wild Leeks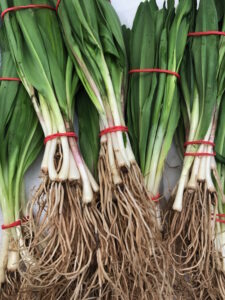 One of my favorite items this time of year are ramps, also known as wild leeks. They're only around for about a month, but these truly unique items have a mild and sweet flavor. Plus, they clock in at only 50 calories per cup.
Here's some tips to keep in mind when you're shopping for ramps in the store:
The stalks and leaves should have a fresh look and no yellow leaves.
I like to soak them in cold water until all the dirt is gone. Just drain 'em and you're ready to go.
You can sauté leeks with additional vegetables in Sigona's just-pressed olive oil for a super yummy side dish.
They make a great replacement for onions.
Fantastic source of vitamin A and C, as well as iron.
Ramps also help with digestion.
I'm so excited about these ramps that I've included two of my most favorite recipes. Enoy!
Sautéed Ramps
Ramps look like a cross between a green onion and a leek. They're quick and easy to prepare, and have a mild, sort of onion-garlic flavor. They're edible cooked or raw; I like them sautéed. They make a great side dish, particularly when served with fish.
Ingredients:
Directions: Heat oil in a large skillet over medium heat. Add the ramps and stir to coat in the oil. Cook, stirring occasionally, until the ramps have softened and are warmed through, about 5 minutes. Season with salt and pepper to taste.
Fettuccine with Cherry Tomatoes, Ramps & Creamy Goat Cheese
Ramps are a delicacy of spring. They're quite versatile, but, as most of my favorite dishes, I like them best when simply served. The goat cheese in this dish makes it creamy and comforting, but without all the calories of a traditional cream sauce. Serves 4.
Ingredients:
About ½ lb. sliced on a bias into 1-inch pieces, ends discarded
1 pkg. fresh fettuccine pasta from Saporito Fine Pasta
1/3 – 1/2 cup fresh goat cheese, such as Laura Chenel chèvre
1/2 cup sliced cherry or grape tomatoes
4 basil leaves, julienned (more for garnish, if desired)
Directions: Get a large pot of salted water on the stove and bring to a boil. This will be for the pasta, which will only take 2-3 minutes to cook.
Meanwhile, heat the garlic oil in a large sauté pan over medium heat. Add the ramps, season with salt and pepper. Cook until soft and translucent, about 5-7 minutes. Add the tomatoes and basil and reduce heat to medium low.
Now add the pasta to the boiling water; cook according to package directions. Drain and add immediately to the ramps mixture. Note: Some of the starchy pasta water that sticks to the noodles will help add more creaminess to the dish.
Add in the goat cheese, stirring gently as the cheese melts to coat the mixture well. Season with salt and pepper to taste. Transfer to a serving dish and top with additional basil, if desired.
– Robbie Sigona is our produce buyer. He works with local farmers and scours the market for the very best in fresh fruits and vegetables — some you won't find anywhere else.