In the Kitchen Featuring: Peach Balsamic & Meyer Lemon Olive Oil
Fresh Kiwi Sorbet with Sigona's Meyer Lemon Extra Virgin Olive Oil
Treat yourself! This sweet-tart dessert is delightful for an after-dinner treat on a hot summer's night. The Meyer lemon oil gives the sorbet a creamier texture and a mellow lemon flavor. The recipe is easy to halve or double, if desired. Recipe courtesy of Veronica Foods. Makes 6 1/2 cups (about 8-12 servings).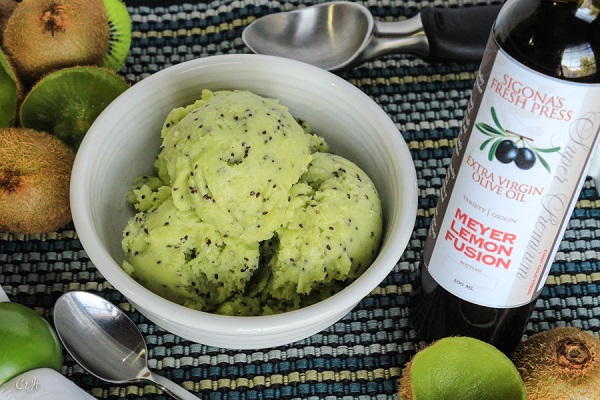 Ingredients:
6 cups (about 24) fresh, peeled and chopped ripe kiwis (better if they're semi-soft and very sweet)
1/4 cup honey, such as raw, local, unfiltered honey from Honey Hole Honey Co., available only at Sigona's
1/4 cup Sigona's Meyer Lemon Fusion Extra Virgin Olive Oil
Pro Tip: Based on the instructions for your ice cream machine, you may need to chill the bowl ahead of time. Be prepared!
Directions: Put the peeled, chopped kiwi in the freezer for 1/2 hour before pureeing.
Blend the chilled kiwi with the honey in a blender or use an immersion blender; puree until smooth. With the motor running, pour in the olive oil and blend until it is somewhat emulsified. Taste the mixture to see if you want to add a little more honey. Kiwi is a tart fruit, so the sorbet will be tart, but you can tame its punch a bit with honey.
Pour the entire mixture in to the bowl of your ice cream machine. Follow ice cream machine instructions for churning and chilling the mixture. Transfer to a sealable container, press down and chill until ready to serve.
No ice cream machine: Pour the mixture into a 13×9 glass baking dish. Put it in the freezer; about every 30 minutes, scrape the mixture with a fork and press it back down into the dish with the back of a spoon or spatula, as it changes from a slush to a more frozen, sorbet-like texture. Transfer to a sealable container, press down and chill until ready to serve.
Caprese Salad with Heirloom Tomatoes Drizzled with a Summertime Peach White Balsamic & Meyer Lemon Olive Oil Vinaigrette
You'll be pleasantly surprised how the peach pairs with the tomatoes in this dish. Make sure to enjoy this while local heirloom tomatoes are available! Another fantastic vinaigrette combination for caprese is our Meyer lemon oil and our oregano white balsamic.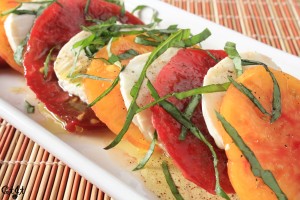 Vinaigrette:
Salt and pepper, to taste
Caprese:
1 lb. assorted heirloom tomatoes, cut into 1/4-1/2-inch thick slices (I'm partial to the Cherokee Purple)
2 TBL thinly sliced (chiffonade) basil
8 oz. fresh mozzarella, such as Galbani, cut into 1/4-inch thick slices
Salt and pepper, to taste
Directions: Slice the tomatoes first and sprinkle lightly with salt and pepper. Let them rest for a few minutes to bring out the intense tomato flavor.
In a small bowl, briskly whisk together the three ingredients for the vinaigrette.
Arrange the tomato slices and mozzarella slices, slightly overlapping one over the other, on a serving platter. Sprinkle on the chiffonade basil and drizzle on the vinaigrette.
Fresh Greens and Local Nectarine Salad with Sigona's Summertime Peach & Meyer Lemon Vinaigrette
Feel free to add or remove more summer fruits as you see fit, or as you see in your fridge when it comes time to make this salad! Strawberries would make a nice addition. Serves about 4-6.
Ingredients:
1/4 cup of Sigona's Meyer lemon extra virgin olive oil
Salt and pepper, to taste
1 lb. spinach or arugula (if it's not pre-washed, make sure you get it very dry after rinsing)
1 – 2 locally grown nectarine, pitted and chopped
1 – 2 green onions, diced on a bias
1/4 cup dried blueberries (or other dried fruit – we have a lot!)
1/4 cup orange honey walnuts or glazed walnuts
4 oz. crumbled Feta or goat cheese
Directions: In a small bowl, whisk together the balsamic, olive oil, salt and pepper.
Place greens in a large bowl. Top with the nectarine, green onions and dried blueberries. Drizzle on the vinaigrette and toss, toss, toss, toss. I mean really toss – you want to get all the pieces coated well.
Top the salad with the walnuts and crumbled cheese. Serve immediately.
Sigona's Summertime Peach White Balsamic Bellini
Brunch, anyone? This is a supremely tasty beverage to enjoy with brunch or anytime, actually. Recipe courtesy of Veronica Foods. Serves 4-6.
Ingredients:
1 cup Sigona's summertime peach white balsamic
1 pound peeled, sliced ripe peaches
1 bottle chilled Prosecco or other sparkling white wine
A spring of mint or fresh raspberries for garnish
Directions: Stir all ingredients together in a large pitcher. Serve chilled.
Melon, Prosciutto and Arugula Salad with Sigona's Summertime Peach White Balsamic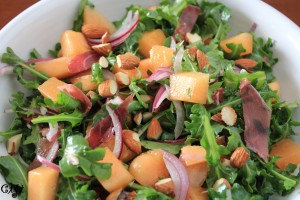 Here is a great summer salad that I make all the time. It pairs wonderfully with Sigona's Summertime Peach white balsamic. Recipe adapted from Food Network.
Ingredients:
1 TBL minced shallot
1/2 tsp. Dijon mustard
1/2 tsp. salt
1/4 tsp. freshly ground black pepper
1 TBL chopped fresh herbs, such as basil, chives and parsley
1 melon, such as an orange-flesh honeydew or ambrosia, peeled, seeded and cut into 1/2-inch cubes
1/2 cup thinly sliced red onion
8 thin slices prosciutto, cut into thin strips
10 ounces wild arugula, washed and spun dry (very dry!)
1 cup roughly chopped toasted sprouted gourmet almonds
Directions: In a mixing bowl combine the peach balsamic, shallot, mustard, salt and pepper and whisk to combine. While continuing to whisk the mixture, add the Meyer lemon oil in a slow and steady stream. Whisk in the fresh herbs and set aside as you prepare the salad.
In a large bowl, combine the melon, red onion, prosciutto, wild arugula and sprouted almonds. Drizzle with 1/2 cup of the vinaigrette and season lightly with salt and pepper. Toss gently to combine; all ingredients should be well coated with the vinaigrette.
Serve immediately.
Fresh Chèvre Drizzled with Sigona's summertime Peach White Balsamic Reduction
Can't you just picture yourself enjoying this deliciousness with a glass of chilled white wine? Especially after a long commute! You deserve it. Enjoy! Recipe and photo courtesy of Veronica Foods.
Ingredients:
8 oz. fresh goat cheese log, such as Laura Chenel chèvre
Directions: In a 2 quart sauce pan over very low heat, gently simmer the balsamic and reduce by half, to approximately one cup. It should never be allowed to boil or the natural sugar will burn and become bitter. Stir occasionally. The process can take as long as 30 minutes but the results will be worth the effort. The finished reduction should be thick and light amber in color.
Allow to cool completely and then transfer to a jar. Once allowed to sit and cool, the flavor will become more complex.
Drizzle as much of the reduction as desired over a log of Laura Chenel chèvre and serve with crackers.
Left over reduced balsamic can be kept on the counter or in the refrigerator, however refrigeration is not necessary. Use to glaze pork, poultry, ribs, fresh fruit or paired with cheeses.