Winter Salad with Organic Seedless Satsuma Mandarins and Local Pomegranates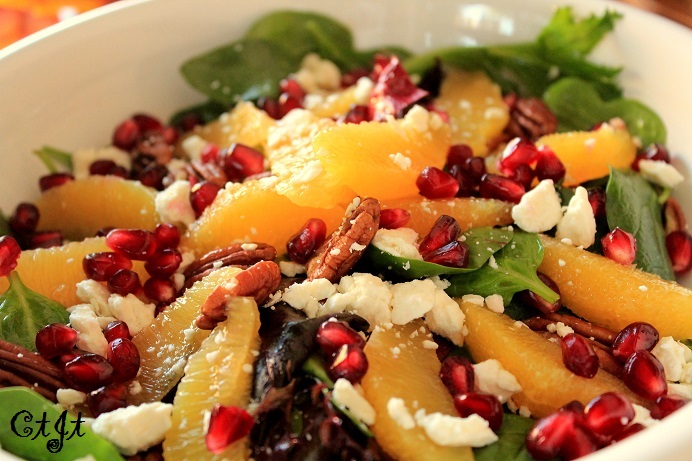 This simple side salad bursts with flavor that will brighten a blustery fall day. Adapted from Health. Serves 4.
Ingredients:
4 Satsuma Mandarins, segmented*
1 TBL Sigona's Cara Cara Vanilla white balsamic
2 tsp. honey, such as Honey Hole Honey Co.'s orange honey
1 tsp. Sigona's Fresh Press extra virgin olive oil
6-7 cups (about 6 oz.) mixed winter salad greens, such as baby spinach, arugula, romaine and endive
1/3 cup pomegranate seeds (about 1/4 -1/2 a pomegranate), divided
1/4 cup roasted, salted pecans or walnut pieces
1/4 cup crumbled cheese, such as a mild Feta (i.e. Athenos), or a mild, creamy chevre (goat) (i.e. Laura Chenel)
Pepper, if desired
*Segmenting Citrus: It takes time and patience but is well worth the effort! To do this, cut the top and bottom off of your citrus fruit. Slice the peel from the fruit, top to bottom, getting as close to the flesh as possible. Once the peel is removed, slice any remaining pieces of white pith from the fruit so no white remains. Then, slice closely along the sides of each membrane to neatly remove the citrus segments in between. And there you have it!
Directions: Segment* 3 Satsumas; set aside. Juice the remaining Satsuma (to get about 1/3 cup juice)
Whisk together juice, balsamic and honey in a small bowl. Pour oil in slowly, whisking well until the mixture is emulsified.
In a large bowl, add the salad greens and half of the pomegranate seeds. Drizzle on about 1/4 cup of the juice mixture and toss gently until all the leaves are well coated. Add more dressing if needed.
Transfer to a serving bowl or divide salad among 4 plates. Arrange Satsuma segments on the top, then sprinkle with the pecans, cheese and remaining pomegranate seeds. Serve with remaining orange dressing on the side. Season with pepper, if desired.