Recipe Roundup: Spicy Calabrian Pesto Olive Oil
Our spicy Calabrian pesto olive oil is a blend of two iconic flavors of Italy: the medium-heat Calabrian pepper from southern Italy, and bright, herbaceous basil-based pesto. The result is a rich and savory infusion with a hint of heat. Try yours paired with our Sicilian Lemon White Balsamic, Neapolitan Herb Dark Balsamic, Oregano White Balsamic or Red Wine Vinegar.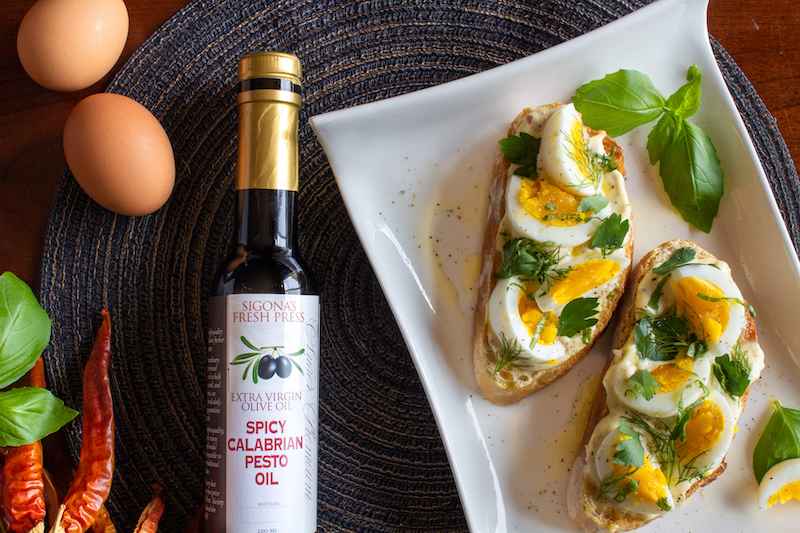 You've heard of pesto eggs, but this takes the idea up to a whole new level! Our new Spicy Calabrian Pesto Oil has a little kick from the pepper but is overall bright and flavorful with the basil pesto shining through. Drizzling on this oil as a finisher adds just what's needed to round out this dish. Adapted from Local Dirt. Serves 2
Fresh Herb and Egg Salad on Toast with Sigona's Spicy Calabrian Pesto Oil
Ingredients:
2 eggs
2 Tbsp mayonnaise
1 tsp minced shallot
2 tsp Dijon mustard
Freshly ground black pepper
2 slices of rustic bread or a baguette, sliced on an extreme bias
Butter or oil of choice, for brushing
2 large basil leaves, chiffonade
1 Tbsp fresh dill fronds, torn
1 Tbsp roughly chopped fresh parsley
Sigona's Spicy Calabrian Pepper Pesto Olive Oil, for drizzling
Coarse salt, for sprinkling
Directions: Bring a small saucepan full of salted water to a boil. Add the eggs and reduce heat just enough so the water remains in an active simmer. Boil eggs for 8 minutes. Meanwhile, prepare an ice bath. Remove eggs with a slotted spoon and plunk them directly into an ice bath. When cool, peel the eggs and set aside.
In a small bowl, mix together the mayo, shallot and Dijon. Season to taste with pepper.
Preheat a large skillet or grill pan over high. Lightly brush both sides of the bread with oil or butter and place on the skillet. Toast each side for just one minute so the outside is crisp but the inside remains soft. Allow to cool for about 2 minutes, then spread with the mayonnaise mixture.
Slice the eggs into thin wedges then nestle the wedges into the mayo mixture on top of the bread. Sprinkle each toast with fresh herbs and a light pinch of salt. Drizzle on some of the Calabrian pepper pesto oil and finish with freshly ground pepper. Serve.
---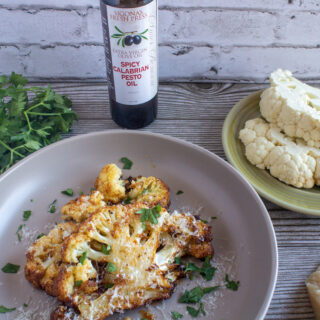 Air Fryer Cauliflower Steaks with Sigona's Calabrian Pesto Olive Oil & Parmigiano Reggiano
The air fryer makes life so easy! Making a simple mixture of our Calabrian pesto olive oil and some spices, such as paprika, which adds great color, and brushing it over the cauliflower steaks makes this a quick, healthy and delicious side dish. Serves 2 to 4.
Ingredients
1

head of cauliflower

leaves removed

1/4

cup

Sigona's Spicy Calabrian Pesto Olive Oil

plus more for finishing, if desired (see note)

2

Tbsp

freshly grated Parmigiano Reggiano

plus more for finishing

1/2

tsp

onion powder

1/2

tsp

garlic powder

1/2

tsp

paprika

Salt and pepper

to taste

Chopped fresh parsley

for garnish
Instructions
Whisk together the olive oil, cheese and spices in a medium bowl.

Slice the head of cauliflower in half from top to bottom. Slice 1" thick steaks from each half. Brush each side and the edges of the steaks with the olive oil mixture.

Line the basket or tray of an air fryer with foil or parchment paper. Add 2 steaks or as many will fit without touching each other. Air fry at 400°F, flipping once, for about 12 minutes or until the steaks have softened and the edges are a toasty brown.

Transfer the cooked cauliflower steaks to a serving dish. Sprinkle with parsley and more cheese if desired. Serve with more of the spicy Calabrian pesto olive oil, if desired.
Notes
Sigona's infused balsamics and olive oils are available in our markets and online at www.sigonas.com.
---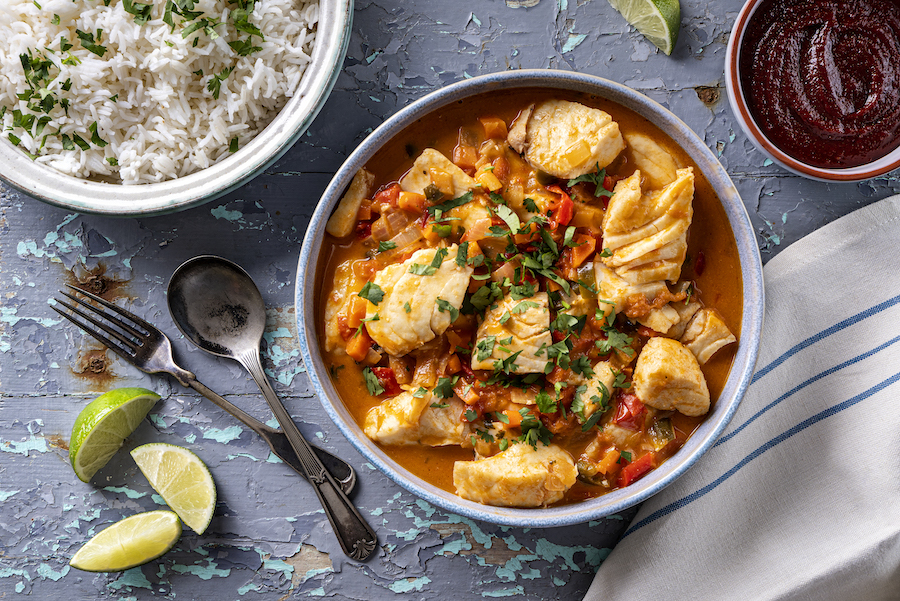 Poached Ling Cod in Tomato Curry
~ with Sigona's Spicy Calabrian Pesto Olive Oil ~
We have wild, fresh and locally caught Ling Cod from Monterey in now at our Redwood City store and we'd love for you to try it! This is an absolutely delicious fish that is incredibly versatile. Our spicy Calabrian pesto oil adds a little heat and fantastic flavor. Adapted from Bon Appetit. Serves 4.
Ingredients:
4 (5 oz. ea.) skinless cod fillets
Salt, to taste
3 Tbsp Sigona's Spicy Calabrian Pesto Oil, plus more for drizzling
Optional: 1 red chile, such as Fresno, halved, seeded, thinly sliced (add it if you like extra heat)
One 1″ piece fresh ginger, peeled, thinly sliced
3 garlic cloves, thinly sliced
4 cardamom pods, crushed
1 tsp ground coriander
1/2 tsp ground turmeric
2 pints cherry tomatoes (about 1¼ lb.)
1/4 cup unsweetened coconut cream (TIP: You can skim off the creamy layer from a can of coconut milk to get the cream)
Salt, to taste
1/2 cup fresh torn basil leaves
Serving suggestion: pair with cooked rice or cauliflower rice
Directions: Lightly season the ling cod with salt and set aside.
In a medium-large skillet, heat 3 tablespoons olive oil over medium heat. When hot add the pepper, (if using), the ginger and garlic. Cook, stirring often, until garlic has softened but hasn't started to color or burn. Stir in the spices and cook for 30 seconds or until fragrant.
Add the tomatoes and cook for about 12-15 minutes, stirring occasionally, until their skins burst and they've released their liquid. Add the coconut cream to the tomato mixture. Stir to combine then taste and season with salt as desired.
Reduce heat to medium-low. Nestle the seasoned cod into the tomato curry mixture. Cover the skillet and cook at a bare simmer – meaning a couple of small bubbles breaking through the surface every 2 to 3 seconds in different spots – for about 5 to 7 minutes or until fish is opaque throughout and beginning to flake (thicker pieces will take longer to cook).
To serve, spoon servings into individual bowls. Top with torn basil and drizzle each with about 1 teaspoon of the spicy Calabrian pesto olive oil. Pair with cooked cauliflower rice or basmati rice, if desired.
---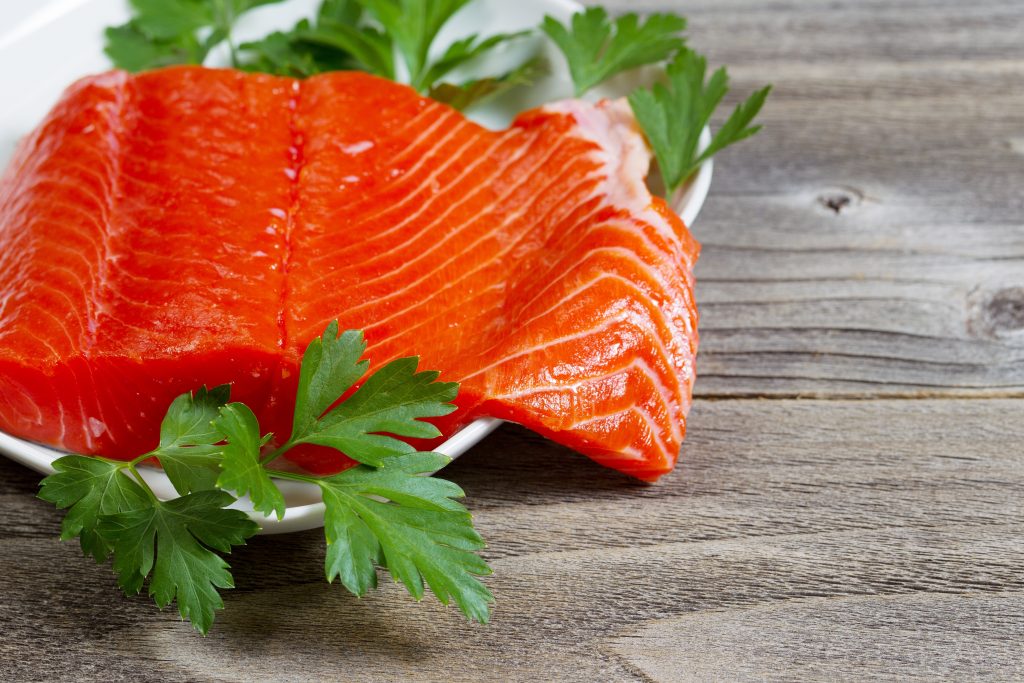 Stuffed Baked Salmon with Sun Dried Tomatoes, Feta and Spicy Calabrian Pesto Olive Oil
Ingredients:
1/4 cup roughly chopped whole Green Cerignola olives (look for them in our olive bar)
1 shallot, finely chopped.
4 oz of chopped sun-dried tomatoes
3 oz of fresh spinach
1/4 cup crumbled Feta cheese
Salt & black pepper, to taste
3 Tbsp Sigona's Spicy Calabrian Pesto Infused Olive Oil
4 (6 oz) fillets of skinless salmon
Directions: Preheat oven to 375°F. Line a baking sheet with foil and set aside.
In a medium bowl, mix olives, shallot, sun-dried tomatoes, spinach and Feta.
Along the thickest edge of the salmon, cut a horizontal slice a couple inches deep to create a pouch. Rub salmon with 3 tablespoons of Spice Calabrian Pesto Infused Olive Oil, inside and outside the pouches. Season with salt and pepper. Stuff each fillet with the olive mixture.
Arrange stuffed fillets on baking sheet and bake until salmon is cooked through, about 30 to 40 minutes.