In the Kitchen: A Local & Organic Christmas
A great way to end your year and begin a new one is to eat locally and organically. Below we have some of our holiday favorites (a dessert, appetizer and salad) all including some sort of organic and/or local element. We really hope you enjoy these delicious recipes we've provided for you. Happy holidays!
Organic Pink Lady Apple & Fresh Cranberry Crumb Cake
Delight your guests with a sweet-tart treat after the big Christmas dinner. It's festive and flavorful. Adapted from Uni Homemaker. Serves about 12.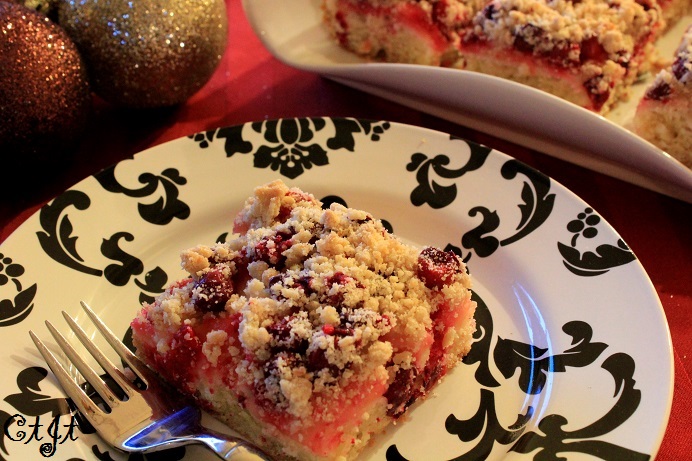 Ingredients:
2/3 cup granulated sugar
Zest of 1 local Meyer lemon
1/2 cup (1 stick) of unsalted butter, melted
2 large eggs
1 tsp. vanilla extract
1 1/3 cups of all-purpose flour
1 tsp. baking powder
1/4 tsp. baking soda
1/2 tsp. salt
1/3 cup plain Greek yogurt, such as 2% or 0% Fage
2 small organic Pink Lady apples, peeled, cored and thinly sliced
Juice of 1 local Meyer lemon
1 (12 oz.) bag of fresh cranberries, rinsed and dried
Crumb topping:
1 cup all-purpose flour
1/4 cup light muscovado sugar
1/4 tsp. salt
1/4 cup (1/2 stick) unsalted butter, melted
Directions: Preheat the oven to 350F degrees. Grease a 9×13-inch baking pan with non-stick baking spray. Line it with a sheet of parchment paper leaving a generous overhang for easy removal; set aside.
Using a stand or electric mixer (or mix by hand), mix together granulated sugar, lemon zest and butter. Add eggs, one at a time, then add vanilla extract.
In a medium bowl, whisk together flour, baking powder, baking soda and salt. Slowly add the dry mixture into the egg mixture, 1/3 at a time, mixing each time until just moistened, while scraping down the sides. Add the yogurt and mix until combined (do not over mix).
In a small bowl, add sliced apples and douse with lemon juice using your fingers to combine; set aside.
Dollop batter into the prepared pan using a spatula to spread the batter into an even layer. Place the apple slices over the top of the batter, then place the cranberries over the apple slices.
For the crumb topping: Mix flour, muscovado sugar, salt and butter in a medium bowl with your fingertips until it looks like wet sand. Sprinkle evenly over the entire batter and bake for 35-40 minutes or until toothpick/tester inserted into the center comes out clean.
Let the cake cool completely before cutting in the pan. You can also carefully remove the cake from the pan before slicing by pulling up on the parchment paper. Your choice! Once cooled, cut into squares and serve.
Sigona's Sweet Red Pepper Relish Truffles with Creamy Goat Cheese
These delightful hors d'oeuvres will be the talk of the party. We think it's the Sigona's sweet red pepper relish that really sets them apart, but we're a bit biased, of course. Serve these with crackers, toothpicks or some toasted baguette slices. If you don't care for goat cheese, try cream cheese. Serves 8 to 10.
Ingredients:
8 oz. plain, creamy chevre (goat cheese), such as Laura Chenel, softened
1/3 cup Sigona's Sweet Red Pepper Relish
Salt & pepper, to taste
3/4 cup local, organic shelled walnuts from Hollister, finely chopped
2-3 TBL minced parsley
Directions: Mix together the cheese, sweet red pepper relish, salt and pepper until combined. Scoop out about 2 teaspoons and roll it into a ball. Place on a plate and repeat with the remainder of the cheese and relish mixture. You'll have about 15 to 20 balls.
Place the balls in the refrigerator to chill for at least 30 minutes. You can make these a day or two ahead of time, if needed.
About 30 minutes before serving (no sooner, or the walnuts will get soggy), mix together the chopped walnuts and parsley on a small plate. Remove the balls from the fridge (reshaping a bit, if necessary), and roll in the walnut mixture, covering well. Place the coated balls on a serving plate and chill until party time. Serve with crackers.
Winter Citrus & Roasted Beet Salad with Fennel and a Sigona's Persian Lime Vinaigrette
The sweet-tart flavor of the various citrus in this dish works beautifully with the earthy, sweetness of roasted beets. The fennel adds a lovely freshness and another layer of flavor that brings this fresh, healthy dish together. You'll love it topped with the vinaigrette, featuring Sigona's Persian lime organic olive oil and Sicilian lemon balsamic. Inspired by Bon Appetit. Serves 4.
Ingredients:
2 medium organic golden beets, greens removed (and saved for another recipe), trim off the tops and remove any dangling roots
2 medium organic red beets, greens removed (and saved for another recipe), trim off the tops and remove any dangling roots
3 local blood oranges
2 local, organic cara cara oranges
1/2 small fennel bulb, sliced thin (use a mandoline slicer for equal, quick slices)
1 TBL juice local Meyer lemon
1 1/2 tsp. Sigona's Sicilian lemon white balsamic
1 TBL minced shallot
Salt & black pepper
4 to 8 one-inch long fennel fronds, for garnish
Directions: Preheat oven to 400F degrees. Rinse the beets and wrap each in aluminum foil. Place the wrapped beets on a baking sheet and roast for 1 hour or until tender. Set aside and let cool.
Meanwhile, prepare the citrus. Cut the top and bottom off of each blood and cara cara orange. Slice the peel away from the fruit, top to bottom, getting as close to the flesh as possible. Once the peel is removed, slice any remaining pieces of pith from the fruit so no white remains. Slice segments from one blood orange while working over a bowl to catch the juices. Do this by slicing closely along the sides of each membrane to neatly remove the citrus segments in between. Place segments on the bowl with the juice. Squeeze any remaining juice from the membrane, and then discard the membrane.
Slice remaining oranges into rounds (about 1/4-inch thick). Spread them out in a single layer and sprinkle with lemon juice.
When beets are cool enough to handle, peel the beets. Slice them into rounds (about 1/4-inch thick).
In a small bowl, whisk together the Sigona's Persian lime organic oil, Sicilian lemon balsamic, minced shallot, 1 TBL of the reserved blood orange juice, salt and pepper.
To assemble the salad, lay out a single layer of about four slices of the red beets on each of the four salad plates. Add a layer of three cara cara slices, then a layer of 2 to 3 golden beets followed by a layer of 2 blood oranges. Add a few slices of fennel and then top with 2-3 segments of blood orange. Drizzle each plate with a teaspoon or so of the Persian lime vinaigrette and sprinkle with more salt and pepper, to taste. Garnish with a few fennel fronds.
Let sit about 5 minutes before serving.