Fresh & Local Asparagus Recipes
Spring Risotto with Asparagus, Peas and Chives
Risotto is a dish that lends itself nicely to any season. Whether loaded with fresh green vegetables in the spring or festive orange butternut squash for the fall, it's always a comfort dish that's worth the wait. Serves 4 to 6.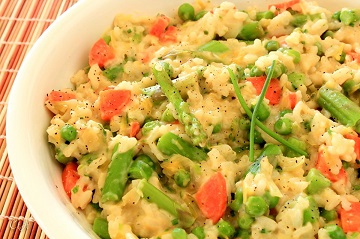 Ingredients:
4 cups organic, low-sodium chicken stock
1 cup sliced leeks or ramps (wild leeks), sliced on the diagonal (white and medium-green parts only)
1 carrot, chopped, about 1 cup (look for our organic rainbow carrots for a fun, unique color)
Salt and pepper, to taste
1 cup uncooked Arborio rice
1/2 cup dry white wine
8 oz. (about 1/2 a bunch) asparagus, ends trimmed, remaining stalks cut on the diagonal into 1- to 2-inch pieces
1 cup green peas or shelled, blanched fava beans, if available
3/4 cup freshly grated parmigiano reggiano
3 Tbsp. – 1/4 cup chopped fresh chives, to taste
Bonus: a bit of Sigona's Basil Oil for drizzling
Directions: Blanch the asparagus pieces in boiling water for about 3 minutes. Drain and place immediately in an ice bath. When cool, drain from the ice water and set aside.
In a small saucepan, warm the chicken stock over low heat.
In a large, deep skillet, heat olive oil over medium heat. Add the leeks/ramps and the carrot, season with salt and pepper. Sauté, stirring occasionally, about 4 to 5 minutes or until veggies just become tender.
Add the Arborio rice and cook about 1 minute, stirring occasionally. Add the wine and cook about 30 seconds or until the liquid is almost absorbed. Reduce heat to low, medium-low and add 1 cup of the warmed stock and cook, stirring constantly, for about 3 to 4 minutes or until the liquid is nearly absorbed.
A 1/2 cup at a time, add the remaining stock, stirring constantly, adding more only when the liquid is nearly absorbed each time. This process will take a while, probably 20 to 30 minutes.
When just about 1/2 cup of broth remains, add in the blanched asparagus and peas when the broth is added to the rice.
When the liquid is about absorbed and the risotto is nice and creamy, remove from heat and add in the cheese and chives. Stir well to combine. Season with salt and pepper to taste.
If desired, drizzle with a little Sigona's Basil Oil. Serve warm.
Fresh Asparagus, Simply Done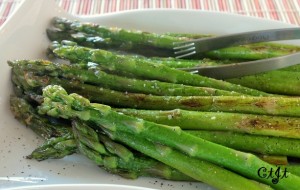 The easiest of our recipes. Top with a drizzle of olive oil and sprinkle with salt and pepper. Enjoy!
What You Need:
1 bunch locally grown asparagus, ends trimmed and discarded
Sigona's Fresh Press extra virgin olive oil, such as Hojiblanca
Salt and pepper, to taste
Grilled Asparagus: Heat a grill pan over medium-high heat. Brush asparagus with olive oil and season with salt and pepper, to taste. Grill on both sides until just cooked through (about medium-done) and brown char/grill marks appear, about 2-3 minutes on each side.
Boiled Asparagus: In a large skillet, bring about 2 inches of salted water to a boil. Add asparagus to the pot in one layer and cook until tender-crisp, about 4-5 minutes depending on the thickness of the spears. Drain. Transfer to a serving platter and drizzle with olive oil. Sprinkle with salt and pepper.
Skillet Asparagus: Heat 1 TBL olive oil in a large skillet over medium heat. When hot, lay asparagus in the skillet and gently shake to coat all stalks evenly in oil. Cover and cook about 5-8 minutes, gently shaking skillet from time to time so make sure all sides of the stalks cook evenly. Asparagus should be bright green and crisp, yet tender, when done. Sprinkle with salt and pepper.
Steamed Asparagus: Place the asparagus in a steamer basket over boiling water. Cover and steam about 3 minutes or until the spears are bright green and tender, yet crisp. Transfer to a serving platter and drizzle with olive oil. Sprinkle with salt and pepper.
Balsamic Reduction for Asparagus
Either grilled, boiled, steamed or cooked in a skillet, asparagus is even better when tossed with a little balsamic reduction.
Per Bunch of Asparagus:
Directions: Add the balsamic to a small sauté or sauce pan. Bring to a light boil then reduce heat to a simmer. Cook, stirring occasionally, until reduced by half and it has thickened, becoming more syrup-like, about 10 minutes. Toss cooked asparagus with balsamic reduction.