In the Kitchen with Sigona's Featuring: Locally-made Jennysong Balsamic Ginger Salad Dressing
Baby Bok Choy Slaw with Carrots, Sweet Peppers and a Balsamic Ginger Dressing
We put a twist on a traditional cabbage slaw by introducing baby bok choy and using a fantastically rich and creamy balsamic ginger dressing, locally made in Santa Clara by Jennysong, the flavors of which simply make this slaw sing. Serves 4.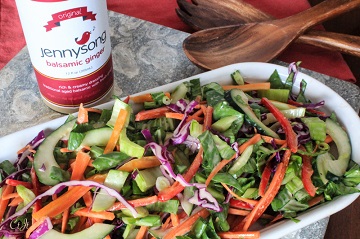 Ingredients:
About 2 cups shredded baby bok choy (about 3 heads)
1 carrot, cut into matchsticks
2 to 3 mini sweet peppers, seeded and julienned
Half a cucumber (cut lengthwise), seeded and sliced on the bias into crescents
1/4 to 1/2 cup thinly sliced red cabbage
3 green onions, cut on the bias
Optional: Half a jalapeño, minced
At least 2 Tbsp. locally made Jennysong balsamic ginger dressing, plus more for serving
Directions: To a large mixing bowl, add the prepared baby bok choy, carrot, peppers, cucumber, red cabbage, green onions and jalapeño, if using. Add 2 tablespoons of the JennySong balsamic ginger dressing and toss until well incorporated.
Transfer the slaw to a serving dish. Serve with extra dressing on the side.