An Organic Twist to St. Patty's Day
Lemon-Garlic Roasted Organic Cabbage Steaks with a Chive-Mustard Vinaigrette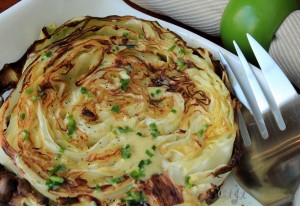 Why not change up your St. Patty's Day feast this year with a new twist to the cabbage dish? As with other vegetables, roasting cabbage brings out its sweeter side and creates a soft texture. Serves 4 to 6.
Ingredients:
NOTE: If you'd like a little something to drizzle over the top of the cabbage steaks, see the recipe below for a chive-mustard vinaigrette. It's also fantastic as a dip for corned beef.
Directions: Preheat oven to 425°F.
Stand the cabbage upright and slice from the top down to make 1-inch thick slices (the steaks). You'll probably have five good slices. Arrange them in a single layer on a large, lightly greased baking sheet.
Rub each side of each of the steaks with crushed garlic, and then liberally brush each side of each steak with the oil. Season with salt and pepper.
Roast the cabbage steaks 15 to 20 minutes. Flip over and roast another 10 to 15 minutes or until the edges of the leaves are nicely browned and the rest of the steak is tender. The cabbage can brown quickly, so keep an eye on it.
While still hot, drizzle each slice with a little olive oil. Serve while hot or at room temperature.
Chive-Mustard Vinaigrette
This vinaigrette is delicious drizzled over roasted cabbage or as a dip for corned beef. It's perfect for your St. Patrick's Day feast. Recipe adapted from Eating Well. Serves about 2 to 4.
Ingredients:
2 tsp Dijon mustard
1 tsp lemon juice
Salt and pepper, to taste
3 Tbsp minced fresh chives
2 Tbsp Sigona's Fresh Press Extra Virgin Olive Oil
Directions: Mix together Dijon, balsamic, lemon juice salt and pepper. Stir in chives and olive oil, and mix well until combined.
Serve as a dip for corned beef or as a drizzle* for lemon-garlic roasted cabbage steaks.
*NOTE: If serving over the roasted cabbage steaks, drizzle on vinaigrette while the cabbage is still hot.
Organic Cabbage & Hamartia Cheese Salad with Corned Beef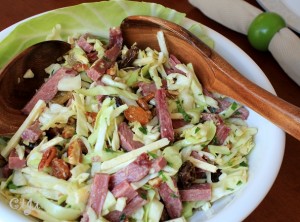 Looking for a way to use your St. Patrick's Day leftovers? Try this salad with our Hamartia cheese, a "limited lot" blend of creamy Gouda, nutty Swiss Gruyere and mild sharp white cheddar. If you don't have any leftover corned beef, you can use ham instead. Please note it needs to chill for 2 hours after the salad is assembled. Adapted from The Big Book of Backyard Cooking. Serves 6.
Ingredients:
3 Tbsp Sigona's Zinfandel Wine Vinegar (a red wine vinegar)
1 Tbsp Dijon mustard
1/2 cup Sigona's Fresh Press Extra Virgin Olive Oil
About 4 cups thinly sliced or shredded green organic cabbage (about 10 oz. or half a medium cabbage)
10-12 oz. cooked corned beef or ham sliced into pieces about 1/4-inch wide and 2-inches long (about 3 cups)
6-8 oz. wedge Sigona's Hamartia cheese, thinly sliced into pieces about 1/8-inch wide and 2-inches long
3/4 cup roughly chopped pecans or walnuts
3/4 cup jumbo crimson, jumbo red flame or jumbo mixed raisins
Salt, to taste
1/2 cup chopped fresh parsley
Directions: Whisk together the vinegar and Dijon in a bowl. Gradually whisk in the oil and whisk until emulsified. Set aside.
Place the prepared cabbage in a large (nonreactive) bowl. Add the meat, sliced cheese, nuts and raisins. Pour the dressing over the cabbage mixture and toss well to coat. Season with salt to taste.
Refrigerate at least two hours to let the flavors meld. Bring to room temperature 30 minutes before serving.
After the salad has chilled and then returned to room temperature, stir in chopped parsley. Enjoy!