January Olive Oil & Balsamic of the Month
Roast Salmon with a Citrusy Salsa Verde
This brightly flavored dish is simple, healthy and delicious. The salmon is roasted low and slow so it absorbs the flavor from the herbs and zest, and the citrusy salsa verde delivers a delicious, herbaceous topping. Adapted from Bon Appetit. Serves 2 to 4.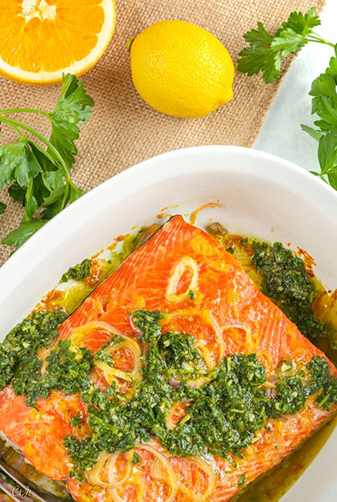 Salmon:
1 shallot, thinly sliced into rings
zest of half an orange
zest of 1 lemon
A wild salmon fillet, about 1 lb.
Kosher salt
For the salmon: Preheat oven to 250°F. In a baking dish just large enough to hold the fillet, add the olive oil, shallots and zest. Stir to combine.
Season the salmon with salt. Place skin-side up on top of the shallots, gently pressing to pick up some of the zest and shallots. Flip skin-side down, nestling the salmon into the shallots and zest.
Bake for 30 to 35 minutes or until fish is opaque in the center and easily flakes with a fork.
Meanwhile, prepare the citrusy salsa verde:
Citrusy Salsa Verde:
A large handful parsley (about 1 cup semi-packed)
A large handful cilantro (about 1 cup semi-packed)
2 cloves garlic
Zest of half an orange
1/2 tsp paprika
Juice of half an orange
Juice of half a lemon
Pinch of salt
For the salsa verde: In a food processor or blender, add the oil, parsley, cilantro, garlic and balsamic. Pulse until finely chopped. Transfer to a bowl and stir in the orange juice, lemon juice, paprika and salt. Season to taste.
Serve salmon with salsa verde spooned over the top.
Wild Rosemary & Lemon Dressing
This simple dressing is absolutely delicious when drizzled over roasted, grilled or steamed veggies, such as green beans, Brussels sprouts, asparagus, broccoli…any combination you love! It's also nice as a dressing for a leafy green salad topped with a lean protein, such as shrimp, tuna or grilled chicken. Makes 1 cup. Keeps for up to 7 days in the fridge.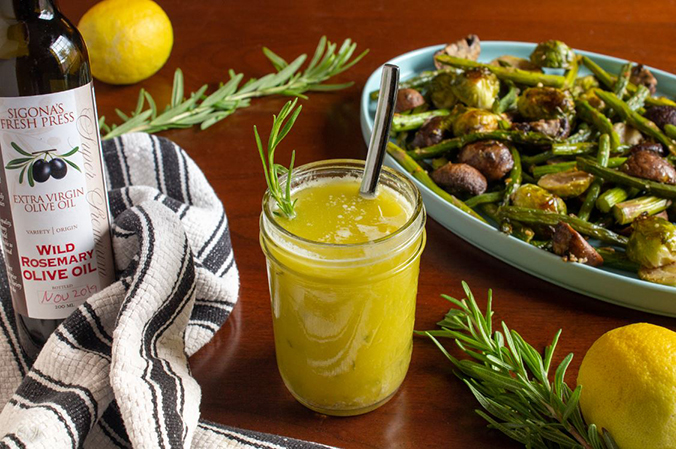 Ingredients:
2 cloves garlic
3/4 cup Sigona's Wild Rosemary Olive Oil
1/4 cup lemon juice (about 1 large lemon)
A pinch of salt, optional, to taste
1 tbsp loose-packed rosemary leaves
Directions: Lightly crush the garlic cloves and place in a blender or other container into which an immersion blender fits. Add the balsamic, oil, lemon juice and a pinch of salt. Process in the blender or with an immersion blender until the mixture is emulsified. Add the fresh rosemary and blend until it is minced and well incorporated.
Add the dressing to a dressing shaker or jar with a lid. Shake mixture well again before using.
This is an excellent drizzle for roasted veggies or salads topped with lean proteins. It may need to set out a few minutes to take the chill off after coming out of refrigeration.