Robbie's Produce Tips: Sweet Vidalia Onions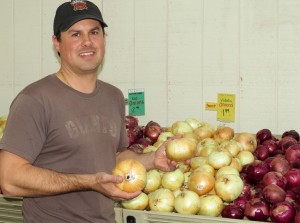 Choose Vidalia onions that are flat. Generally speaking, the flatter, the sweeter.
They should feel heavy for their size.
Vidalia onions tend to have a flakier skin, which is okay, as long as it's dry. If a young onion isn't cured enough, it will be a little wet and slimy. Stay away from those as they will go bad quickly.
You may not use the entire onion in one sitting, so the best way to store the unused part is to wrap it tightly with plastic (or in an air-tight container) and store it in the fridge. It should last at least a week or more.
Robbie Sigona is our produce buyer. He works with local farmers and scours the market for the very best in fresh fruits and vegetables – some you won't find anywhere else.