In the Kitchen with Sigona's: Zucchini
Zucchini Cakes with Sigona's Marinara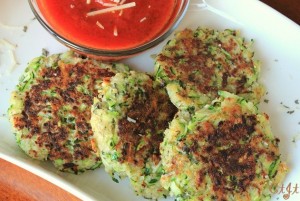 The crispy outside of these cakes makes them perfect for dipping. You can make them more bite-size if you wish, just adjust the cooking time, if necessary. Makes 8 to 10 patties.
Ingredients:
Directions: Remove excess liquid from the grated zucchini by placing it in a kitchen towel or paper towels and squeezing over the sink.
Add the zucchini, eggs, breadcrumbs, salt, pepper, spices/herbs and cheese together in a large bowl; stir to combine.
Heat 1 tablespoon olive oil in a medium skillet over medium heat. Shape the zucchini mixture into patties about 2 inches wide and an inch thick. Working in batches, add a couple cakes to the skillet and cook about 2 to 3 minutes per side or until they're golden brown. Add more oil to the skillet if needed between batches.
Arrange the cakes on a serving dish, along with a small bowl of warmed marinara, for dipping. Serve immediately.
Raw Zucchini Noodles with Pesto and Shrimp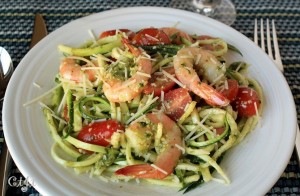 Zucchini noodles are a healthy, gluten-free alternative to pasta noodles that come together just as quickly as boiling water and cooking traditional noodles. The best part about this dish is that it can be served chilled or at room temperature. Serves 4.
Ingredients:
Sigona's Fresh Basil Pesto Ingredients:
Sigona's Basil Pesto Directions: Place all ingredients, except the olive oil, in a food processor or blender. Turn on the processor to bring ingredients together for about 30 seconds, then drizzle in the olive oil, processing about 1 minute or until you get a good consistency (if you like your pesto sauce thicker, add a bit more cheese…if you want it thinner, add a bit more oil). Use immediately or cover well and store in the fridge up to a week. It also freezes well.
Zucchini Noodles Directions: Using either a mandoline, julienne peeler or a spiral vegetable peeler (such as this), slice the zucchini lengthwise into long, noodle-like strips. Set aside.
Toss the zucchini noodles with 1/2 to 3/4 cup pesto, the halved tomatoes and cooked shrimp, if using. Season with salt and pepper, to taste. Top with Parmigiano-Reggiano and serve.
Grilled Zucchini with Lemon Salt
This simple side goes well with grilled meats, such as chicken, pork or fish. Adapted from The Pioneer Woman. Serves 4 to 6.
Ingredients:
Directions: Slice the zucchini lengthwise into quarters. Put the quarters into a large plastic zipper bag. Drizzle in 1/4 cup olive oil, salt and pepper, to taste, 1 tablespoon lemon zest the lemon juice. Seal the bag and mix around the ingredients so all the zucchini is coated. Set aside for 15 to 20 minutes to marinate.
Prepare the indoor or outdoor grill to medium to medium-low heat. Grill the zucchini on all three sides until nice and tender, and showing grill marks. Be careful not to burn them. Remove the zucchini to a plate as it gets done.
Mix together the rest of the lemon zest and 2 teaspoons Kosher salt. Use a knife to chop the salt and zest together until it's well integrated. Add more salt if it needs it. Sprinkle the lemon salt over the plate of grilled zucchini and serve.