In the Kitchen with Sigona's Featuring: Local Cantaloupe
Chicken Salad Cantaloupe Boats
Serving the salad in the cantaloupe is a fun way to present this dish (it's great for brunch) and, maybe most importantly, it saves you from extra clean up. Feel free to tweak the recipe to make it more your own; we took one of our favorite salad recipes and replaced the grapes with melon. Serves 4.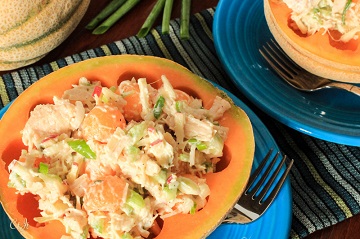 Ingredients
4 local cantaloupes, halved and seeded
At least 3 packed cups shredded or cubed cooked chicken (poached or rotisserie is nice)
About 3/4 cup plain Greek yogurt (or use half yogurt, half mayonnaise), more or less for desired creaminess
2 to 3 green onions, sliced on the bias
1 stalk celery, diced
1/2 an apple, cored and diced
2 to 3 Tbsp. fresh chopped tarragon, to taste
A couple dashes garlic powder
Salt and pepper, to taste
Optional: 4 Tbsp. chopped cashews
Directions: Use a melon baller to remove one layer of melon from each seeded half, creating a deeper well for the salad. Place the melon balls in a bowl and set aside.
Turn the melon halves upside down on paper towels to allow some of the juices to escape while you make the chicken salad.
Place about half the melon balls in a large bowl; save the remainder for another recipe or for a simple snack. Add in the chicken, yogurt, green onions, celery, apple, tarragon, garlic, salt and pepper. Stir gently to combine.
Scoop a fourth of the salad mixture into each melon half. Top with cashews, if desired. Serve.
Cantaloupe, Fig & Prosciutto with Fennel and Sigona's Basil Oil
Prosciutto and cantaloupe is most definitely a classic combination — the saltiness of the prosciutto is countered by its sweet cantaloupe companion, creating a delicious flavor you might not usually expect from two simple ingredients. We've taken these two ingredients and added in a few other flavors and textures — the fennel adds fantastic crunch — to create a salad rather than a typical melon-prosciutto appetizer. Serves 4 to 6.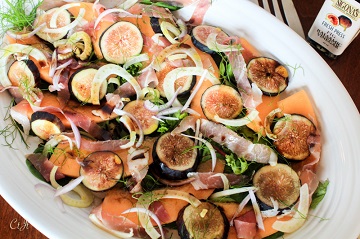 Ingredients:
1 cup mixed greens
1/2 a local cantaloupe, seeded
4 to 6 figs, cut into 1/4-inch slices
2 to 4 oz. prosciutto, thinly sliced
1/4 cup thinly sliced fennel, plus 1 to 2 Tbsp. fennel fronds, for garnish
1 Tbsp. thinly sliced shallot
1 Tbsp. Sigona's Basil Oil
1 to 2 tsp. Sigona's Fig Balsamic
Salt and pepper, to taste
Directions: Cut the half cantaloupe in half and then cut the halves across the middle to create quarters. Cut the quarters into slices about 1/4-inch thick; remove the rind and discard.
Spread the greens out on a large platter. Top the greens evenly with a single layer of cantaloupe slices and then fig slices. Add on the prosciutto, the fennel and shallot in layers.
Drizzle the dish with the basil oil and then the balsamic. Season with salt and pepper. Finish with a garnish of fennel fronds.
Cantaloupe Agua Fresca with Lime & Mint
Agua Fresca is a light, refreshing fruit juice which originated in Mexico. This thirst-quencher is made by simply blending fruit with water and adding in a bit of lime. We like mint in ours, too. Add vodka or don't; we'll leave it up to you. Makes about 4 to 5 cups.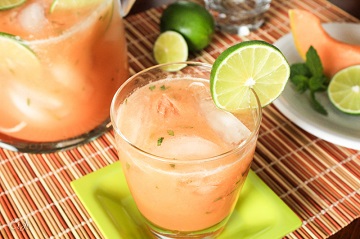 Ingredients:
5 cups cubed local cantaloupe (about 1 cantaloupe), rind and seeds discarded
1 1/2 to 2 cups water
3 limes; 2 juiced, 1 sliced
1 to 2 Tbsp chopped fresh mint leaves
1 to 2 Tbsp. Agave nectar, honey or sugar, more or less to taste
Ice, for serving
Directions: Working in batches if necessary, blend the cantaloupe, water and lime juice (about 3 tablespoons to 1/4 cup) until smooth. Pour the mixture through a fine sieve, preferably mesh) pressing down on the pulp to extract as much juice as possible.
Note: Some like pulp, others don't. Strain the mixture as much or as little as you wish.
To a pitcher add the chopped mint and lime slices. Pour the cantaloupe mixture into the pitcher and stir to combine. Test the agua fresca for sweetness; add agave, honey or sugar if desired. Add ice to the pitcher. Allow mixture to sit for about 10 minutes to allow flavors to blend.
To serve: Add ice to individual glasses and pour the agua fresca over the top.