The Word on Local Stone Fruit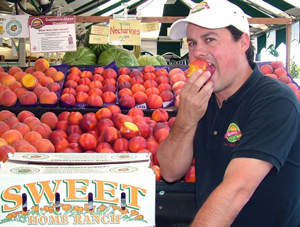 We've hit stone fruit season, and we're getting in the best-tasting supply of this fruit that you'll find out there! Take our peaches — they're freshly picked, deliciously sweet and ridiculously succulent.
We're so fortunate to be working with Paul Buxman to obtain these amazing stone fruits. Although our supply of stone fruit will be a little different this year due to an unusually warm winter season and shortage of water, Paul Buxman has turned these less-than-ideal growing conditions into a positive.
Paul has been able to get by with only a quarter of his normal water usage this year. And, being on a well system, he has proactively taken the steps to drill/dig another well to give him a water supply for years to come.
With all of this in mind, prices for stone fruit will be higher this year, and the season will be shorter for California stone fruit. However, despite these circumstances, the fruit that we are getting in is still of excellent quality! Remember, we're working with Paul Buxman; his attentiveness to making sure that the stone fruit he provides to us is as close to perfection as possible.
Robbie Sigona is our produce buyer. He works with local farmers and scours the market for the very best in fresh fruits and vegetables – some you won't find anywhere else.