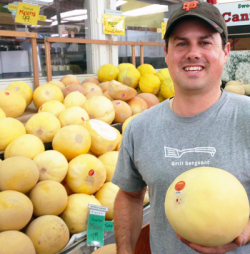 Before the season ends, I'd like to highlight our locally grown orange flesh honeydew melons from Turlock. Let me backtrack, you can indeed get orange flesh honeydews throughout the year, but during this time – July and August – is by far, the absolute best from Turlock Fruit Company.
From the way they grow and harvest these melons to how they pack and ship them, Turlock Fruit Company does a phenomenal job of making sure these melons are in perfect shape.
My wife will buy one to two per week, cut them up into cubes and chill them in the fridge. My boys devour these easily within a day.
From these melons, you get the sweetness of a honeydew with a hint of cantaloupe while still retaining the firmer flesh of a cantaloupe.
Robbie Sigona is our produce buyer. He works with local farmers and scours the market for the very best in fresh fruits and vegetables – some you won't find anywhere else.