Robbie Sigona's Produce Tips: Avocados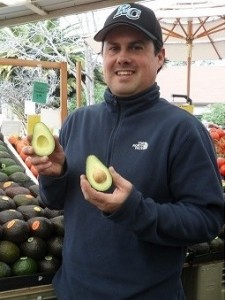 It gets tricky picking out good avocados this time of year, but I spend a lot of time as a buyer finding the best avocados out there right now and keeping them fresh. Here are some tips on picking out and storing my year-round favorite fruit!
Pick avocados that are slightly soft. In contrast to picking summertime California avocados, in which you'd pick slightly firmer avocados.
Look for avocados that are clean and even in color. Older avocados (which you will get at some stores this time of year) will ripen with dark spots on the skin. This is either caused by rain or old age…or both. Usually, these will cut dark inside.
Give the stem end a gentle squeeze to make sure the top isn't hollow. It should stay full all the way through; otherwise, it's probably overripe.
Robbie Sigona is our produce buyer. He works with local farmers and scours the market for the very best in fresh fruits and vegetables – some you won't find anywhere else.