In the Kitchen with Sigona's Featuring: Blushing Mimosas
Blushing Mimosas
Using blood orange juice makes for a red mimosa that is perfectly festive. Serves 2.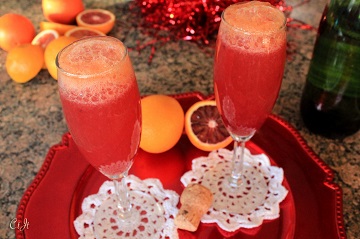 What you need:
2 champagne flutes
About 4 blood oranges, juiced (you may not use all the juice, depending on the size of orange and/or the champagne glass)
Chilled champagne, such as Rotari Rosé
Directions: Fill each champagne glass about a fourth or half of the way full with juice. Slowly top with chilled champagne. Serve chilled.