In the Kitchen with Sigona's Featuring: Asparagus
Dairy-Free Cream of Asparagus Soup
This soup, though dairy-free, is creamy and luscious, just as it would be if using heavy cream. It's the potato that brings a creamy factor; it becomes silky smooth when pureed with the other vegetables. Inspired by William-Sonoma. Serves about 4.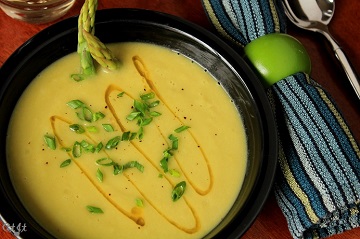 Ingredients:
1 large shallot, finely chopped
1 lb. fresh local asparagus, trimmed, lightly peeled and cut into 2-inch pieces, tips reserved
1 russet potato, peeled and cut into 2-inch chunks
4 cups vegetable or chicken broth
Salt and pepper, to taste
Juice of 1/2 lemon
1 Tbsp. finely chopped chives
Directions: In a large pot, heat the oil over medium heat. Add the shallots and sauté, stirring, until softened, about 3 minutes. Add the asparagus stalks and potato and sauté until beginning to soften, about 3 minutes. Add the broth and season with salt and pepper. Bring to a boil over medium-high heat. Reduce the heat to low, cover partially, and cook until the vegetables are very tender, about 15 to 20 minutes.
Meanwhile, bring a small saucepan of water to a boil. Add the lemon juice and reserved asparagus tips and cook until crisp-tender, about 3 minutes. Drain and let cool slightly.
Using either an immersion blender or other blender, puree the soup until smooth, working in batches if necessary. Return to the pot and reheat over low heat. Serve, garnished with asparagus tips and chives.
Spring Pizza with Asparagus and Herbed Cheese
This is a delightful, light and flavorful pizza for a spring brunch or girls' night. It comes together in no time at all. Using Vicolo corn meal crust gives the dish another layer of delicious flavor that can't be matched. Adapted from EatingWell.  Serves 2.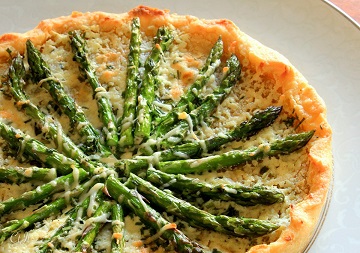 Ingredients:
3 Tbsp. Sigona's Fresh Press Extra Virgin Olive Oil, divided (Mix it up! Use Sigona's Garlic Oil for more flavor.)
One 9-inch Vicolo corn meal crust, regular or gluten-free
About 2/3 of a bunch of fresh asparagus (about 19 stalks or about 2/3 lb.)
2 Tbsp. chopped chives
Salt and pepper, to taste
3 Tbsp. herbed soft cheese, such as Boursin Garlic & Fine Herbs
2 Tbsp. freshly grated Parmigiano-Reggiano
Directions: Brush the pizza crust with 2 tablespoons of olive oil and allow to sit for 5 to10 minutes, while preparing the rest of the ingredients.
Trim asparagus spears to about 3 1/4-inches long (saving the rest for another recipe); slice any thicker stalks in half lengthwise. Toss asparagus in a bowl with the 1 tablespoon olive oil, 2 tablespoons of chives, salt and pepper.
Spread on the soft herbed cheese. Arrange the asparagus in a circular pattern, tips facing out. Finish with a sprinkling of grated Parmigiano-Reggiano on top.
Bake according to package directions. Enjoy!
Lemony Asparagus and Shrimp Skewers
Skewer these up for a light appetizer and serve with a white wine. They grill up in just minutes. Serve at least two per person.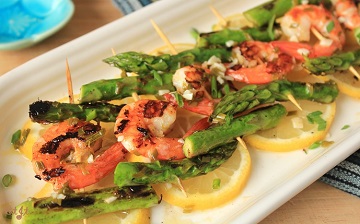 Ingredients:
About half a bunch local asparagus, ends trimmed and stalks cut into 2- to 3-inch pieces
Large shrimp or prawns, about 14 to 16, or at least two per guest
2 lemons
1/4 cup Sigona's Fresh Press Extra Virgin Olive Oil, plus more for brushing grill pan
3 cloves garlic, minced
1/4 cup dry white wine
3 Tbsp. chopped fresh chives, plus more for garnish
Salt and pepper, to taste
Equipment:
Small to medium length wooden skewers
Directions: Onto each skewer, thread on a piece of asparagus, a shrimp and then finish with another piece of asparagus. Set aside.
Zest one lemon to yield about 2 teaspoons zest. Save zested lemon for another day.
In a small saucepan, combine the olive oil and garlic over medium-high heat. Cook for one minute. Add wine; bring to a simmer. Remove from heat and stir in the chives, lemon zest, salt and pepper. Set aside.
Heat a grill pan over medium-high heat. Coat the pan with a bit of olive oil then lay on the skewers. Grill for about 3 minutes then flip the skewers. Brush with roughly half of the olive oil mixture and cook, about 3 minutes, more or until the shrimp are cooked through and there are nice grill marks.
Meanwhile, cut the remaining lemon into slices and lay them out in a single layer on a serving dish.
When the skewers are cooked, lay them on top of the lemon slices. Drizzle the dish with the remaining olive oil mixture, garnish with additional chives and a light sprinkling of salt. Serve.