Sigona's Truffle Button Crostini with Rosemary-Sautéed Mushrooms
Sigona's Truffle Button Crostini with Rosemary-Sautéed Mushrooms
The ingredients are simple, but the flavor is outstanding! Freshly toasted slices of baguette are topped with truffle brie and broiled for less than a minute to get the brie just a little melty before they're finished with rosemary-sautéed mushrooms and a pinch of salt. Serves about 4.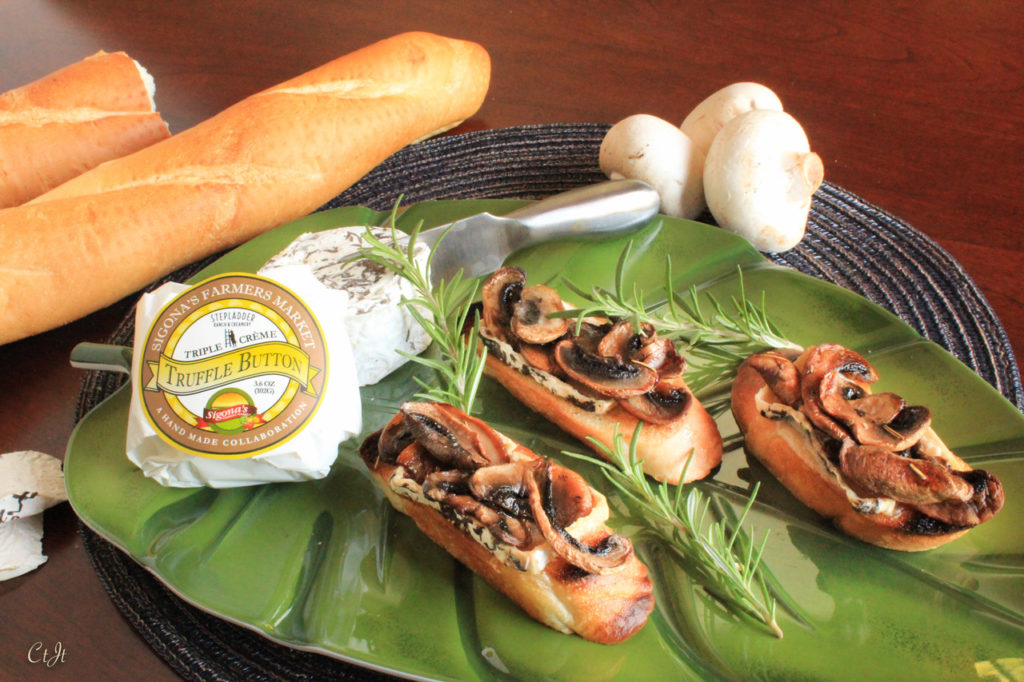 Ingredients:
8 slices of a baguette about 1-inch thick. Cut on the bias (at a 45-degree angle)
2 Tbsp Sigona's Fresh Press Extra Virgin Olive Oil, divided, plus more for drizzling
1/2 tsp dried rosemary
4 to 5 oz mushrooms, cleaned and sliced
1 round of Sigona's Truffle Button Brie sliced into about 8 or 9 slices a little less than 1/4" thick (you may need to split some pieces up to have enough for each crostini)
Directions: Preheat a large skillet or griddle over high heat. Lightly brush both sides of the baguette slices with 1 tablespoon of olive oil. To create a crostini with a crisp, toasted outside and a soft, chewy inside, add the slices to the hot griddle and cook for just 1 minute a side, flipping once, or until lightly toasty. Set aside.
In a medium sauté pan, heat 1 tablespoon olive oil and the rosemary over medium to medium-high heat. Add the sliced mushrooms and allow to sauté, stirring occasionally, until they have cooked down and have released and reabsorbed their liquid, about 10 minutes. Remove from heat and set aside.
Preheat the oven broiler. Top each crostini slice with a slice of truffle brie. Place the crostini on a rimmed baking sheet and place under the broiler for less than a minute, just until the cheese begins to soften and melt. Remove quickly.
Top the cheesy crostini with sautéed mushrooms and a sprinkling of salt and pepper. Transfer to a serving tray and finish with a drizzle of olive oil, if desired. Serve immediately.