In the Kitchen with Sigona's Featuring: Cauliflower
Buffalo-Style Roasted Cauliflower With a Cashel Blue-Chive Dipping Sauce
With this recipe, you'll get the same spicy-cool flavors you would from a traditional Buffalo and blue cheese dip, just without the added calories from tortilla chips. It's surprisingly delicious and addicting. Adapted from Food Network. Serves about 4.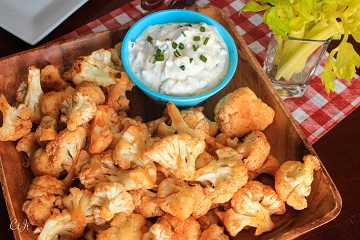 Gorgonzola-Chive Dipping Sauce:
6 oz. plain Greek yogurt, such as Fage
3 Tbsp. Blue Cheese, such as Cashel Blue
1 1/2 Tbsp. milk
2 tsp. mayonnaise
1 to 2 cloves garlic, minced
2 Tbsp. minced fresh chives
Salt and pepper, to taste
Cauliflower:
1 head of cauliflower, cut/torn into small-medium florets (about 6 to 8 cups)
2 Tbsp. unsalted butter, melted
3 Tbsp. Sriracha sauce, more or less to taste
Salt, to taste
Garnish: Celery sticks
Directions: Preheat the oven to 400°F.
Together in a large bowl, mix the olive oil and about 1/4 teaspoon salt. Toss the cauliflower in the oil until well coated. Spread the cauliflower on a rimmed baking sheet and roast until beginning to brown and just tender, 22 to 25 minutes.
Meanwhile, in a small bowl, mix together the ingredients for the cheese sauce: yogurt, cheese, milk, mayonnaise, garlic, chives, salt and pepper. Cover and chill until ready to serve.
In another small bowl, mix together the melted butter and Sriracha.
Using tongs or a spatula, put the roasted cauliflower in a large bowl. Drizzle with the Sriracha-butter sauce and gently toss to coat. Return to the baking sheet in a single layer and roast until the sauce is bubbling and the cauliflower is browned around the edges, about 6 to 8 minutes.
Serve hot with the cheese sauce. Garnish with sticks of celery, if desired.
Gobi Sabji: Cauliflower with an Indian Spice Blend
Though simple, this dish presents many layers of flavor. It's a perfect side dish that comes together in a snap, thanks to the packet of authentic Indian spices from Waverley Kitchens, available at Sigona's. Serves 2 to 4. Recipe courtesy of Waverley Kitchens.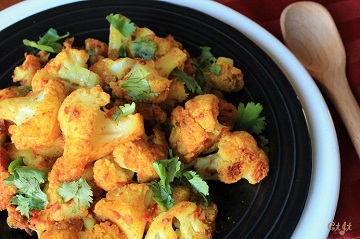 Ingredients:
1 medium head of cauliflower (you'll need 3 cups)
1 large tomato
2 Tbsp. chopped fresh cilantro
2 Tbsp. Sigona's Fresh Press Extra Virgin Olive Oil
1 packet of Waverley Kitchens Authentic Indian Spice Mix for Gobi Sabji, available at Sigona's
Key Tip: If you prefer softer cauliflower, cook for an extra 3 minutes.
Directions:
Wash and cut cauliflower into medium-sized pieces (3 cups); set aside
Cut tomato into 1/2 inch cubes (3/4 cup); set aside
Add 2 tablespoons oil to large non-stick skillet
Tear top side of packet, take out pouch and add spices to oil
Set to medium heat
Heat oil until there is small movement in spices (usually 2 minutes)
Immediately add cauliflower and tomatoes to pan
Tear bottom side of packet, take out pouch and add spices
Cover and cook until cauliflower is tender yet crispy (usually 15 minutes); stir occasionally
Garnish with 2 tablespoons coarsely chopped cilantro
Pizza Margherita Minis on Cauliflower Crust
Diners young and old will love this sneakily healthy pizza crust. Dress the crust with your favorite toppings or use our suggestion and try the Margherita style. It's simple and delicious. Makes 8 mini pizzas.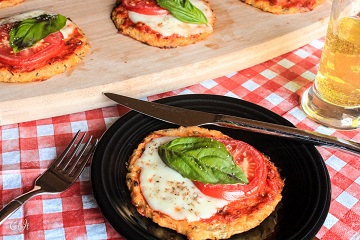 Ingredients:
1 head of cauliflower, cut or torn into florets
1 teaspoon dried thyme
1 teaspoon dried oregano
1 teaspoon garlic powder
1 teaspoon dried basil
Salt and pepper, to taste
2 eggs
At least 4 Tbsp. marinara or pizza sauce
2 Roma or on-the-vine tomatoes, sliced (at least 8 slices)
1 (8 oz.) ball fresh mozzarella, sliced (at least 8 slices), such as BelGioioso
8 large fresh basil leaves
Directions: Preheat oven to 425°F.
Working in batches, place the cauliflower in a food processor and process until it resembles fine grain. Place the processed cauliflower in a large, microwave-safe bowl and cover with plastic wrap. Poke a couple holes in the plastic and then microwave the cauliflower for 5 minutes. Fluff with a fork and allow to cool 5 to 10 minutes, fluffing occasionally.
Working in two or three batches, place the cauliflower in a clean tea towel, then twist and squeeze to wring out as much liquid as possible. The drier the better, or the crusts will be soggy. Discard the liquid.
Add the thyme, oregano, garlic powder, basil, salt and pepper to the cauliflower and fluff with a fork until well incorporated. Add the eggs and mix until combined. Pat down the mixture and divide into 8 equal portions.
Scoop out one portion at a time, rolling it into a ball. Place the ball on a parchment-lined baking sheet and gently pat out into a flat circle about 4 inches in diameter. (You can easily fit 4 per baking sheet.) Bake the crusts for 15 to 18 minutes until lightly browned on top and around the edges. The middles should feel cooked through.
Spread a heaping 1/2 tablespoon of marinara or pizza sauce on top of each baked crust. Add a slice of cheese followed by a slice of tomato. Bake pizzas for about 5 to 8 minutes or until cheese is melty. Remove from the oven and place one basil leaf atop of each pizza; season with a little black pepper.
Allow pizzas to rest about 5 minutes before serving.