In the Kitchen with Sigona's Featuring: Strawberries
Sicilian-Style Local Strawberries in a Balsamic Reduction over Vanilla Bean Gelato
A good balsamic is already sweet due to the aging process, and our infused balsamics, such as the espresso, vanilla or strawberry balsamic, are the perfect combination of sweet & tangy. Serves 2.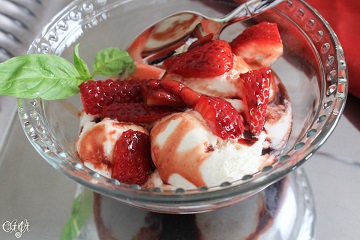 Ingredients:
Directions: Place the berries and balsamic into a saucepan and warm over medium heat. Bring it to a slow simmer; let reduce for only about a minute. The balsamic will continue to reduce from residual heat, so don't let it get too thick over direct heat.
Scoop gelato into two bowls and evenly pour the reduction directly over the top of each serving. Garnish with a mint sprig and serve.
Locally Grown Strawberry Salsa with Avocado, Jalapeño and Red Onion
Whether with chips, on a taco or served over chicken or fish, this is a fantastic, flavorful and fresh salsa that comes together in just minutes. Inspired by Cooking Light.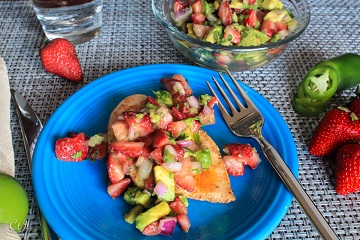 Ingredients:
2 med avocados, halved, peeled and cubed
1 cup roughly diced strawberries
About 1/4 a small red onion, diced
2 Tbsp. fresh minced cilantro
About 1 tsp. minced jalapeño pepper, seeds removed (more or less jalapeño, to taste)
2 tsp. fresh lime juice
Salt, to taste
Directions: Place all ingredients together in a medium bowl and gently stir to mix well. Allow salsa to sit for at least 15 minutes to allow the flavors to meld before serving.
Quick Strawberry-Rhubarb Jam
This is a quick, pectin-free jam sweetened with sugar and honey. You can look for different varieties of honey, such as wild mountain or blackberry, from Honey Hole Company, available at Sigona's, to add a hint of extra flavor. Leave out the rhubarb, if you prefer, adding in more strawberries to meet the appropriate weight for the amount of fruit required. Adapted from Sunset. Makes about 1 cup.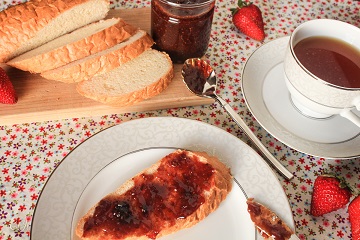 Ingredients:
1 lb. strawberries, washed, hulled, and halved
3/4 lb. rhubarb, chopped (about 3 3/4 oz.)
1 cup sugar
1/3 cup honey, such as Tangerine Orange from Honey Hole Honey Co., available at Sigona's
1/4 tsp. kosher salt
1/2 a lemon, halved
Directions: In a large, heavy pot, mix together all ingredients (squeeze the lemon halves, putting the halves and the juice in the mix) and heat over low. Cook, stirring occasionally, for about 30 minutes or until the fruit has released its liquid. Continue cooking, stirring occasionally to prevent sticking, until the mixture is thick and has darkened, about 1 hour and 15 minutes.
Remove the lemon pieces. Use jam after it has cooled a bit or spoon jam into airtight containers; and refrigerate. If you find that the jam has set too hard or rubbery, reheat the mixture with about 1/4 cup water and 1 tablespoon of lemon juice.
The jam will keep for up to 1 month in the fridge and up to 6 months in the freezer.