Wild Mushroom & Sourdough Dressing
It's usually wild mushroom season around the time Thanksgiving rolls around, and there is no better way to dress up your Thanksgiving than making wild mushrooms the star. This dressing can be used to stuff the bird or can just be baked as a side. You'll love the flavor from the mushrooms as well as our Sage & Wild Mushroom Olive Oil. Serves about 10.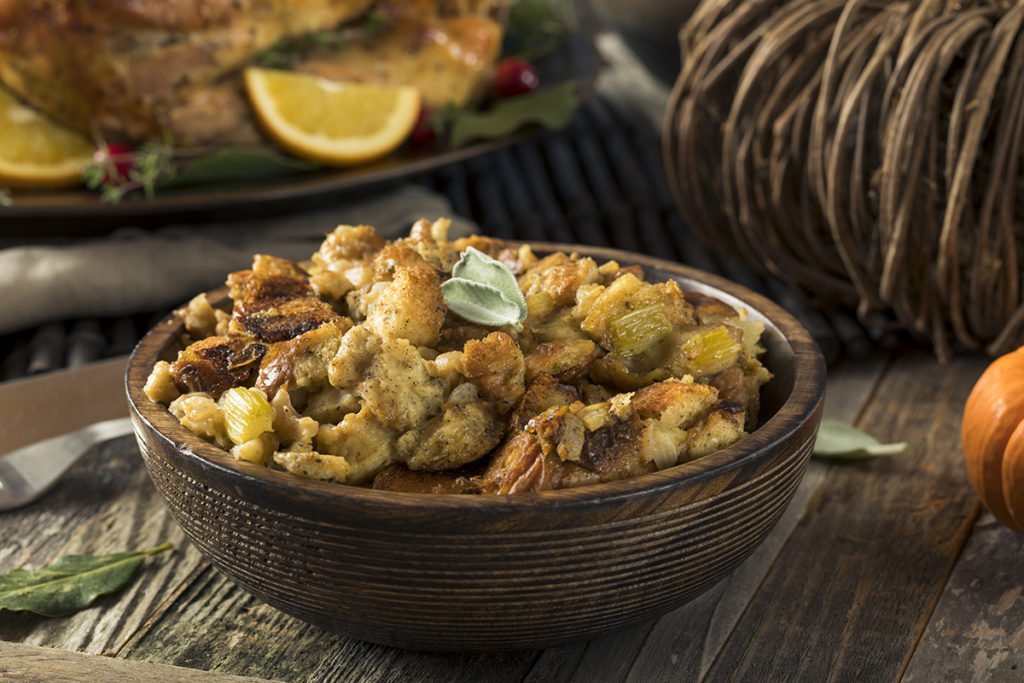 Ingredients:
1 1/2 pounds sourdough bread (the more rustic the better), sliced or torn into 1-inch pieces 
2 Tbsp unsalted butter, plus more for greasing dish
1 tablespoon finely chopped fresh rosemary 
1/4 cup Sigona's Sage & Wild Mushroom Olive Oil, divided (Mix it up! Use 1/8 cup Sage & Wild Mushroom Olive Oil and 1/8 cup Sigona's Wild Rosemary Olive Oil)
2 cups chopped celery 
1 large onion, diced
2 pounds mixed fresh wild mushrooms, such as chanterelles, oysters and maitake (hen-of-the-woods). If you feel like making the dish extra special, splurge on some matsutake mushrooms too.
1 Tbsp dry sherry or white wine (a third alternative is vegetable stock)
1/4 cup packed fresh flat-leaf parsley leaves, chopped 
1 to 2 tsp kosher salt, to taste 
1 tsp ground black pepper 
3 cups vegetable stock
2 large eggs
Directions: Spread prepared bread cubes out in a single layer on rimmed baking sheets, being careful not to overcrowd the pans. Let the bread sit out uncovered at room temperature for at least 8 hours or overnight.
Heat butter in a large, deep skillet over medium until sizzling. Add celery and onion; cook, stirring frequently until just softened, about 7 to 10 minutes. Add rosemary; cook, stirring constantly, for 1 minute. Transfer mixture to a large bowl and set aside.
Clean mushrooms by wiping with a paper towel or kitchen cloth. Remove tough stems and discard. Cut mushrooms into 1/4-inch-thick slices.
Add 1/8 cup of the olive oil to the same large skillet over medium heat. When hot, add in the mushrooms and increase to medium-high/high heat. Allow mushrooms to cook, undisturbed, for about 3 minutes or until lightly browned on the bottom. Continue cooking mushrooms, stirring occasionally, until browned all over and the mushrooms have release and reabsorbed their juices, about an additional 15 to 20 minutes, Remove the skillet from heat, allow mushrooms to rest for 30 seconds, then add the sherry to deglaze the bottom of the pan, scraping up any brown bits.
Stir in remaining 1/8 cup of olive oil, the parsley, salt and pepper; add mixture to the bowl with the celery mixture. Add bread cubes and stir to combine.
In a medium bowl, whisk together the stock and eggs until thoroughly blended. Stirring the bread mixture constantly, slowly pour stock mixture into bread mixture until most of stock is absorbed.
Dressing may be prepared 1 day ahead up to this point. Cover and chill until ready to bake.
Dressing may be used for stuffing a bird or baked separately. If stuffing, plan about 3/4 cup of stuffing per 1 pound of turkey; spoon it in loosely. Stuffing cooked inside a turkey is safe to eat if the center of the stuffing cooks to 165°F (you'll need a long thermometer).For food safety guidelines for stuffing turkey, you can read some info from the USDA here. Follow turkey roasting guidelines as directed.
If baking as a side, grease a 13-x9-inch baking dish with butter; add bread mixture to dish and cover tightly with aluminum foil. Preheat oven to 375°F. Bake, covered, for 30 minutes then uncover and cook until lightly browned, about 15 to 20 minutes. Let stand 10 minutes before serving.