In the Kitchen with Sigona's Featuring: Local, Fresh Beans
Seared Chicken Salad with Blue Lake Green Beans, Almonds and Fresh Bing Cherries
What a great way to incorporate some local, fresh summer produce! With the chicken, Blue Lake beans and sweet Bing cherries, this salad is hearty enough to be called dinner. Adapted from Everyday Food. Serves 4.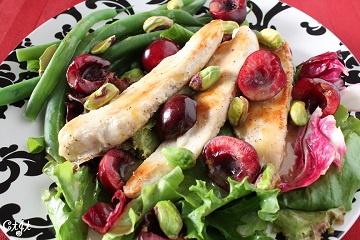 Salad:
1 Tbsp. Sigona's Fresh Press Extra Virgin Olive Oil
1 lb. chicken breast cutlets (about 6)
Salt and pepper, to taste
1/2 lb. fresh, local Blue Lake green beans, trimmed
5 oz. spring mix greens or spinach
1 small head radicchio, cored and shredded
12+ fresh Bing cherries, pitted and halved
1/3 cup shelled pistachios or Sigona's orange honey walnuts
Vinaigrette:
Directions: In a large skillet, heat oil over high; season cutlets with salt and pepper. In two batches, if necessary, cook chicken until cooked through and juices run clear, about 2 minutes per side; transfer to a plate. When cool enough to handle, slice chicken crosswise.
In a medium saucepan, bring 2 inches salted water to a boil. Add green beans; cover and cook until crisp-tender, 4 to 6 minutes. Rinse under cold water until cool; drain well.
For the vinaigrette: In a small bowl, whisk together vinegar, jam, mustard and 2 tablespoons oil; season with salt and pepper.
In a large bowl, toss the greens and radicchio with all but 1 tablespoon of the vinaigrette. Divide salad among four plates; arrange chicken, green beans, cherries and nuts on top. Drizzle with remaining vinaigrette; serve immediately.
Vegetable Carbonara with Blue Lake Green Beans, Artichokes and Diced Ham
We call this carbonara because it follows the same prep as a classic pasta carbonara, but without the pasta. It's a perfect fit for brunch or as a first course before the entrée is served. Serves 2 to 4.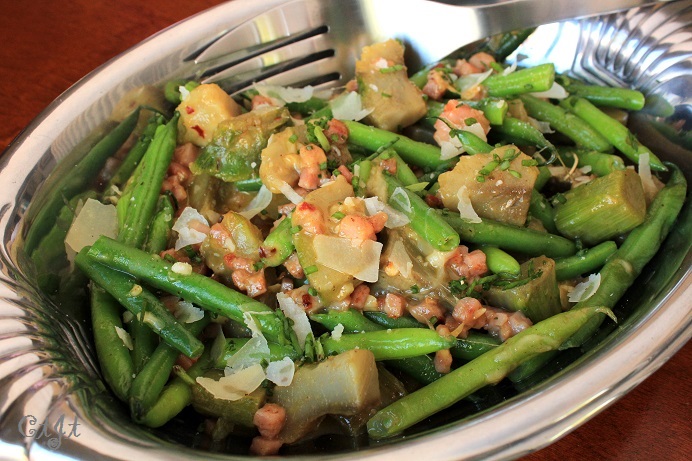 Ingredients:
2 to 3 large local artichokes
1/4 of a fresh lemon
2 cups halved green beans, such as California-grown Blue Lake green beans, stem ends trimmed
1/2 cup small-diced cooked ham
1 clove garlic, minced
A pinch or two red pepper flakes, optional
2 eggs
1/3 cup freshly grated Parmigiano-Reggiano, plus a Tbsp. or so more for sprinkling
2 Tbsp. chopped fresh parsley or chives
Salt and pepper, to taste
Directions: Trim the stems and then par (or trim) down the artichokes to the cups – this means peel off all the leaves and cut out the fuzzy choke so all you're left with is the bottom cup and heart. Rub the cups with the lemon so they don't brown. You can also trim the stem and peel off a few layers as the stem is edible. Save the leaves and steam for another time.
Cook the artichoke hearts in boiling water, covered, for about 12 minutes. Add the green beans and continue to boil for 3 minutes. Drain and allow to cool until cool enough to touch. Chop the artichokes into 2-inch pieces. Set aside.
In a separate bowl, beat the eggs with the cheese. Set aside.
Heat a large skillet over medium heat. Add the ham and cook for 2 minutes. Add the beans, artichoke hearts, garlic and red pepper flakes, if using; sauté for 3 minutes. Remove from heat.
Slowly pour the egg mixture over the veggies and toss quickly so the eggs do not cook. Stir in the cheese, season with salt and pepper. Sprinkle with extra cheese, if desired, and chives or parsley. Serve immediately.
Savory Shallot & Pancetta Green Beans
Make most of this dish beforehand and finish right before mealtime. It'll still be crispy and delicious. Serves 4 to 6.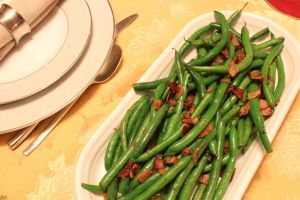 Ingredients:
1 lb. fresh, local Blue Lake green beans, stem ends cut off and discarded
5 small shallots, diced
2 oz. pancetta, chopped
Salt and pepper, to taste
Directions: Dunk beans in boiling water for 60 to 90 seconds (par boil them). Remove and place in an ice bath. This immediately stops the cooking and keeps them crisp, yet done. Set aside until nearly mealtime; then finish as follows.
Sauté shallots in oil until tender. Remove. Sauté pancetta in same skillet until done. Reintroduce shallots add beans. Mix together until warmed through, season with salt and pepper. Serve warm.