In the Kitchen with Sigona's Featuring: California Clean Peaches
Prosciutto-Wrapped Peaches and Basil with a Summertime Peach Balsamic Reduction
Sweet, salty and herbaceous, with a little tangy flavor from the peach balsamic reduction, these make a simple, healthy, delicious and beautiful appetizer. You can use nectarines in place of the peaches, if desired. Mint can also be used in place of the basil. Makes 16 slices, serves 8.
Ingredients: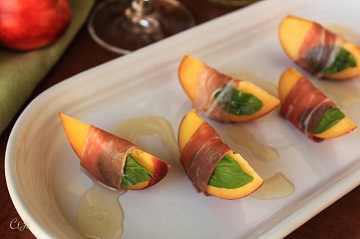 1/2 cup Summertime Peach White Balsamic
3 slices prosciutto
2 locally grown California Clean peaches
16 small basil leaves, about 1-inch long (slice larger leaves if needed)
Directions: Pour balsamic into a small saucepan over medium heat. Bring it to a slow simmer; let reduce over the heat for about 3 minutes. Turn the heat to low; allow it to continue to reduce, stirring occasionally, until reduced by about half, about 3 minutes more. Remove from heat (it will continue reducing and become syrupy).
Meanwhile, slice each piece of prosciutto lengthwise into three strips, then slice each strip in half.
Slice each peach in half and remove the pit. Cut each half into 4 slices. Place a basil leaf on one side of each peach slice and then wrap a strip of prosciutto around the middle of the peach, securing the basil leaf to the peach. Place on a serving dish. Repeat with each peach.
Just before serving, drizzle the balsamic reduction over the prosciutto-wrapped peaches.
Fresh Summer Fruit Salad with a Summertime Peach White Balsamic Reduction
These are some of our favorite summertime flavors, all topped with a light, sweet, syrupy peach balsamic reduction. You can always try basil in place of the mint for another new twist on this classic dish. It also makes an absolutely amazing topper for ice cream or shortcake with fresh whipped cream.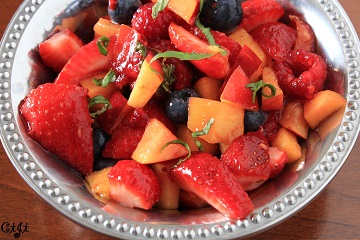 Ingredients:
Directions: Combine all the fruits together in a large bowl. Set aside.
Add the balsamic to a small skillet over medium high heat. Bring to a light boil, stirring, and cook for two minutes. Stir in the mint and remove from the heat.
Drizzle the reduction over the fruit. Gently fold to mix well. Refrigerate for at least 30 minutes before serving.
Summer Stone Fruit Dessert Topped with Sweet Mascarpone and a Lavender Balsamic Reduction
Simple yet elegant, this is a beautiful and delicious dish to serve after a busy day. The creamy, honey-infused mascarpone is killer. Serves 2 to 4.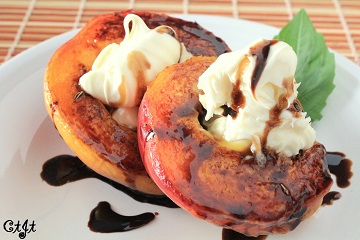 Ingredients:
1/3 cup Sigona's Lavender Balsamic
A generous pinch of dried savory or thyme
2 locally grown peaches or nectarines, halved and pitted
1 to 2 Tbsp. honey, divided, such as Orange honey from Honey Hole Honey Co., available at Sigona's
1/3 cup mascarpone, such as Belfiore
Mint or basil leaves, as garnish
Directions: Add balsamic and a pinch of herbs to a small sauce pan. Bring to a light boil then reduce heat to a simmer and cook, stirring occasionally, until reduced to about 2 tablespoons (about 6 to 10 minutes). Cool slightly.
Divide fruit halves among serving plates (one or two per plate).
In a small bowl, mix together the mascarpone and honey. Spoon about 2 teaspoons mascarpone into the center of each peach half then and drizzle about 1 tsp. or so of the balsamic reduction over each serving.