Sweet Red Pepper Relish & Cream Cheese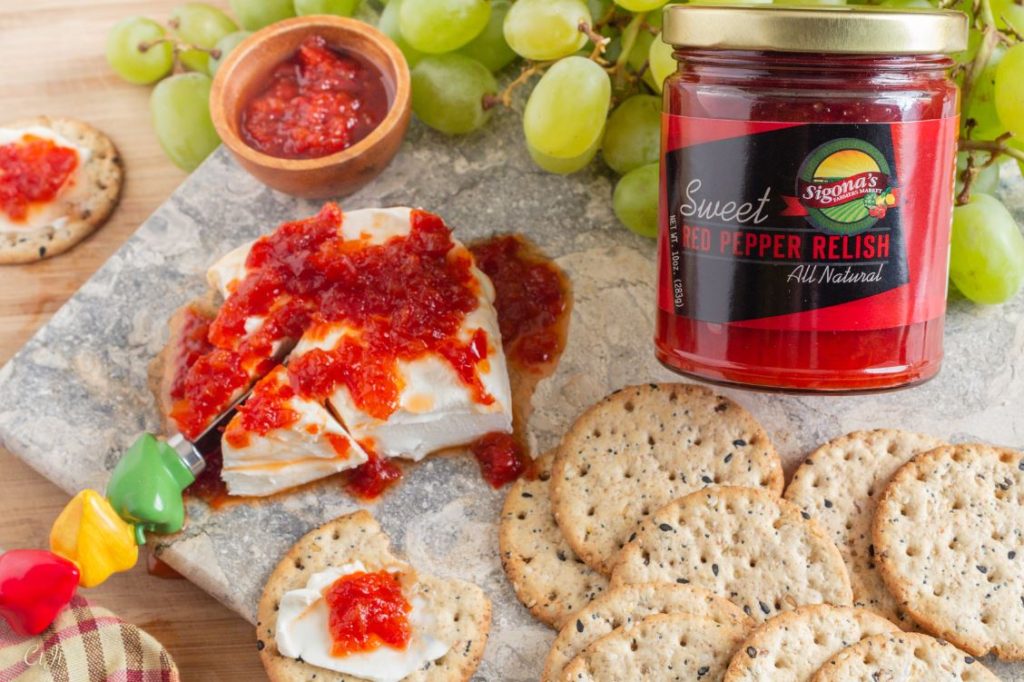 Mix a jar of Sigona's Sweet Red Pepper Relish with 8-10 oz. cream cheese (You can either stir the two together or just pour a bit of the relish on top of the cream cheese as shown in the picture).
Garnish with mint leaves, if you desire.
Serve with your favorite crackers or sliced baguette.
Sigona's Sweet Red Pepper Relish and Goat Cheese Truffles
These delightful hors d'oeuvres will be the talk of the party. We think it's the Sigona's sweet red pepper relish that really sets them apart in the flavor department, but we're a bit biased. Serve these with crackers, toothpicks or some toasted baguette slices. If you don't care for goat cheese, try cream cheese. Serves 8 to 10.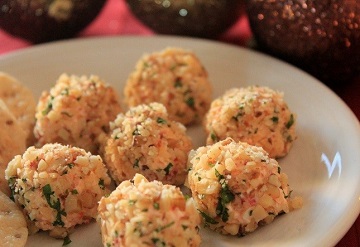 Ingredients:
8 oz. plain, creamy chevre (goat cheese), such as Laura Chenel, softened
1/3 cup Sigona's Sweet Red Pepper Relish
Salt and pepper, to taste
3/4 cup local, organic shelled walnuts from Hollister, finely chopped
2 to 3 Tbsp. fresh minced parsley
Directions: Mix together the cheese, sweet red pepper relish, salt and pepper until combined. Scoop out about 2 teaspoons and roll it into a ball. Place on a plate and repeat with the remainder of the cheese and relish mixture. You'll have about 15 to 20 balls.
Place the balls in the refrigerator to chill for at least 30 minutes. You can make these a day or two ahead of time, if needed.
About 30 minutes before serving (no sooner, or the walnuts will get soggy), mix together the chopped walnuts and parsley on a small plate. Remove the balls from the fridge (reshaping a bit, if necessary), and roll in the walnut mixture, covering well. Place the coated balls on a serving plate and chill until party time. Serve with crackers.
White Cheddar Turkey Burgers with Poached Bartlett Pears and Sigona's Sweet Red Pepper Relish
Don't make us twist your arm; the poached pear on this burger, topped with melted cheese, will keep you coming back for more. Try it with either our Sweet Red Pepper Relish or jalapeño jelly and you won't regret it! Inspired by Rachael Ray. Serves 6.
Ingredients:
2 lbs. ground turkey breast
4 green onions, white parts only, finely chopped
2 Tbsp. Dijon mustard
Grated peel and juice of 1 lemon
1 Tbsp. fresh thyme, chopped (fresh makes a difference)
Salt and pepper, to taste
1 large Bartlett pear, firm but ripe, cut lengthwise into six 1/4-inch thick slices (core carefully cut out if necessary)
1/2 cup dry white wine
1 Tbsp. Sigona's Fresh Press Extra Virgin Olive Oil
2 cups shredded white cheddar, such as Sigona's Moo-Net, a California white cheddar
Sigona's Sweet Red Pepper Relish OR jalapeño jelly (at least 6 Tbsp.)
6 extra-large English muffins, split and toasted (Sourdough is nice)
Directions: In a medium-sized bowl, combine the turkey, green onions, mustard, lemon peel and thyme; season with salt and pepper. Shape into six 3/4 inch-thick patties.
In a small nonstick skillet, add the pear slices, wine, lemon juice and enough water to just cover the pear. Bring to a boil, then lower the heat and simmer until the pear is softened, about 10 minutes. Using a slotted spoon, transfer the pear slices to a plate.
Meanwhile, in a large nonstick skillet, heat the olive oil over medium heat. Add the turkey patties and cook, turning once, for 12 minutes. Top with the cheese and pear slices, tent the pan with foil and cook until the cheese is melted, about 2 minutes.
Spread about 1 tablespoon pepper relish on each English muffin bottom; top with a patty and an English muffin top. Serve immediately.
Holiday Charcuterie Board
Mix and match ingredients to fit the season as well as the likes and dislikes of your guests.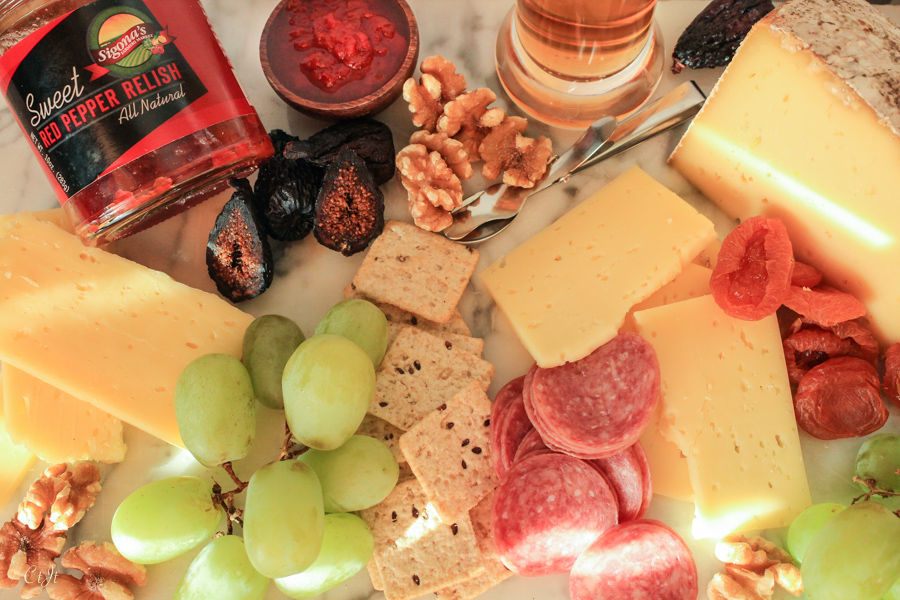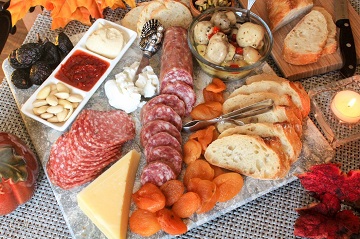 What you need:
Dried Mission figs
Whole blanched almonds
Sigona's Sweet Red Pepper Relish
Hummus
Creamy goat cheese
Columbus Italian dry salami
Baguette slices
Dried apricots
Pistachios
Marinated mushrooms, olives and peppers (check out Sigona's olive bar for a wide assortment of choices)
Cubed cheddar, such as Wisconsin Aged cheddar
Other considerations:
Apple slices
Pear slices
18-month-aged Emmentaler cheese
Quince paste
Grapes
Crackers
Toasted Cheese Sandwich with Sigona's Sweet Red Pepper Relish and Glazed Pecans
The flavors here are decadently sweet and savory. The creaminess of the cheese is delightfully complemented by the bite of sweetly glazed pecans and toasted sourdough. Don't skimp on the sweet red pepper relish – it simply makes for an outstanding sandwich. Adapted from Food and Wine. Serves 4.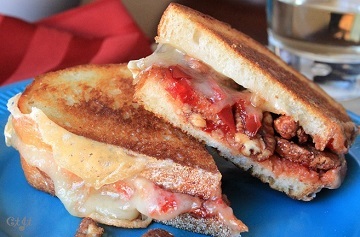 Ingredients:
1/2 cup Sigona's glazed pecans
4 Tbsp Sigona's Fresh Press Extra Virgin Olive Oil or butter, softened
8 slices of sourdough bread
At least 4 Tbsp Sigona's Sweet Red Pepper Relish
1 chilled (3-4") round of Nicasio Valley Organic Formagella or Maggia cheese, cut into 1/4-inch slices
Directions: Spread 1/2 tablespoon of the oil or butter on one side of each slice of bread. Spread 1/2 tablespoon of the pepper relish on the other side of each slice. Arrange the Formagella or Maggia on the relish side of 4 slices of bread and top with the pecans. Cover each sandwich with another slice of bread, oiled/buttered side facing out.
Heat a large skillet over moderate heat. Working in batches, add sandwiches and grill for about 4 minutes. Flip the sandwiches and cook (lightly covering with foil if necessary, to help the cheese melt) until golden brown on the bottom and the cheese is melted, about 4 minutes more. Transfer to a work surface and cook the remaining 2 sandwiches.
Allow to cool about 3 minutes before slicing in half. Arrange on plates and serve.
Bacon-Wrapped Jalapeños Stuffed with Cream Cheese and Sigona's Sweet Red Pepper Relish
These spicy bites are best served with a cold beer. They're great finger food for an afternoon BBQ or tailgate party. Makes 16 to 20 pieces.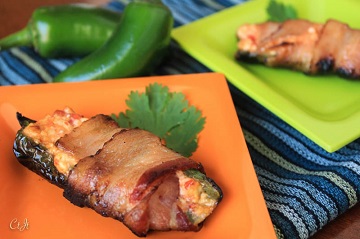 Ingredients:
8 to 10 jalapeños
1 (8 oz.) package of cream cheese, room temperature
About 1/3 cup Sigona's Sweet Red Pepper Relish, more if desired
16 to 20 slices of bacon
16 to 20 toothpicks, soaked in water for at least 20 minutes
Directions: Preheat a grill to medium high.
In a medium bowl, mix together the cream cheese and pepper relish. Set aside.
Slice each jalapeño in half lengthwise. Use a spoon to remove the seeds and ribs. Spoon some of the cream cheese mixture into each hulled jalapeño (anywhere from 2 tsp. to 1 Tbsp or so, depending on size). You might have some cream cheese mixture left over.
Wrap a slice of bacon around each stuffed jalapeño half; secure the bacon with a toothpick.
Place the wrapped jalapeños onto the heated grill to cook until the bacon has crisped and the pepper has softened, about 8 to 12 minutes.
Transfer to a serving dish and serve any remaining cheese mixture on the side, if desired.